Whether welcoming students back to the classroom, kicking off new afterschool programming, or supporting homeschool learners, educators across the region are diving into fall full steam ahead.
Though the busy back-to-school season has arrived, a summer spent reflecting and planning has Remake Learning well prepared for a new school year ahead. Back in June, many members closed out an unprecedented year, ready to rest and recharge but still looking to strategize. In the same spirit, the Remake Learning team spent the summer examining the network's support strategies, and along the way, experienced a few transitions, as well as welcomed a few new faces.
Allie Mullins, Remake Learning's longtime Rural Outreach Coordinator, departed the team over the summer, as she relocated across the state. Alyssa Moore, a Curriculum Specialist for Intermediate Unit 1, has filled her shoes and continues to listen, connect with, and uplift the unique needs of rural educators.
At the same time, Stephanie Lewis joined the team as Remake Learning's new Director of Relationships. This position first took shape in the summer of 2020, inspired by Remaking Tomorrow: What Comes Next? In this publication, network members envisioned a post-
pandemic future of learning that prioritizes relationships—a future where every school district's administrative team focuses on building connections in support of learners' holistic health and wellbeing.
Stephanie will explore what such a position could look like, building, fostering, and strengthening relationships between Remake Learning network members—old and new, and across sectors. She has hit the ground running and restarted Remake Learning's Meetup and Lunch & Learn series. After several months off (and nearly a year and a half since the last in-person convening), Stephanie kicked off a new series of programming in both in-person and virtual formats this fall.
Bolstered by these efforts, the network has welcomed many new members in recent months. The team hopes to continue this momentum, not only through the efforts mentioned above, but through network activities, working groups, and special projects. Many recent happenings in these areas, and more, are detailed below.
---
Moonshot Grants
Moonshot Grants are a Remake Learning Funding Opportunity, providing grants of up to $70,000 to test bold ideas for the future of learning.
In Spring 2021, Remake Learning announced the first round of Moonshot Grantees, seven schools, organizations, and partnerships across southwestern Pennsylvania and north-central West Virginia striving to test big, bold ideas in teaching and learning, ideas that address the challenges and opportunities currently facing young people, educators, and caregivers. Among the ideas being tested include challenging traditional notions of community libraries in Wilkinsburg through the creation of satellite library collections located in childcare centers and deemphasizing traditional grades and timelines at California Area School District through the creation of a universal individualized education program pilot, where all participating students will be provided autonomy and agency in building
curricular pathways. In June, all seven grantees convened virtually for a strategic planning session and the summer months were spent building a strong foundation.
Also in June, round 2 of the grant opportunity opened, with regular information sessions and office hours, hosted by the Remake Learning team throughout the summer months. By the end of August, 64 new Moonshot ideas were submitted, and in September, Remake Learning announced the second round of grantees, with an additional $600,000 being distributed to support 9 new bold ideas. Round 2 grantees include:
● 1Hood Media Academy, Youth Art and Activism
● A+ Schools, Space is the Place: Transforming Perry High School Through Space
Career Exploration
● Assemble, Ramp Up Fellowship
● Butler Area School District, Growing a Green Future
● Clairton City School District, Systemic Integration of Behavioral Health
● Homewood Children's Village, The Village Learning Hub (LVH)
● SLB Radio Productions, Using Student-Created Media to Assess, Document & Share
Learning in a Personalized, Culturally-Responsive Manner
● The Citizen Science Lab (TCSL), BioDome Experimental Libraries
● Wheeling Country Day School (WCDS), Teaching to the Edges
Across the two Moonshot rounds, over 450 network members attended information sessions, 154 proposals were submitted, and a total of over $1 million in grant funding was awarded.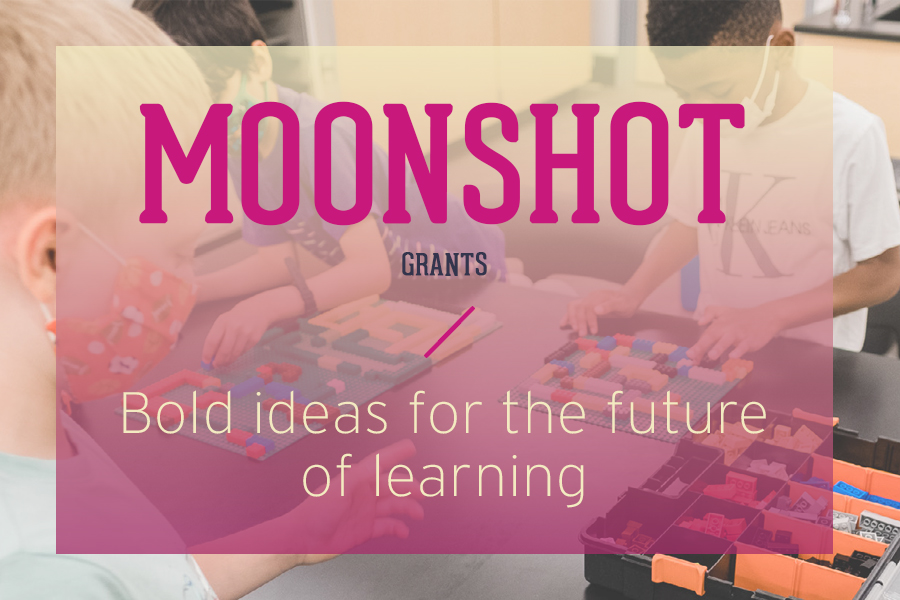 Tomorrow
Tomorrow is a public awareness campaign exploring the future of learning in the Pittsburgh region.
The Tomorrow campaign, relaunching earlier this year in March, has been in full swing as we approached a new school year. Throughout the summer, Remake Learning, KnowledgeWorks, and SLB Radio gathered youth ideas about how they might remake learning for a post-pandemic future. Among the key elements that youth spoke about include the importance of relationships in learning, a need for personalization of learning, the integral role of student supports in learning, roles of learning location—the space
and places that support education, and guiding beliefs and values that shape learning cultures.
This partnership subsequently led to a youth takeover of the Remaking Tomorrow podcast, featuring 6 youth-led episodes throughout the month of September on topics that include effective educators of the future, peer-to-peer learning, and learning in safe spaces. In late August, Remake Learning hosted Creating Youth-Centered Futures of Learning, a virtual workshop attended by 40 network members. The afternoon session provided an opportunity for participants to explore what youth want for the future of learning, engage in prototyping of approaches that could make youth's future aspirations real, and consider strategies for bringing those prototypes
to life. In September, Forging the Future of Learning was published. This brief outlines key insights surfaced throughout this partnership.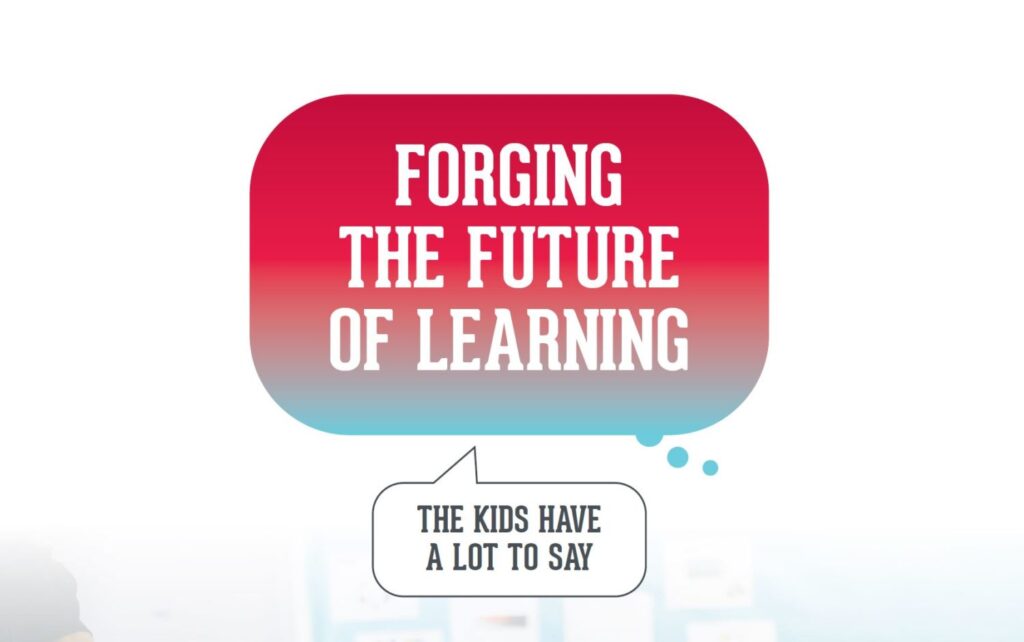 Throughout September, the Remaking Tomorrow podcast featured thought leaders near and far. Guests included Dana Winters (The Fred Rogers Center), Lasse Leponiemi (HundrED), Sana Jafri (Chicago Learning Exchange), Michael Stone (Chattanooga Public Education Foundation) and David Miyashiro (Cajon Valley Union School District).
New to the Tomorrow Campaign this fall were Great Learning Conversations. These public conversations, co-hosted by Kidsburgh and 11 school districts in the greater Pittsburgh area, aim to explore what parents and caregivers want the purpose of a child's K-12 journey to be and ask how schools and communities can best partner with families. In September, conversations were hosted at New Brighton Area, Avonworth, Hampton Township, and Butler School Districts.
Remake Learning Days Across America
RLDAA is an innovative learning festival for families and youth, taking root in 17+ regions featuring hands-on and engaging events designed for kids of all ages at libraries, schools, tech centers, museums, play spaces, community centers, and more.
As in year's past, September begins the planning period of next year's Remake Learning Days Across America festivals. Looking ahead to 2022, 16 festivals will be hosted from coast to coast, and in September, RLDAA co-producers, Dorie Taylor and Yu-Ling Cheng began meeting with festival leads. Please save the date for Remake Learning Days! RLDAA will be hosted between April 22 – May 23, 2022, with festivals across Pennsylvania and West Virginia taking place May 12 – 23, 2022.
Building off of the success of last year's partnership with the PA Department of Education, Remake Learning Days will again host the Backpack Challenge, a statewide opportunity for students to gain artifacts for their career portfolios by participating in Remake Learning Days events.
Network Activities
Activities are designed to cultivate and support a regional community of peer professionals committed to the vision and values of Remake Learning.
Network Activities
After a year and a half of hosting events exclusively virtual, in-person meetups resumed in September, with a New Member Meetup held at KLVN Coffee Lab and a Back-to-School Educator Meetup at 23rd and Vine. After the long hiatus, the Remake Learning team was eager to reconnect with network members, old and new. At the end of September, a Researcher-Educator Meetup was hosted, featuring presentations by Nadyli Nuñez (Ascender PGH) and Yasmine Kotturi, a PhD student of Human-Computer Interaction at Carnegie Mellon University.
Research
Building off of the Remaking Tomorrow Panel on Innovative Teaching & Learning hosted earlier this spring, Remake Learning Director of Research and Impact, Erin Gatz, published findings from the project's survey in which over 900 educators shared their experiences during the pandemic and hopes for post-pandemic learning. Amongst the findings included that many educators felt that they had successfully integrated technology into curriculum and had tapped into new personalized learning approaches, though students' social-emotional learning suffered during the pandemic, as did overall student engagement.
As part of a Research-Practice Partnership course at the University of Pittsburgh, PhD student Bailey Nichols began working with Erin in September to review interviews with Remake Learning network members to identify transformative learning moments.
Working Groups
Remake Learning Working Groups actively explore topics through events, communications, learning opportunities, mini-grants, and more
In September, Remake Learning was awarded a grant from the BNY Mellon Foundation to sustain the CSforPGH working group. As part of this grant Remake Learning will expand CSforInclusion, a series of events to promote intentional acts of pathway making for computer science, seeking to grow interest in computer science for learners in Remake Learning's equity pillars. Additionally, support will provide new opportunities for out-of-school time organizations and formal educators to create resources for families that may have limited access to technology resources needed to do foundational activities at home.
Remake Learning dedicated the 30 days of June to Maker Learning Month, celebrating all things maker learning by meeting and talking with local maker educators to hear about the power of hands-on learning in their own words. Making it Happen, a multimedia series spotlighting incredible maker educators throughout the region, featured Damola and Wole Idowu (Toyz Electronics), Tiffany Ward (Pittsburgh Village Project), Naomi Chambers (FlowerHouse), and Samantha Utley (Falk School).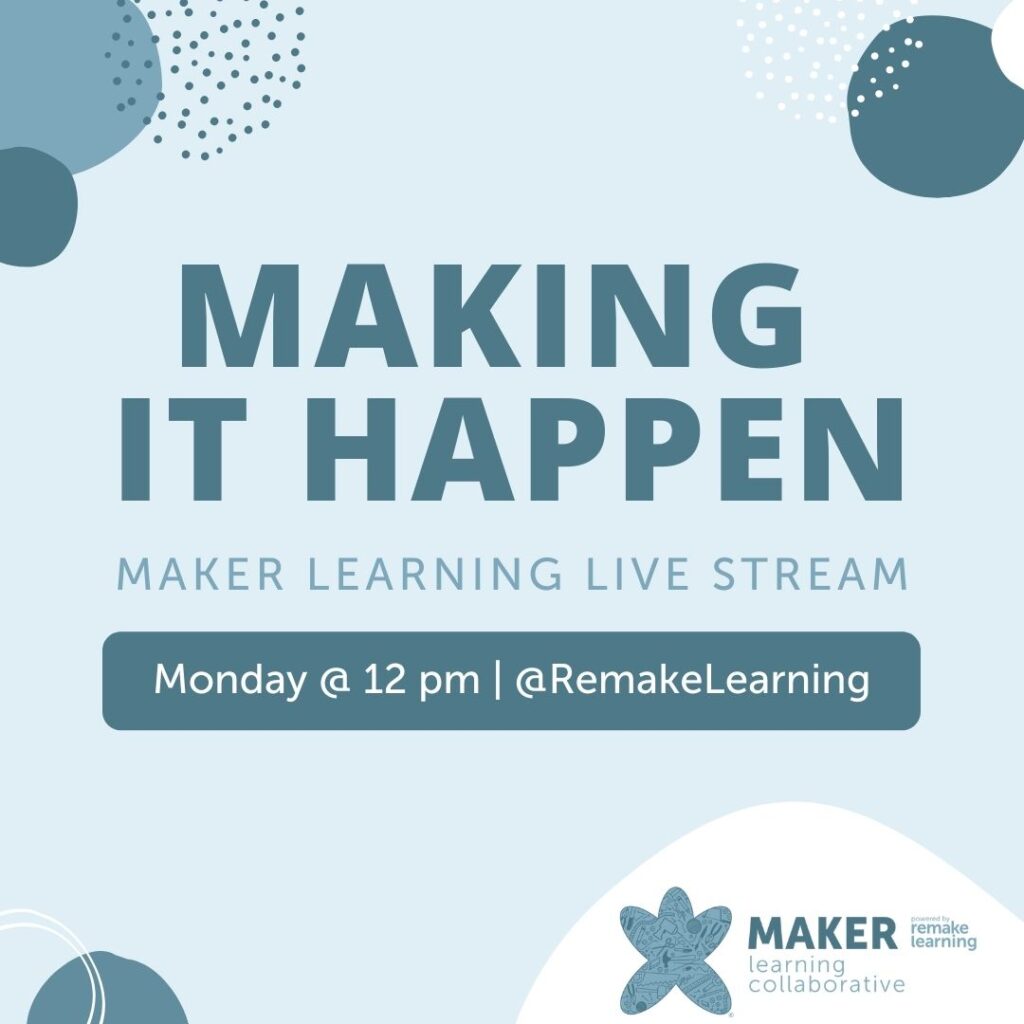 In July, the Maker Learning Collaborative hosted its summer meeting, with a focus on rekindling network connections, creating space to analyze and reflect on the working group, and kicking off the next phase of the region's maker learning work.
In September, the working group's steering committee convened, dedicating time to strategize for the year ahead.
Throughout the summer, Remake Learning's Regional STE(A)M Ecosystem lead, LaTrenda Leonard Sherrill, participated in strategic visioning sessions for The Pennsylvania Statewide STEM Ecosystem (PSSE), a network of STEM and STEAM ecosystems located throughout Pennsylvania.
In July, Remake Learning's blog had a focus on equity in STEAM, with an article guest-authored by Cassandra Brentley (University of Pittsburgh's Center for Urban Education) titled Building a STEM Pipeline Requires Cultivating Independent Learners, as well as a Q&A with Grove City Area School District Assistant Superintendent, Joshua Weaver and Aliquippa Impact After School Program Coordinator Christyn Gillam.
The personalized learning working group met monthly in different capacities throughout the summer to further refine and develop regional alignment for personalized learning. A core group of stakeholders met together in May and June to begin developing and refining language for a common understanding of what personalized learning means in the region, and began drafting a shared vision for personalized learning that will guide the work in the future. The group also held a learning session to highlight innovative ways districts might use newly allocated American Rescue Plan dollars. September's meeting focused on further refinement of the vision and language for a common understanding.
Special Projects
Remake Learning Exploratory Groups and Special Projects investigate emerging trends in teaching and learning and engage in collaborative work with community partners.
In June, the Shifting Power team held their tenth and final monthly cohort meeting with the 20 Black and Latinx educators and 20 researchers participating in the initiative. During that session, space was offered for dialogue and reflection back on the process. Throughout the summer, the research pairs have been working to complete their research and develop their final outputs. The pairs were given leeway and agency in determining what type of output (e.g., paper for publication, technologies, processes, visual/audio file, processes, etc.) would best suit their findings, reach their intended audiences, and "further emancipation" (Lovelace). They were encouraged to consider how their output will create change and help marginalized students, either within their own learning space or in other spaces.
Throughout the summer months, Remake Learning continued as a partner on Personalized Learning2 (PL2), a project based out of Carnegie Mellon University that aspires to bridge opportunity gaps through personalized learning.
In late-summer, a new PL2 app was launched, featuring an updated design consisting of a selection of curated resources for mentors that enables them to rapidly access student data to personalize learning. The new app also features a student-facing version where students can access mentor assigned resources and reach out to mentors for help.
In September, Remake Learning co-hosted a start-of-the-year kick-off celebration for PL2 partners. To learn about future PL2 opportunities, sign up for the new project mailing list, powered by Remake Learning.
Author: Tyler Samstag, Network Director