Remake Learning launched Tomorrow in May 2020, when the world as we knew it had come to a halt.
"You've probably been thinking about the future a lot lately," the launch video said. "About how our world is changing."
Little did we know how much change was still in store.
The tomorrows that followed brought school years like no other, each with challenges, sorrows, and joys we'd never experienced. They brought the largest racial-justice movement this country has seen in a generation. They brought vaccines, variants, elections, remote work, private spaceflight, food-delivering robots, and more. Our world was changing indeed.
A year and a half later, those tomorrows are now yesterdays, loaded with lessons as we prepare for tomorrows to come. And it's our hope, as this campaign comes to an end, that those lessons might light the way forward.
What Tomorrow has surfaced through stories, podcasts, publications, and countless conversations with students, families, and educators is a framework for learning in a fast-changing world. That framework might twist and bend to account for where learners are, what they need, and what their families and communities value. But its basic elements — the elements that enable great learning — are always there: justice, methods, and relationships.
In and around Pittsburgh and across Pennsylvania, caring adults have brought these elements to bear in schools, museums, living rooms, and beyond. We've seen educators put technology and food in the hands of learners and families. We've heard calls to make health — particularly mental health — a priority. We've witnessed a new and broadened commitment to inclusion, to antiracism, and to building a sense of belonging. We've watched teachers transcend the walls of their classrooms, tapping the power of communities, out-of-school-time partners, families, and parents.
More than anything, we've listened. In surveys and focus groups, in workshops and Great Learning Conversations, we've asked educators, caregivers, and learners themselves what brighter tomorrows might look like. And we've learned that despite the division that dominates the headlines, most of us want the same basic things: To be cared for and safe. To know, as Fred Rogers said, that we're loved and capable of loving. To be good students, good parents, good teachers, and good neighbors. To be free to follow our passions and prepared for what comes next.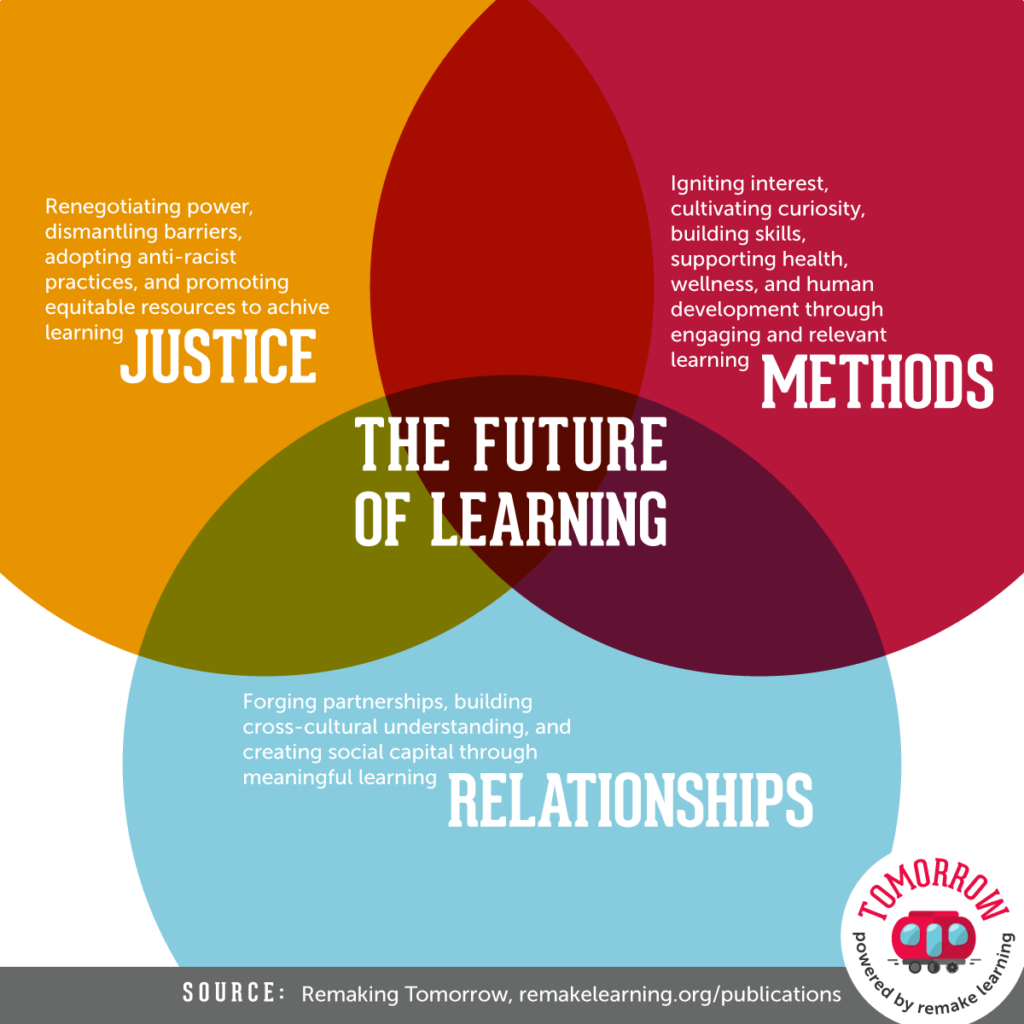 With the help of millions of dollars in grant funding, the work of forging that future is well underway. But the challenges ahead are immense. The pandemic, still very much with us, continues to threaten learners' safety, push families into poverty, and overwhelm the educators tasked with holding it all together. Our region's inequities and inequalities, already stark, have grown more glaring and urgent. Our neighborhoods still shape everything from our income levels to our life expectancy.
Each of these problems is beyond the scope of individual people, organizations, and/or disciplines. Tackling them will take an all-hands approach, and on that front, there are reasons to hope.
As it approaches its fifteenth — fifteenth! — year, Remake Learning continues to spark engaging, relevant, and equitable learning experiences for young people. Its ever-expanding ecosystem has grown to include everyone from superintendents to students, politicians to parents, teachers to mentors to scientists. They're putting educational justice, holistic methods, and meaningful relationships to work by merging youth art with activism, training young adults to become youth educators, building experimental libraries in under-served neighborhoods, and much, much more.
Meanwhile, the network's signature celebration, Remake Learning Days, has taken root across America, showcasing the future of teaching and learning for parents and families everywhere. In 2022 and beyond, we're set to spark creativity, curiosity, and wondering in nearly 20 regions coast to coast.
What comes next is up to us. Will we keep listening? Keep innovating? Will we resist the bungee cord of what was and focus instead on what could be?
Brighter tomorrows are possible, but not guaranteed. All that's certain is that we have everything we need to forge ahead: Our capacity for love, the power of our relationships, and the strength we get from belonging to communities that work for — and with — our young people.
What will we do today to make tomorrow a more promising place for every learner?
We'll keep asking. And we'll keep doing.
Together, we'll #RemakeTomorrow.
Authors: Gregg Behr, Valerie Kinloch, & Jim Denova