Amid all the remarkable gadgetry on display at the Carnegie Science Center in Pittsburgh sits a wonderfully low-tech exhibit called BLUE. It's a collection of foam blocks that can be stacked and arranged in any way imaginable. Some are so big, a person can climb on them.
Prior to COVID-19, the center's director, Jason Brown, often saw groups of kids spontaneously collaborating to build all kinds of creative things with the blocks. Children who didn't know each other would solve problems together — and learn about physics along the way.
But something even bigger happened when parents and grandparents dove in to play and learn alongside these children. "The kids just seem so much more excited about doing it when their parents are participating with them," Brown says.
The list of things that parents and other caregivers cannot control as they raise children is far longer than we can fit in this article. While juggling the stresses of daily life, parents make a million small decisions to help their kids learn and grow. Rarely are we sure which choices are right on a given day.
Yet as the families who explore BLUE together illustrate and a growing body of research confirms, we do know one thing: Parental involvement in learning improves children's lives and their futures.
Even when it's imperfect.
Even when it costs no money at all.
After surveying hundreds of attendees at Remake Learning Days Across America events in the Pittsburgh region, the Global Family Research Project (GFRP) found that family engagement in STEAM learning makes students more likely to succeed academically, more likely to take advanced STEAM courses, and more likely to pursue STEAM-related careers.
These shared experiences made kids to want more STEAM learning.
And it's not just the children who benefit, says Christofer Nelson, chief operating officer for the Association of Science and Technology Centers. Research shows that when families learn together, curiosity and engagement among the parents also increases.
Listen to Dr. Dana Winters, director of Simple Interactions and academic programs at the Fred Rogers Center.
"The most important things we have for children," she says, "are interactions and relationships."
Get to know what interests a child.
Kids may not know how to answer questions like "What would you like to learn about?" or "What do you want to be when you grow up?"
But let them loose inside a science center, children's museum or library, and they'll seek out what they like. Think of these institutions as a sort of "flea market for learning," Brown says — you can choose anything that appeals to you and bypass the rest.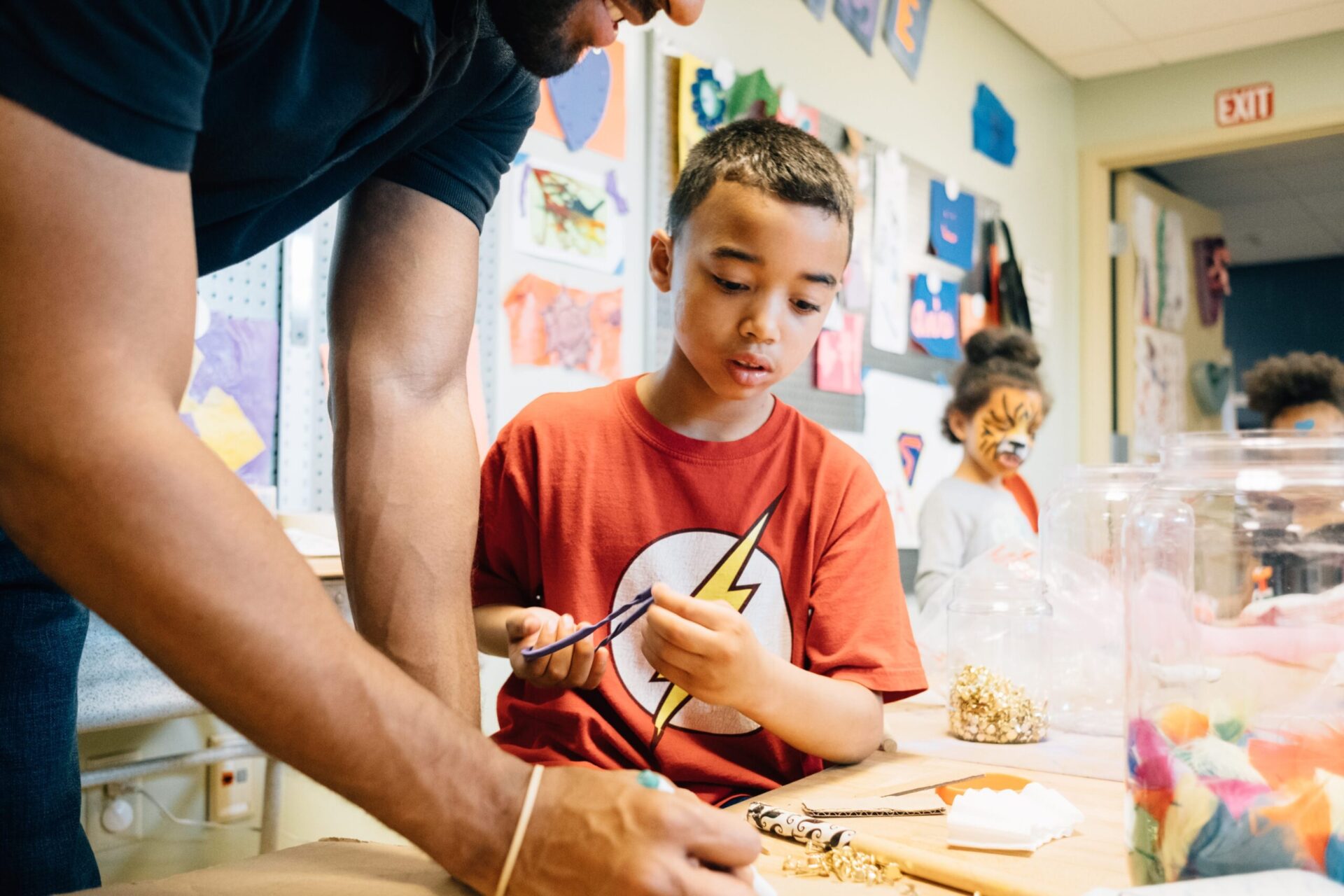 As a student finds books and activities to explore, caregivers can observe what appeals to that child. And as the kids see that their interests are respected by adults, they may venture even further into a particular area of learning.
Along with offering family engagement, Nelson says, many of these organizations also work toward improving equity in their communities through partnerships with local schools and faith-based groups. Some are even offering help with free internet service to make sure all families in their area have access to learning.
Discover the media of the moment.
One of the best ways to get involved in a child's learning is to explore the things they watch and the platforms they use.
For the past 15 years, Common Sense Media has been offering reviews and details on movies, TV shows, video games and more. The site's Ultimate Guides also help parents understand the new games or messaging platforms that they hear their kids discussing.
You don't have to grasp every detail of Minecraft or TikTok to connect with your kids, says Jennifer Ehehalt, an education program manager at Common Sense. But by becoming familiar with the digital resources a child uses, you can learn more about their world and find teaching moments.
Common Sense has also launched Wide Open School, a curated selection of online learning resources that families can use together — and access without having a raft of log-ins and subscriptions to various e-learning sites.
Let them teach you.
"We think of parents imparting knowledge to kids," says Heather Weiss, founder and director at GFRP. But it's hugely valuable when kids see that they have knowledge to share.
So let a child give you a Minecraft tour and teach you how to mine for metals. Or ask how to make a TikTok video of your own.
Along the way, Weiss says, show your learning mindset:
If you make a mistake, consider it an opportunity to figure out where you got lost and do better next time. Then encourage them to take the same approach when they're learning something.
Ideally, kids will take their time and be patient with themselves. And hopefully, parents can give that same kindness to themselves.
Parents often focus on what they might have done wrong, Winters says. They're not accustomed to stopping and noticing what they've done right (though her organization's downloadable tool can help with that) and being patient with themselves as they try to build on those good moments.
But remember: Even Fred Rogers himself found it comforting that, as a parent, "he didn't have to be perfect to be effective," Winters says.
"There are no perfect parents," she says. "Not even Mister Rogers."
This article is part of a series for 
Tomorrow
, powered by Remake Learning. From May to October 2020,
Tomorrow
will explore–through virtual events, grantmaking and extensive storytelling–what we can do today to make tomorrow a more promising place for all learners.
Have something to add?
Share your hopes for today's young people using #RemakeTomorrow and tagging @RemakeLearning.
Tomorrow
will elevate community questions, spotlight your ideas and help all of us prepare for whatever the future may bring.