When you're a teenager staring out the window of a high school classroom, it can sometimes feel as if education beyond 12th grade includes only two possibilities.
You could go to technical school to learn a trade. Or if you have the grades, the money and the encouragement of adults who believe in you, you could go to college.
This binary mindset has been in place for generations. It pigeonholes many kids before they've even discovered the kinds of careers they could pursue.
But what if things were different? What if each young adult could build a path to success with encouragement from the community? And what if that path included a mix of college, technical training and real-world apprenticeships?
That kind of future is beginning to take shape in the Pittsburgh region, where community colleges increasingly help students navigate their own pathways through higher learning and beyond.
The Community College of Allegheny County (CCAC) offers more than 160 programs - something for everyone, says Andrew Johnson, executive director of community partnerships at the school. But alongside this wide range of affordable classes and degree programs, the school offers something just as vital: personalized mentorship that can help a young person stay on track even when life gets challenging.
The Tomorrow campaign recently spoke with Johnson to learn more about how community colleges are helping learners today and how that work might grow in the future.
Inspiring young learners  —  even before they're ready to enroll.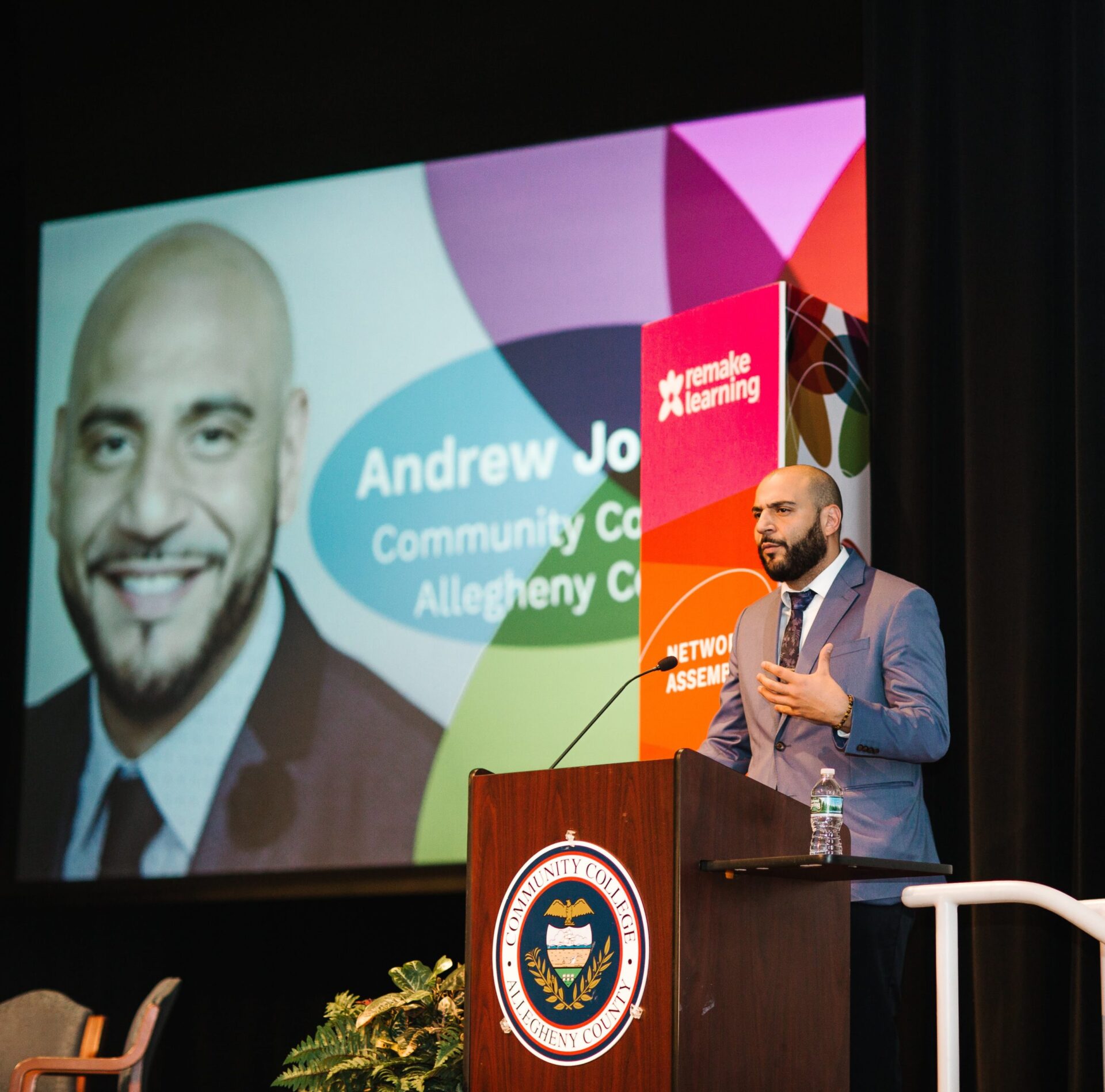 Andrew Johnson addresses the Remake Learning Assembly in 2018.
Johnson visits high schools and middle schools to talk with students about the careers they might pursue and the steps they might take to get there. He also hosts these students at the college, where they get a firsthand view of classes in everything from respiratory therapy to criminal justice.
He believes it's vital for communities to engage directly with teenagers to give them solid information about higher education options and potential careers - especially ones they may not fully understand.
"You have no idea how many kids say, 'I want to get into forensics,' because they watch it on TV," Johnson says.
He often begins by explaining his own career path, telling teens: "Me coming here to hang out with you guys all day is my career. So let's start here. How did I get here?"
"It's not a traditional path. I'm a person who got a football scholarship and had to leave and go back to community college, because I didn't do well academically," he explains. He tells them that he always loved helping others. Listening to that instinct led him to a career in education.
Johnson encourages communities to invite more adults to explain their career and educational paths to students, whether during in-person visits or via Zoom.
He also points out that no one should tell teenagers to scale back their dreams. Years ago, someone at a high school reprimanded him for telling a particular group of lower-income students that they could go to college and succeed there.
You're giving them false hope, this person told him.
Did he heed that advice? No way. "I went in the next day and told everybody they were ready for college."
Introducing dual-enrollment courses  –  and what college really means.
Many high school students can take classes in their school buildings that also count as college credits. It's something Johnson recommends and spreads the word about. In the Pittsburgh area, some high schoolers even take a few courses on CCAC's various campuses.
"If you've had some dual-enrollment classes, you've been engaged with college professors. … You've had all these different experiences with the college while you're still in high school. So then when you start your freshman year, you're not a deer in the headlights."
Creating this kind of tangible bridge between high school and higher education helps students understand that "college" is more than just parties and sporting events, he says.
"Are those social aspects important? Absolutely." But having an academic experience first can help young adults stay focused on their goals.
Embracing flexibility — especially when real-world challenges threaten to derail success.
Many community colleges have "student success coaches" who go beyond the work that academic counselors do at four-year colleges.
Some work with students who have tested poorly on placement tests and need remedial support. But often, their work "ends up expanding because of word of mouth," Johnson says, and involves helping students with a wide range of issues.
In his own work as a student success coach, he says, "I've had to help students get housing and get jobs. We have food pantries, we have clothing closets - those basic needs that we've been able to line up for students to help them go on to be successful."
At a four-year private college, he says, students are generally on their own if they have no housing over the holidays or they struggle to afford groceries. Community colleges offer alternatives - they connect students with social workers, food pantries and knowledgable "navigators" from the community to help them access community support.
Such mentorship is vital to keep a young person committed to academics even when real-world pressures make staying in college impractical or impossible. If all communities could offer this to their young people, many more would be able to pursue higher education.
"Is your life set up so that you can fail and explore, and you still have a cushiony fallback plan? That's great," he says. "But some people when they fail, it's over."
Instead of cookie-cutter expectations and rigid timelines, he says, we need flexible approaches.
Johnson recently encouraged one of his cousins to take a few classes at CCAC. At age 19, she's already working full-time while helping raise her siblings. She decided to enroll, even though her schedule only permits two classes per semester.
"Will this extend your timeline? Absolutely," he says. "However, will your work experience coupled with your degree have you more prepared and further along than your peers who just have a degree? Absolutely."
When a student has earned enough credits at CCAC, Johnson sometimes recommends they apply to Point Park University in downtown Pittsburgh. Point Park offers a co-op program where students are hired at paying jobs in their chosen fields and get course credit for that real-world work experience.
By the time they graduate, this powerful hybrid of community college, four-year college and work experience has prepared them to land good jobs - without enormous college loan debt.
Going beyond mentorship to 'sponsorship'
Johnson would love to see communities build on these kinds of models - connecting young people with training and work experiences on a flexible schedule while they are guided by a mentor.
To maximize that, one key is "moving from the space of mentorship into sponsorship," he says. "Instead of just sitting back and becoming your friend, or focusing on just social things, how do I sponsor you? How do I give you a recommendation? How do I line you up with a business, with a colleague of mine, with somebody? How do I help you with your resume? How does my name being dropped at this business help you out?"
"I would love to see that get leveraged through local businesses, local workforce boards, local community development organizations and political offices," he says. And that gets to the heart of it: "How do we get the community engaged civically, educationally and personally?"
This article is part of a series for 
Tomorrow
, powered by Remake Learning. From May to October 2020,
Tomorrow
will explore–through virtual events, grantmaking and extensive storytelling–what we can do today to make tomorrow a more promising place for all learners.
Have something to add?
Share your hopes for today's young people using #RemakeTomorrow and tagging @RemakeLearning.
Tomorrow
will elevate community questions, spotlight your ideas and help all of us prepare for whatever the future may bring.