It's never easy to build without a blueprint. That was the challenge faced by Pittsburgh's educators and community leaders 15 years ago, as they planted the seeds for what would become a thriving network of schools, museums, colleges and child-serving organizations working together to elevate and expand learning for kids in southwestern Pennsylvania.
Today, communities seeking to activate and grow their learning ecosystems can look to organizations like Pittsburgh's Remake Learning network for inspiration. But there was no clear roadmap to follow back when Remake Learning was just starting out.
What this fledgling network did have, though, was a handful of carefully chosen strategies. Each would be instrumental in supporting innovation and ensuring that good ideas could be roadtested and launched in the real world. These strategies would work in tandem, one feeding into another. And today, all five continue to be vital as Remake Learning celebrates its 15th anniversary this year.
As this network reaches this milestone anniversary, we're taking a moment to explore these pillars for two reasons: First, to help parents understand how our region's learning landscape has grown within and beyond the four walls of their child's classroom. Second, to offer valuable insights to other communities across the country and around the world as they pursue the vital work of building their learning ecosystems.
In Remake Learning's earliest incarnations, the focus was on three strategies: convene, catalyze and communicate. Two important additions, "coordinate"  and "champion," would soon become part of the network's core approach.
CONVENE AND CATALYZE
Remake Learning brings people together and then helps to fund the innovative learning experiences that grow from their collaboration.
Many of the earliest gatherings of what was then called the Kids+Creativity group were structured events. Agendas were followed, coffee was sipped. Through carefully planned activities, relationships were formed and new ideas began to grow.
Those convenings were powerful and they set the stage for some remarkable collaborations. But just as valuable were the casual social events where folks who wouldn't normally cross paths found themselves discussing their passion for learning.
These "happy hours" and "lunch and learns" were professional but informal. They tossed folks together. As we learned during the pandemic, there's nothing like spending time with others face-to-face.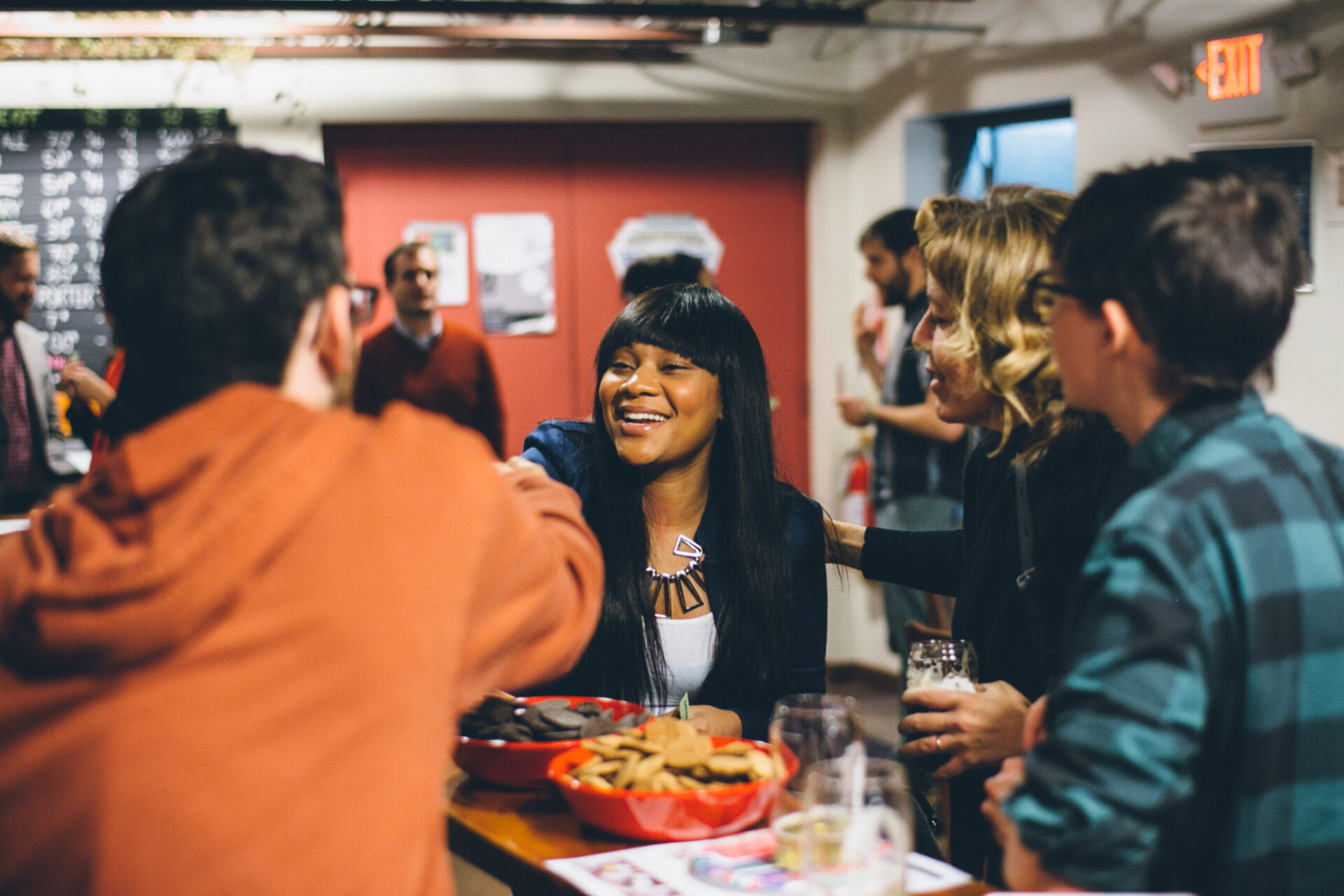 These various convenings and the next strategy – catalyze – soon began to function as a sort of one-two punch. New ideas born through convenings were catalyzed with small grants that offered just enough funding to get new ideas off the runway.
One early collaboration between the nonprofit Trying Together, the Fred Rogers Center and the CREATE Lab at Carnegie Mellon University (CMU) led to a project called Message from Me. It was designed as an innovative solution to a generations-old problem: Parents would pick their kids up at school and ask "what did you do today?" and the kids would answer "Um… nothing."
This brain trust of educators, childcare experts and technologists knew that if kids had a way to capture and acknowledge what they were learning and creating, they could share it with their parents and discuss it after school. This would deepen their connection to the work they were doing and reinforce their joy about learning.
So with a bit of catalytic grant funding back in 2009, a Message from Me kiosk was designed, built and installed in a preschool classroom. Students could use it to take pictures of things they were creating and record audio messages about what they were doing.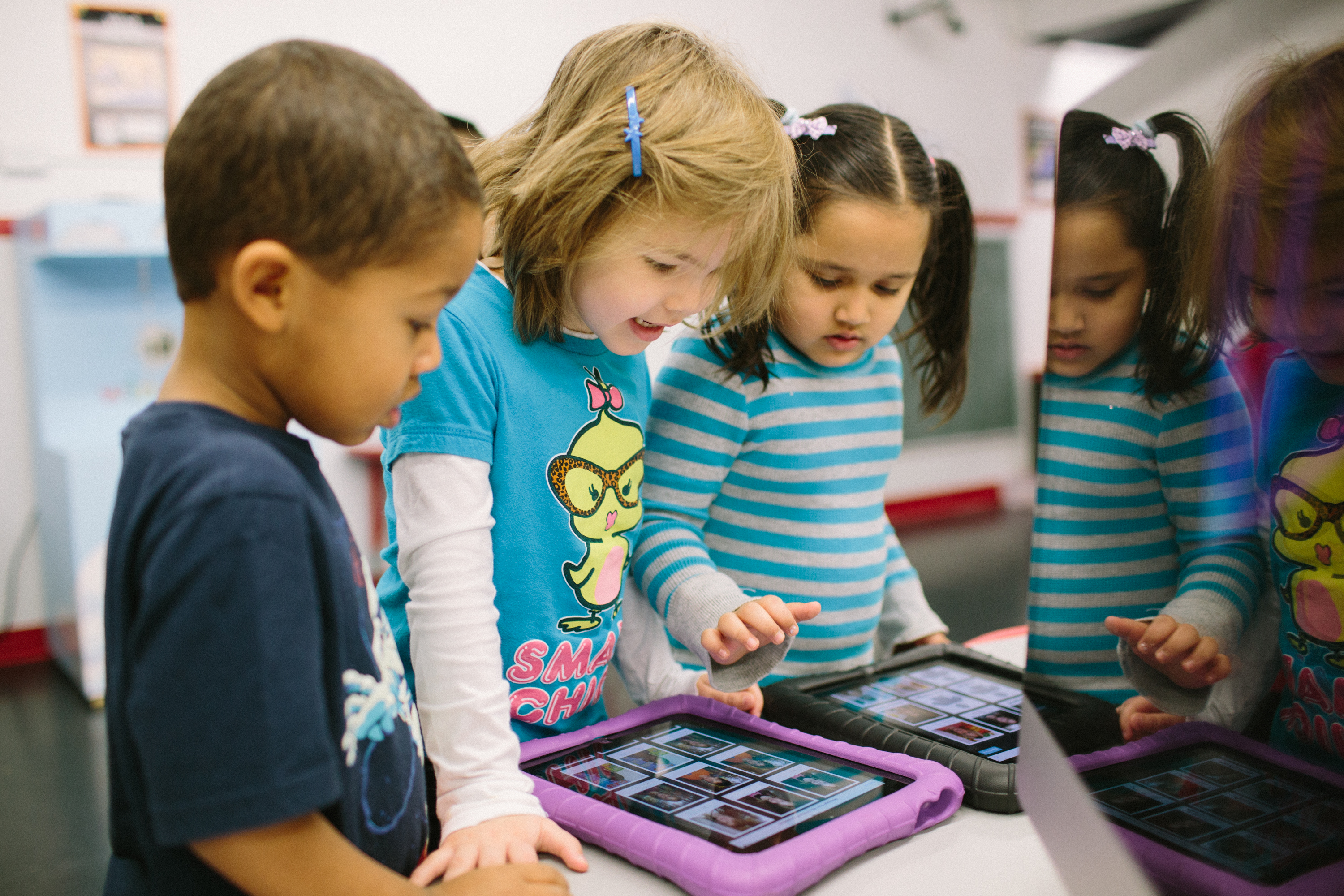 Children who were busy building with blocks, for example, could "go get the camera, take a picture of their block building, record a message about the block building and send it via the computer to their parents at work. So when the parents came and picked them up, they would say, 'I saw your picture. I saw what you built,'" explains Roberta Schomburg, child development advisor at the Fred Rogers Center. "The children were so excited that their parents had seen what they had created."
Today this same powerful combination of convening and catalyzing can be seen in Remake Learning's Moonshot Grants program, where truly ambitious, untested ideas are given funding up to $70,000.
During the most recent round of Moonshot funding, Northgate School District received a grant to partner with CMU, Allegheny Health Network, Simcoach Games and Chill Therapists to create game-based mental health tools and a school-based horticulture therapy site that includes game interventions. During the coming school year, this team will work with student developers to make sure this project is relevant to kids, and they will build a system for developing, testing, and scaling these ideas.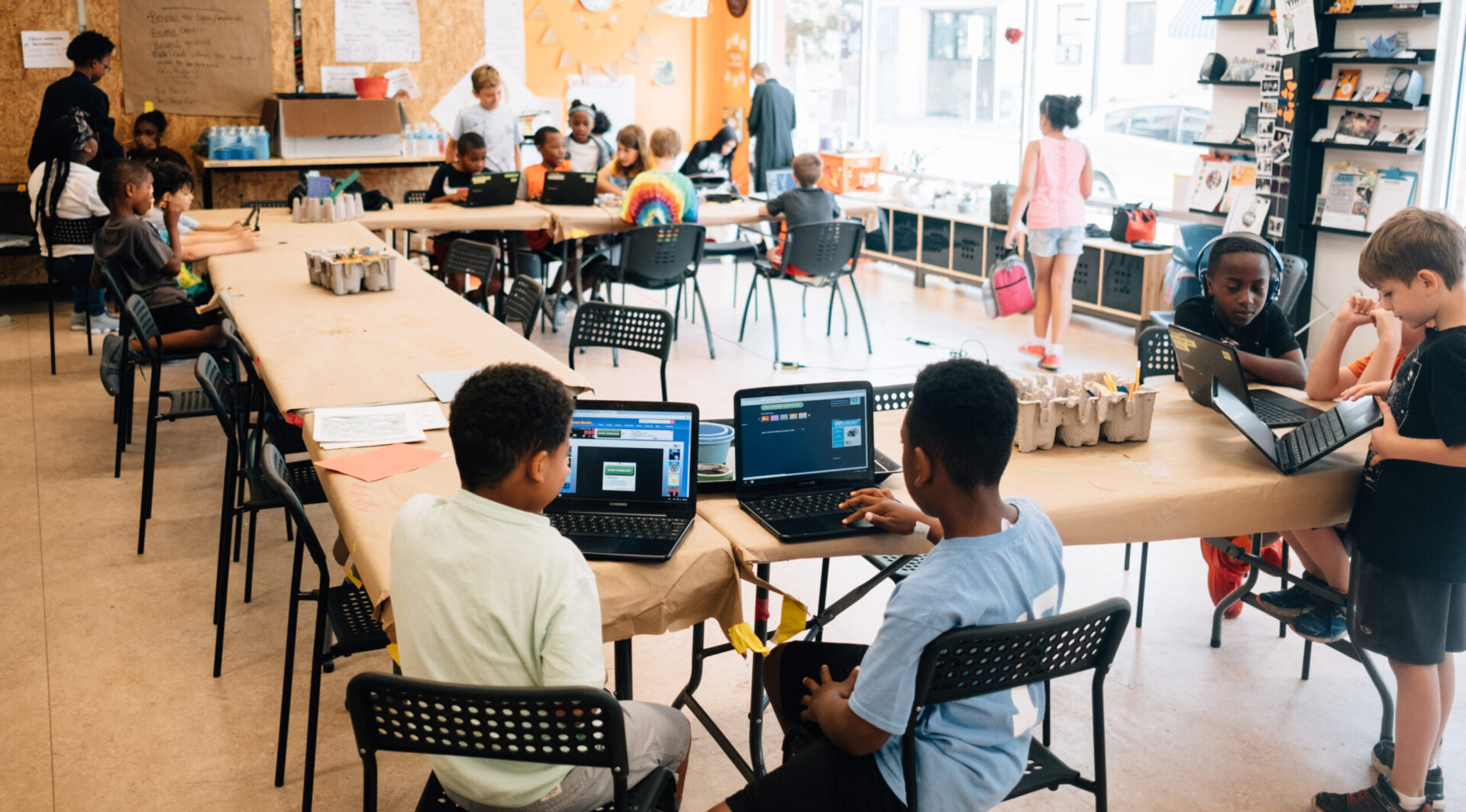 Gregg Behr, one of Remake Learning's co-founders, often speaks of the importance of making "little bets" on unproven but potentially powerful ideas. That's the spirit behind Remake Learning's catalytic grant funding, and it has led to 15 years of progress.
It's also led to the formation of brick-and-mortar learning hubs that are now part of Pittsburgh's educational landscape. One of those is Assemble, which was an early recipient of grant funding to do "learning parties" – an innovative take on afterschool programming that brought in experts from the Garfield neighborhood and created a party atmosphere around learning.
Today, Assemble is a powerhouse of STEM, art and culture learning and it's a beloved destination for many Pittsburgh kids. And Remake Learning is making sure to tell the story of community assets like this one.
COMMUNICATE
Remake Learning spreads the word and shares knowledge for others to build on.
From the beginning, Remake Learning members saw value in documenting and sharing the story of all that was bubbling within Pittsburgh's education community. After all: You can only convene so many people. You can only offer so many catalytic grants.
To scale your impact further, you need to capture and share information about who is convening and what is being catalyzed. This way, others can follow the progress and get inspired to pursue their own breakthroughs.
And so projects like Message from Me were captured on video and their impact was documented, and publications were produced and shared widely.
In the beginning, the focus was on communicating within the Pittsburgh region. But as the years passed, Remake Learning began communicating and sharing ideas on the global stage through publications like HundrED's Spotlight reports and trend reports for WISE.
COORDINATE
Remake Learning organizes stakeholders and working groups so that even more can be accomplished. 
Convening can bring together large and varied groups of people, and that has always been a powerful tool for Remake Learning. But it quickly became clear within this network of educators that there were individuals and organizations working on the same topics with mutual goals.
That's where the strategy of coordination comes in. By forming working groups with a clear focus, these people could coordinate their efforts and multiply their impact.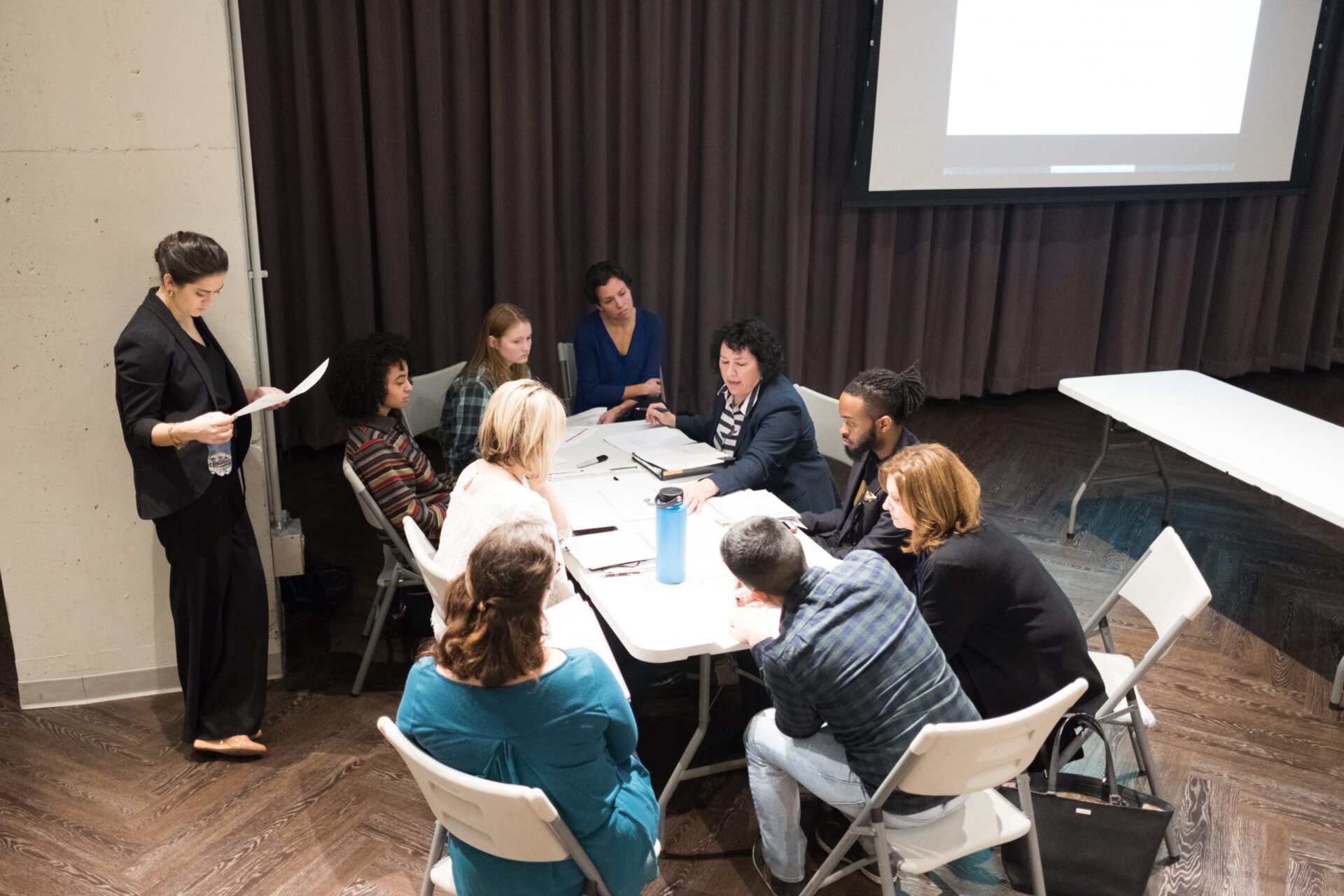 Today, Remake Learning has working groups tackling a wide range of topics, including things like expanding access to computer science learning. In the computer science working group, people from all strata of computer science learning (teachers, researchers, tech people, child-serving agencies) can get together, connect and jointly pursue opportunities.
Among the fruits of this coordination: Members of Remake Learning's computer science working group have worked together to earn PA Smart Grants which benefit multiple libraries and multiple schools.
CHAMPION
Remake Learning celebrates work already happening and paints a picture of what could be.
Educators surely deserve vocal cheerleaders to celebrate and amplify the work they're doing. The annual Remake Learning Days Across America festival is among the most vivid examples of championing their work and celebrating the idea that learning can and does happen anywhere.
Founded in 2016 as a local learning festival in the Pittsburgh region, the annual Remake Learning Days celebration has grown to include 17 regions throughout the country. Well over 100,000 students, parents and caregivers have participated in thousands of Remake Learning Days events – nearly all of them free – and have discovered learning resources in their own communities.
We also see network members and founders championing learning innovation as they present at conferences like SXSW EDU and advocate publicly for equitable learning for all. And perhaps the biggest example yet of Remake Learning's efforts to champion learning innovation is the Tomorrow campaign – launched in May 2020 as a multi-year storytelling and grantmaking campaign celebrating a different tomorrow for all learners.
In fact, the Tomorrow campaign encompassed all of the "Five C's" that have powered Remake Learning since the network began. Hundreds of people were convened virtually and in person during various stages of the pandemic, while the Tomorrow grants catalyzed fresh ideas, new projects were coordinated and the current state of learning innovation was extensively captured and communicated through stories, op-eds, videos and publications. And the entire campaign championed the idea that learning can and should be a deeply joyful thing for all learners.
Education, of course, can be a hard thing to do well under the best of circumstances. And it can be a hard thing to change. So it's vital to build hope and optimism as we're busy building new ways of learning and creating new opportunities for all learners to be fully uplifted.
At the close of the Tomorrow campaign in the fall of 2021, Remake Learning's co-chairs Gregg Behr, Jim Denova and Dr. Valerie Kinloch looked ahead with these thoughts:
"What comes next is up to us. Will we keep listening? Keep innovating? Will we resist the bungee cord of what was and focus instead on what could be? Brighter tomorrows are possible, but not guaranteed. All that's certain is that we have everything we need to forge ahead: Our capacity for love, the power of our relationships, and the strength we get from belonging to communities that work for — and with — our young people."
For the hundreds of members of the Remake Learning network, those words are a powerful call to action. And through convening, catalyzing, communicating, coordinating and championing the small wins and big changes they see happening each day, there's no limit to what can be accomplished.