Last year, a group of high schoolers participating in the Women and Girls Foundation's GirlGov program had a question.
They knew the program was all about learning to make a difference in the world. So they wanted to know: How could they make the city of Pittsburgh a more racially just place?
First, they looked to the past —specifically, Pittsburgh's problematic racial history. These teens began to learn about the uncomfortable relationship between getting in trouble at school and ending up in trouble with the law. They zoned in on a tangible topic they could tackle as high school students — the school-to-prison pipeline and how it upends the lives of many young western Pennsylvanians.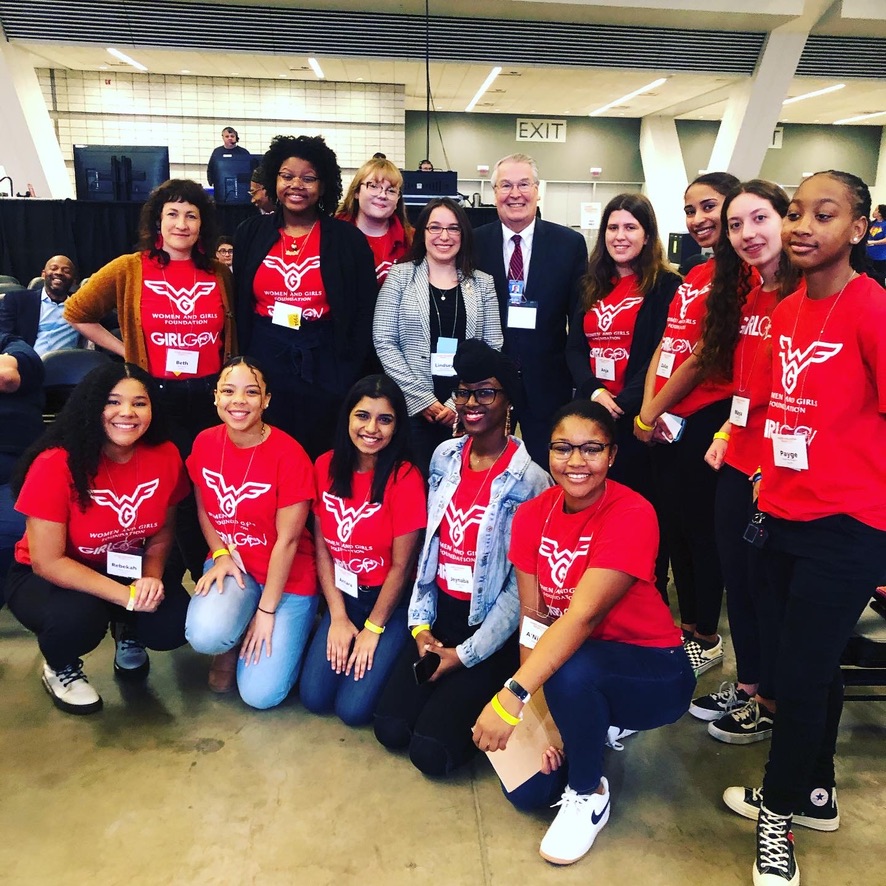 Next, they interacted with influential adults who could give them facts and insight —people like Brandi Fisher from the Alliance for Police Accountability.
Finally, they broke through with a tangible plan: advocating for the Pittsburgh Public Schools to change their rules of engagement with the city's police department.
With help from mentors, they wrote letters. They requested a chance to speak to the school board and prepared to make the most of that opportunity. And when the COVID-19 lockdown began, they shifted to a social media campaign.
Along the way, they embraced their power to create change and began understanding how our nation's systems work.
"We are trying to prepare the leaders we all deserve," says Beth Sondel, director of education at the Pittsburgh-based Women and Girls Foundation and the leader of GirlGov. "They're finding new ways to get their voices out."
Ground young people in history. Connect them with community members who can help. Then, equip then with the tools to build their future. This is civics education in the 21st century.
Young people, of course, have pushed for change in America for generations.
In the past year alone, we've seen students all over the country mobilizing around social justice, gun control and school shootings, the environment and the COVID pandemic — and speaking up about the intersection of all of these issues.
During a recent Tomorrow Conversation panel titled Youth Voice During C19, five Pittsburgh-area teenagers spoke eloquently about the ongoing problem of racism and inequity, and how the pandemic has brought these issues even more publicly to light.
Jory Strothers, a graduate of Pittsburgh Science and Technology Academy, described the experience of being a young Black man in America as our country grapples with the twin pandemics of COVID-19 and racism.
"I've been, honestly, sometimes a little hesitant to go outside — even if it's, like, to go to the store," Strothers said. "Why is it that somebody has to be concerned not with just a virus taking his life, but with somebody around him taking his life?"
Panel moderator Norah Ostin, a student from Oakland Catholic High School in Pittsburgh, agreed: "This is what America has been for so long. But now everyone is seeing it."
Ostin encouraged all the participants to tell their stories during their hourlong discussion. And as the panel ended, she mentioned: Along with her social justice advocacy work, she's spending part of this summer taking a college-level environmental science course because she's passionate about environmental issues.
It's encouraging to see so many students embracing their roles as capable problem-solvers. And our schools are a perfect place to teach them how to make the world a better place.
But around the country, "the degree to which kids are being taught civics varies greatly," Sondel says. "There's some really incredible teachers and principals out there. But since No Child Left Behind, we've been focusing much more on math and literacy, and not on social studies."
___
What kinds of programs can help?
In Pittsburgh, SLB Radio helps teens learn about their community and develop the skills to tell local stories. Along the way, they discover how publicly telling a community's stories can be an engine for positive change.
At the many schools in the Pittsburgh region that have JAM Clubs, students build entrepreneurship skills while raising money to improve their communities.
And for more than a decade, the Heinz History Center has been teaching civics to ninth graders through their Civics Summit.
"One piece of the Civics Summit I love the best is called the Change Agent Mindset," says Mariruth Leftwich, director of education at the History Center. "Change agents have existed across time and they share certain characteristics. What we really want is for students to be able to see that in themselves: That they are problem solvers, they are persistent, they are empathetic. … And the fact that honestly, a lot of the issues that have been tackled in the past haven't seen a full solution yet."
Civic learning includes having a solid base of knowledge, developing civic skills, "and then ultimately you turn that into civic action," Leftwich says. "You need that foundational knowledge, but that the idea is that it doesn't exist just as trivia in your head. It actually informs the ways that you contribute to your community."
Recently, the History Center has expanded this work through the America 101 mobile app for learners of all ages.
And they've begun collaborating with other history museums around the country on an initiative called Made by Us, which has digital resources that any school district can access.
A growing number of districts will also be able to access this year's Civic Summit, which will happen online sometime in late fall or early winter. It's an unexpected, but potentially useful result of quarantine.
"In the past we've only had the capacity to really serve Pittsburgh Public Schools," Leftwich says. But "in this virtual space, we can now serve so many more students."
Some of GirlGov's programs have also moved online for the same reason, allowing a broader group of students to participate. While online learning can not replace in-person interactions, it does provide opportunities for youth to learn from a wider range of people.
This summer, for example, GirlGov hosted an online discussion with Alaya Eastman, a social justice advocate who is a survivor of the shooting at Marjory Stoneman Douglas High School and Senator Elizabeth Warren provided a brief commencement speech for their graduation.
The Women and Girls Foundation plans to host public webinars this year, to share the civics knowledge of national experts with as many young people as possible.
Still, Sondel says, nothing can replace the power of face-to-face teaching and relationship building. "The only way you can do social justice-based civics education is by developing really trusting, meaningful relationships," she says, "especially when working with a diverse group of kids."
After an in-person panel discussion last fall with Rep. Sara Innamorato, Sondel watched three teenage girls walk up and introduce themselves. They shook Innamorato's hand. Their civics education had come to life, and they were making the most of it.
Until moments like that are possible again, Sondel trusts that young people will still manage to put their civics learning into practice.
"Young people have always wanted to have a voice," Sondel says. " I think that it's adults that are more recently realizing that they need to listen."
This article is part of a series for 
Tomorrow
, powered by Remake Learning. From May to October 2020,
Tomorrow
will explore–through virtual events, grantmaking and extensive storytelling–what we can do today to make tomorrow a more promising place for all learners.
Have something to add?
Share your hopes for today's young people using #RemakeTomorrow and tagging @RemakeLearning.
Tomorrow
will elevate community questions, spotlight your ideas and help all of us prepare for whatever the future may bring.