What might it look like if we transformed 20th-century American school buildings into truly fertile ground for 21st-century learning? Many districts have been asking this question — and answering it in innovative ways, even as limited budgets make construction difficult.
Right now, of course, COVID-19 has schools focused on immediate challenges. Spacing out desks. Rerouting hallway traffic for the coming semester. Figuring out moment-to-moment teacher and student interactions. But this year's disruption only underscores the importance of figuring out what really matters as we design the rooms where children will learn.
If kids will have limited time in their school buildings for a while, one piece of knowledge is pivotal: When they are actually there, what kinds of spaces are the most valuable for good learning?
And if they'll do some of their learning at home, what do families need to know about creating productive spaces? We know that children's homes vary tremendously. This is one powerful way of seeing the equity divide among students.
So how can we use what is already known about innovative learning spaces to ensure that every child has the best possible home-learning experience?
Learn and do in one central and shared space.
In Hampton Township, a suburban school district just north of Pittsburgh, planning for renovation of the high school started with the school's academic goals in mind, says Dr. Michael Loughead, the district's superintendent.
If Hampton's students are going to think critically, solve problems effectively and apply learning to the real world, Loughead says, they need a place to really use the information they're being taught. So rooms for classes like robotics, mechanical engineering and family/consumer sciences (formerly home economics) will eventually be moved into a learning hub at the center of the school building.
Traditionally, these kinds of workspaces where kids create and get messy are located far from academic classrooms. After the school's renovation, they'll be located together so that students can take concepts they're learning and instantly put them into practice creating things.
The school's cafeteria will also be transformed into something akin to a college commons. A new configuration will ensure that students will not only be able to eat there but will be free to work independently or in small groups throughout the day. The thinking for this came from observing how college students tend to spread out across their campus working on laptops in any available, comfortable locations they can find.
With that in mind, K-12 schools are embracing the idea that effective learning doesn't have to happen at a desk.
At Duquesne Elementary School, students sometimes sit in empty kiddie pools when they're reading or concentrating on a project. It's a technique that parents could use to inexpensively create a private space for a younger child to learn at home.
Another cost-free way to translate this thinking for at-home learning: Have kids work on a math or science lesson at the kitchen table, then remain at the table to do a hands-on project that illustrates the same principles. Same learning space — with the added value of continuity between thought and action.
Co-design with students.
What if students had a direct voice in planning their learning space?
At the Pittsburgh arts and technology space Assemble, kids and adults involved in after-school programs begin by collaborating on a community agreement for use of the space.
Specifics might include agreeing that people will knock before entering a particular area. Or that they will do messy projects in the bathroom but not on the carpet. Once the agreement is written out on paper, everyone signs it.
The effect: Students feel ownership of a learning space and get involved in how best to use it, says Nina Barbuto, Assemble's executive director. At Assemble, most furniture is on wheels. That means kids can customize their learning area depending on the project they're doing. Shape the space — and shape the learning in turn.
It's valuable to give kids a voice in where they'll do their work — even if their requests are unique.
"Maybe it's a nook to read in. Maybe it's even a pillow fort," Barbuto says. If it creates a comfortable learning environment, let a child give it a try.
If a child likes to draw or spontaneously write down ideas, take a cue from the New Castle Area School District in southwestern Pennsylvania. They've added whiteboards to tabletops, desks and walls, so kids can write or draw the moment an idea strikes.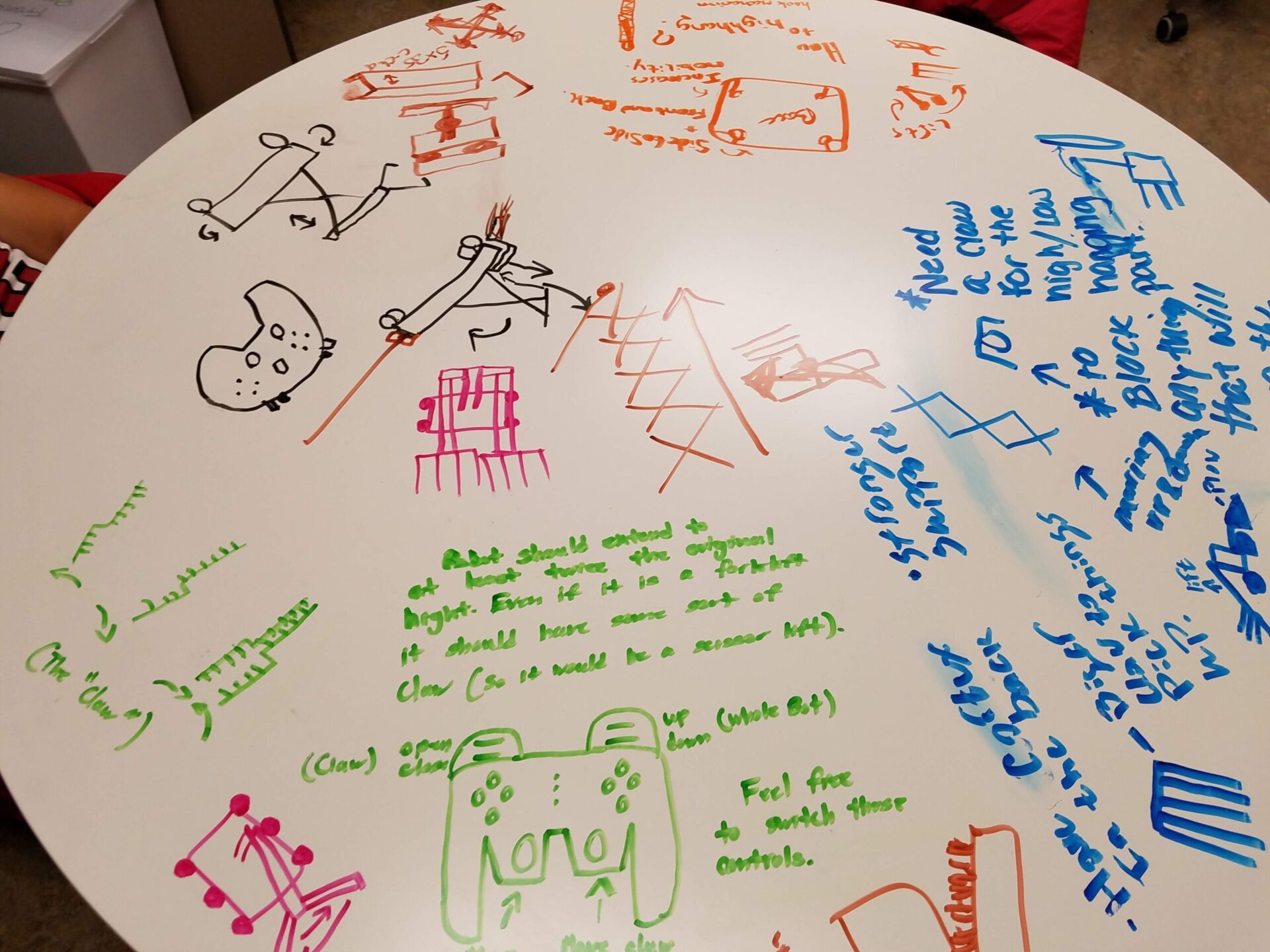 Families educating at home during the virus can do the same by covering an old piece of furniture with whiteboard paint or buying an inexpensive whiteboard decal to put up on a wall.
Make space for quiet moments … and noisy ones, too.
The stereotypical image of school includes students sitting quietly in classrooms and reading silently in libraries. Kids definitely need peaceful places to concentrate. But learning isn't always a quiet process — and shouldn't be.
As schools increasingly embrace collaborative projects and problem-solving through teamwork, communities of parents and educators are realizing that kids sometimes need places where they can make a bit of noise.
Loughead says Hampton High School's library is being reimagined with small glass-enclosed areas that will allow for group conversation and technology use. Quaker Valley Middle School has already done the same at their library — and they've added a miniature video studio that looks like the TARDIS, the time-traveling phone booth from the TV show "Dr. Who."
Most parents may not be able to create anything quite so elaborate (though Barbuto says you'd be surprised what kids can build if you give them enough cardboard and duct tape).
But in an era of great and convulsive change — and, this year, upheaval — in the spaces where American children are learning, it becomes far easier to embrace two ideas that have been percolating in educational circles for years now:
First, the best 21st-century learning spaces may look nothing like the rigidly planned classrooms we remember. And second: Anything that's going to help kids learn more effectively is probably worth exploring.
Want to know more about learning space design? Check out Remake Learning's Space to Learn report.
This article is part of a series for 
Tomorrow
, powered by Remake Learning. From May to October 2020,
Tomorrow
will explore–through virtual events, grantmaking and extensive storytelling–what we can do today to make tomorrow a more promising place for all learners.
Have something to add?
Share your hopes for today's young people using #RemakeTomorrow and tagging @RemakeLearning.
Tomorrow
will elevate community questions, spotlight your ideas and help all of us prepare for whatever the future may bring.