Tomorrow dawned five months ago with a simple question: "What if?"
What if we left behind what we once called "normal," and instead forged a future where each day holds promise for every learner?
What if families, educators, and young people alike came together to decide what that future could look like?
And what if schools, libraries, museums, and out-of-school programs had the resources not only to do things better, but to do better things?
Remake Learning asked "What if?" in some two dozen feature stories; in weekly livestreamed discussions with educators and activists; in webinars for parents and school leaders; and on social media, using the hashtag #RemakeTomorrow. Tens of thousands of people took part, and the conversation reached more than 23 million people around the world. Even now, the collective appetite for transcending "normal" continues to grow — an appetite intensified, no doubt, by America's reckoning with racism and injustice, together with the countless tragedies of COVID-19.
Today, as the first phase of Tomorrow comes to a close, we'd like to share a little bit of what we've heard.
Again and again, we heard that families, educators, and young people have been let down by "normal." We heard calls to abandon methods rooted in routine rather than in science and cultural competence. We heard calls to abolish the systems that fail young learners by design. And we heard a resounding affirmation that incremental improvements will no longer suffice: It's time for "something else" entirely.
It's time for learning that enlists families as allies in new ways. Parents and caregivers have long been the people we learn from the most, but they haven't always been considered educators — at least in the traditional sense of the word. In "normal" times, kids learned from their parents, but education came from their teachers. The pandemic shattered that artificial limit. Throughout the campaign, parents and caregivers made it clear that they expect to engage with learning differently — as partners, as advocates, and as the expert educators they've been all along.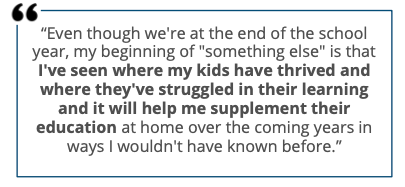 It's time for learning that's immersive, hands-on, and rooted in community. Whether in classrooms, the outdoors, or behind a computer screen, young people and their families yearn for opportunities that let them explore the world, experiment with new ideas, and solve real problems that affect their neighborhoods, communities, and cities. They want learning that's playful and collaborative, supported by safe, nurturing environments and close human relationships.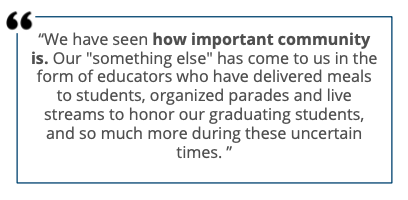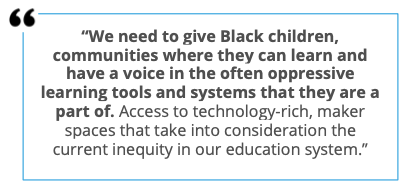 It's time for learning that lets young people pursue their passions and dreams. Learning serves a far higher ideal than preparing future workers or meeting standards set by the state. As Deepak Romola of Project FUEL puts it, "Teachers allow us to meet who we are, rather than just what we can do." It's time for learning opportunities that support that ideal, both in schools and out.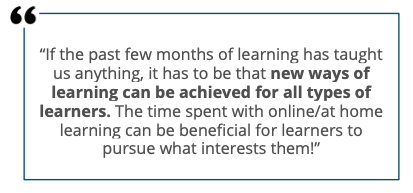 Of course, we also heard plenty more: Families and educators alike are emphatic about art, mentorship, and the urgent importance of empathy and activism. They want better support for teachers, whose already-stressful jobs have grown unimaginably more difficult. And they recognize that while this moment of malleability offers a once-in-a-lifetime chance to remake learning, they also know that systems change is never guaranteed. The ever-present pull toward "normal" is a powerful human urge, and it's almost always easier to submit to yesterday's limits.
But we also heard that with persistence, funding, and a big tent, it's possible to break the cycle of doing-what-we've-always-done and build something else instead — something more joyful, loving, and just.
In that spirit, Remake Learning has published a framework for a more promising future. Informed by families, educators, and young people alike, it's a future where success is defined by communities; where parents are partners in children's learning; and where each learner's path reflects her interests and aspirations. It's a future where power is shared and where everyone belongs. It's a future where Tomorrow is limitless.
To bring that future into being, Remake Learning and The Grable Foundation have awarded Tomorrow grants totaling $1.43 million — grants that will support 17 organizations as they answer the question we started with: "What if?"
What if substitute teachers were also professional artists? What if parents and educators were trained as community organizers? What if "empathy studios" helped us learn from other people's perspectives? And what if young people themselves led the movement toward equitable learning?
We're about to find out. Because while the campaign's first phase has officially come to a close, Tomorrow is still to come: Over the next year, we'll launch additional conversations, projects, and grant opportunities that connect timeless ideas with new ways of learning. Together, we'll keep listening, keep sharing, and keep pushing for something better — for a future where every learner is ready for what's next, no matter what tomorrow might bring.
---
Authored by: Gregg Behr, Co-Chair of Remake Learning and Executive Director of The Grable Foundation