What's a party without a few good friends? On Friday, January 17, Remake Learning teamed up with Allegheny Intermediate Unit 3 (AIU) and their transformED initiative to combine two celebratory events into one whirlwind day.
The newly dubbed STEAM Showcase X Network Assembly brought together hundreds of network members, educators, and students, plus dozens of schools and organizations. Attendees took part in hands-on STEAM learning demonstrations and informative presentations. On a larger scale, the day embodied two key priorities of the network—convening and coordinating—and one big celebration of engaging, relevant, and equitable learning.
Read more: The 5 C's of the Remake Learning Network >>
Here are 6 favorite moments from the STEAM Showcase X Network Assembly:
1. Hearing about the latest in STEAM learning straight from students
The day kicked off with 40+ districts showcasing the innovative, cross-disciplinary STEAM learning happening at their schools. Several used the opportunity to not just showcase learning, but engage students in real-world learning. Students from Avonworth School District, Baldwin-Whitehall School District, Duquesne City School District, Greensburg-Salem School District, Mount Pleasant Area School District, Northgate School District, and Shadyside Academy, among others, manned tables and eagerly walked visitors through their favorite STEAM projects. Examples ranged from STEAM lending libraries and Dash coding accessories to entrepreneurship-focused student businesses.
The showcase also featured an extensive line-up of STEAM exhibitors from higher ed institutions, industry partners, libraries, and museums, including Schell Games, Assemble, Arts Ed Collaborative, ABC Create, Attack Theater, Birdbrain Technologies, and more.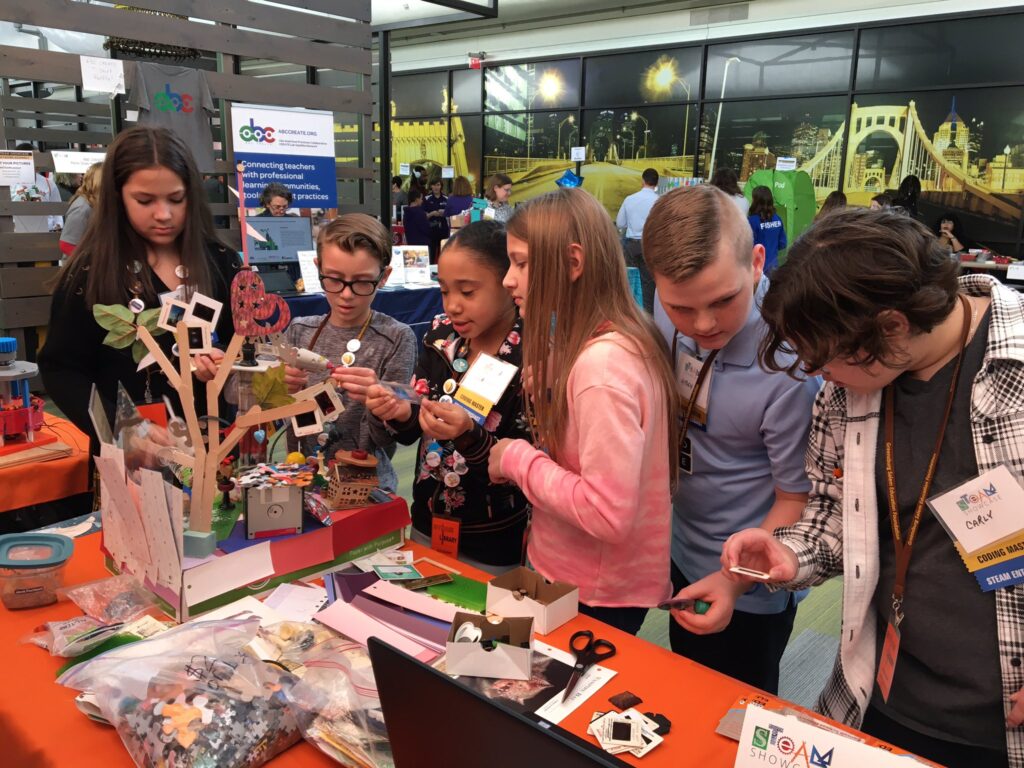 2. Announcing the next round of PAsmart Targeted Grants
A mid-morning round of ignite talks provided a quick reprieve from the action-packed showcase. Featured speakers included State Secretary of Education Pedro Rivera, County Executive Rich Fitzgerald, Pennsylvania Department of Education Special Consultant Judd Pittman, Brentwood Borough School District Superintendent Amy Burch, and Remake Learning's own LaTrenda Leonard Sherrill.

Secretary Rivera took to the podium with exciting news, announcing the recipients of 2019-20 PAsmart Targeted Grants. Grantees included 22 school districts from Allegheny County and several more from across western Pennsylvania. Funds will help expand computer science classes and teacher training across the state, ultimately supporting students in building their computer and tech skills and connecting to related career pathways.
3. Holding Space for 7 Working Groups

As the morning showcase concluded, Remake Learning members gathered for a noteworthy convening of the network's working groups. These "mini networks" represent several network focus areas and help elevate local content area experts, forge community connections, and produce related learning opportunities and materials.
This marked the first time members from all seven working groups gathered together at the same time to share updates and information.
4. Celebrating 2019 Grantees

After that, it was a quick slide into full celebration mode! Remake Learning Field Director Ani Martinez provided members with a "state of the network" address from the Assembly stage. Her remarks included big thanks to the 100+ schools and organizations that received funding from Remake Learning in 2019, through Ignite Grants and Blueprint for Learning.
Read more: Ignite Grants are back for 2020! Apply now for $5,000 in funding >>
5. Officially declaring "Sunanna Chand Day"
The network update wouldn't be complete without a heartful honor of Remake Learning's former director, Sunanna Chand. Sunanna returned to Pittsburgh for the day and was presented with a surprise declaration from the City. Friday, January 17, will go down in history as Sunanna Chand Day!
6. Celebrating connections old and new
When a diverse group of educators, administrators, policymakers, and community members come together with a shared vision, great things can happen. Bringing people together lies at the heart of the Remake Learning Network, so we can't help but end our list in the same way we ended our day: by celebrating connections new and old.
Thanks to all who joined us at the STEAM Showcase X Network Assembly!