This post is part of Remake Learning's series on Place-Based Education. For more, check out 7 Tools to Kickstart Place-Based Learning (And More to Keep It Going)
As humans, our physical setting affects us in different ways, from our ability to move physically, to how we feel, and in this context, how we learn.
For young people, it is no different. Their surroundings help shape their belief systems, their sense of self, and their understanding of the world around them.
Place has the potential to uniquely engage learners. When concepts are grounded in a physical location or shared experience, they come to life in ways unmatched by any theory or concept. When connected by place, learning transcends models and modalities, helping to not only boost student outcomes, but also increase student engagement, learner agency, and community impact.
A working definition of Place-Based Education
In their 2017 report, Getting Smart defines Place-Based Education (PBE) as "an approach to learning that takes advantage of geography to create authentic, meaningful, and engaging personalized learning for students."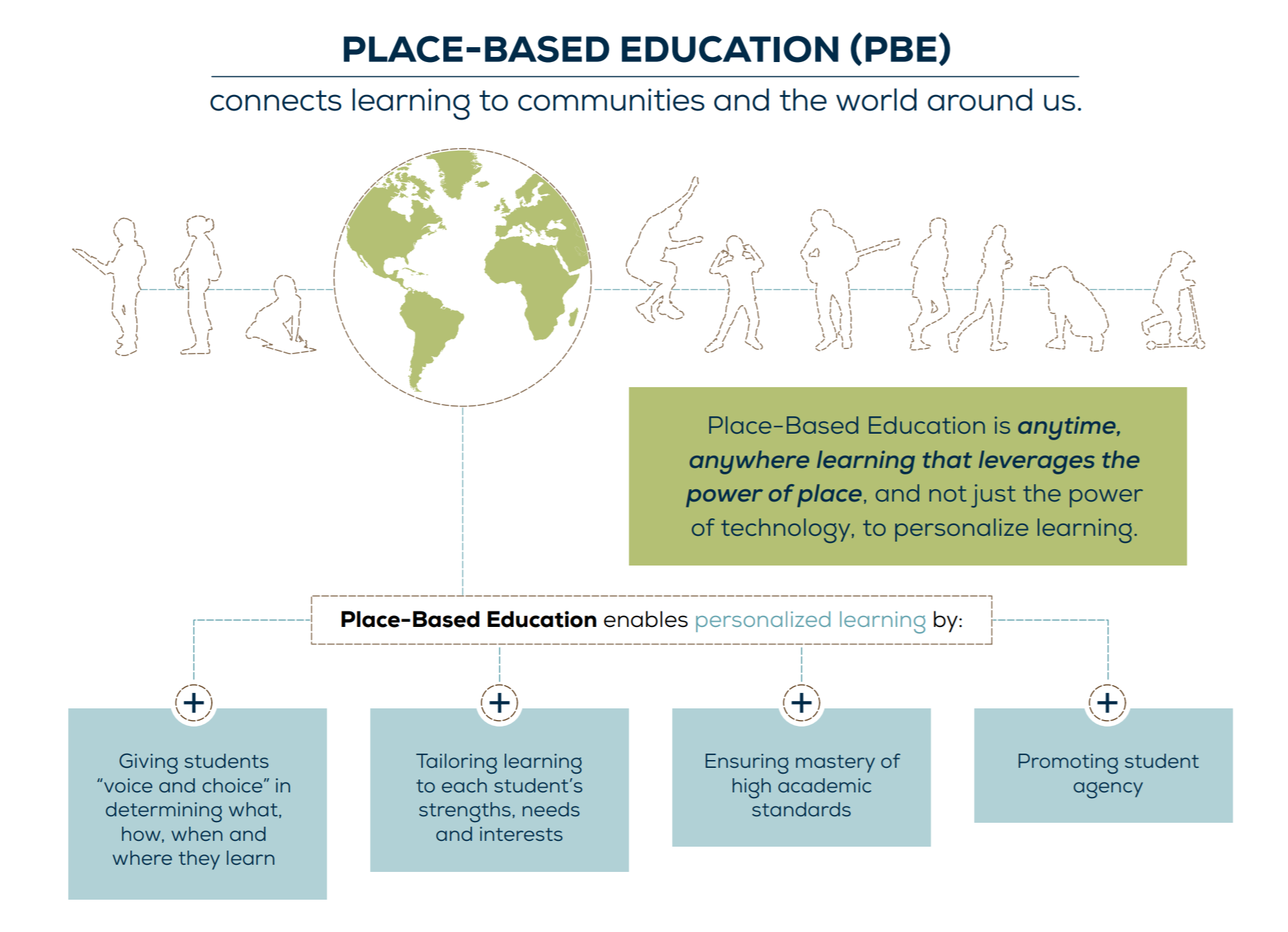 They go on to cite the Center for Place-Based Learning and Community Engagement's definition of PBE, as a learning experience that "places students in local heritage, cultures, landscapes, opportunities, and experiences, and uses these as a foundation for the study of language arts, mathematics, social studies, science, and other subjects."
PBE is a cross-curricular approach to learning that integrates several familiar Remake Learning focus areas and values:
PBE builds on personalized learning concepts. It creates opportunities for students to have voice and choice in their learning and creates opportunities for educators to tailor learning to each student's strengths, needs, and interests.
PBE exemplifies Deeper Learning, by actively engaging learners in authentic, collaborative, and interdisciplinary tasks.
PBE bridges the gap between formal and informal learning and frequently leverages local partnerships with parks, public spaces, museums, and businesses.
Despite its related buzzwords, PBE is not a new concept. And there's a reason why PBE has had such staying power over 200+ years of change in the educational system: Its application is versatile and it offers a laundry list of benefits for students, educators, and communities.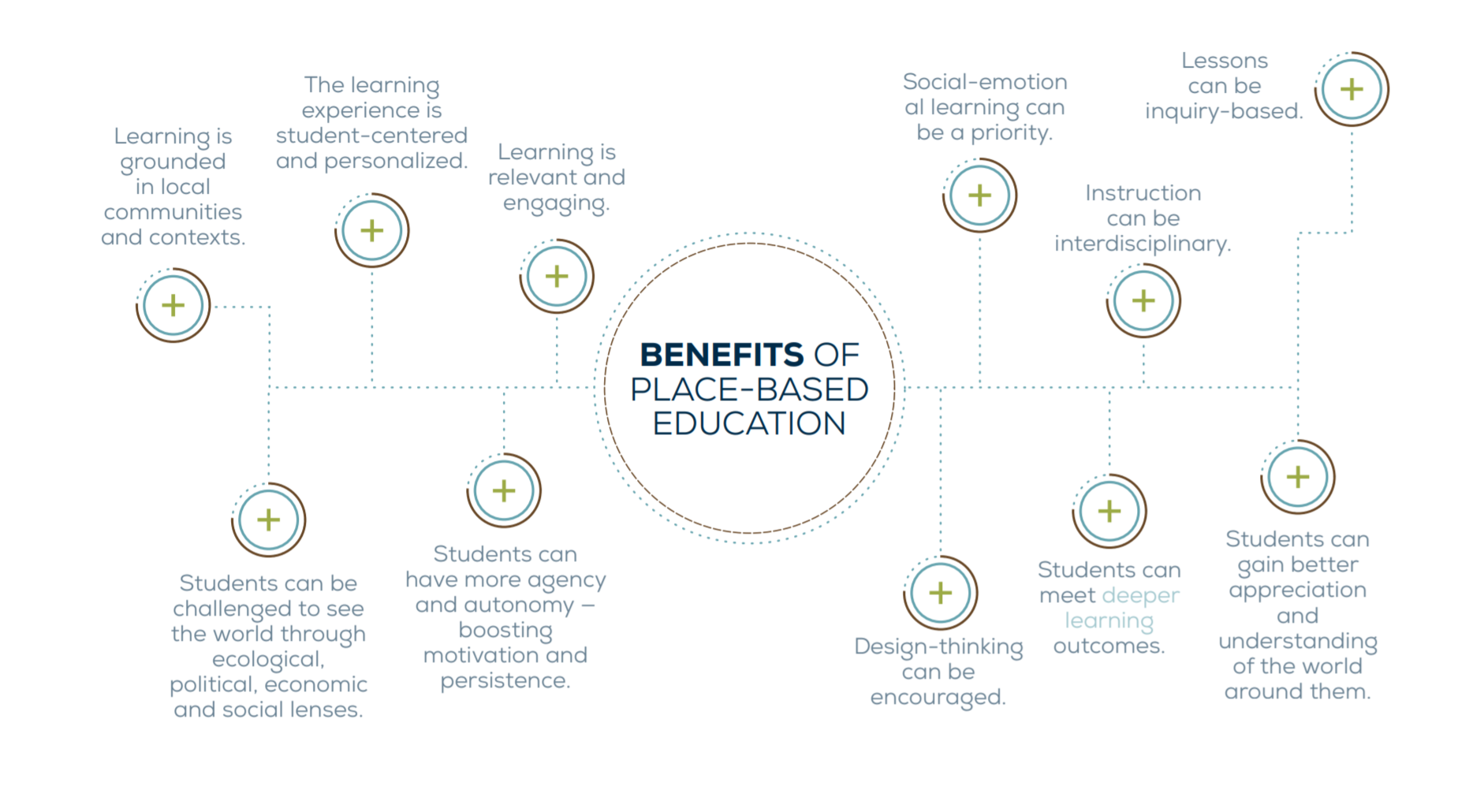 PBE can be applied in urban, rural, or suburban geographies; in early learning environments, K-12 classrooms, and higher education, in both formal and informal settings. PBE can be scaled up or down, from single lessons or stand-alone experiences (like a classroom speaker or field trip) to full programs with an entirely place-based curriculum. PBE can take the form of project-based learning, service learning, work-based learning, or professional learning.
Perhaps of biggest benefit, PBE brings the "why" of education front and center for learners. No other learning model can inspire passion for inquiry, support systems-level thinking, and drive community connections quite like PBE.
But for its varied applications and many benefits, PBE remains the exception, rather than the norm, for learners, especially those in formal learning environments.
Where's the disconnect?
For one, tech can easily overpower PBE. Although place-based learning naturally compliments "anytime, anywhere learning," its application is often reduced to "anywhere you can get a wifi signal."
In addition, many schools still buy into the test-prep era fallacy that emphasizes a need for outside "experts" to drive change and improve learner outcomes. PBE helps prove that all you need to innovate is here, in your place.
PBE in action
Within the Remake Learning Network, many members are already embracing analog (or tech-limited) PBE, elevated by collaboration and home-team expertise:
Beyond the geographic bounds of the Remake Learning Network, PBE is making an impact in educational ecosystems across the country.
In Wyoming, Teton Science Schools' grade school, graduate programs, summer camps, and visiting programs all connect learners to the ecology, culture, and economy of their community.
Further west, Cottonwood School of Civics and Science in Portland, OR, encourages students in grades K-8 to explore their community through fieldwork and service-learning. Meanwhile, at Hood River Middle School, PBE makes student learning relevant and engaging by transforming topics in local geography, history, and economics into classroom lessons.
From coast to coast, the power of place is helping redefine the idea—and the why—of learning for students of all ages. Whether their "place" is a busy city street, a West Virginian mountain, or a professional workplace, PBE has laid down roots and will continue to help students grow in the Pittsburgh region and beyond.