This post is part of Remake Learning's series on Place-Based Education. For more, check out You Are Here: The Power of Place in Learning and 7 Tools to Kickstart Place-Based Learning (And More to Keep It Going)
By definition, place-based learning defies the boundaries of traditional education. Rooms, walls, and even schools…all optional. Learning can happen anytime, anywhere.
This was top of mind when we caught up with Sarah Siplak of the Playful Pittsburgh Collaborative in March and talked about the many overlaps between place, play, and learning, and how her project is bringing together all three to support children, families, and communities. Through work like the Hazelwood Play Trail, the Collaborative activates existing community spaces to create learning opportunities for children and encourage interaction between caregivers, neighbors, and business owners.
Today, COVID-19 has dramatically curbed our interaction with public spaces and people. Yet, we're still learning in "places": at home, online, in the backyard. Now more than ever, we're seeing the importance of education that integrates with everyday life. Place and play remain vital, engaging vehicles for learning and living.
Together, place and play help give students what they need most right now-learning that centers their experience, connects to real-world events, and supports social-emotional growth-all while leaving the door open for more opportunities when we return to our parks, museums, and other community spaces.
---
Hi Sarah! To start, can you tell us about your role at Playful Pittsburgh, and what brought you to the world of play?
My role as the Director of Playful Pittsburgh Collaborative is to bring our partners together through annual events around play, such as our Ultimate Play Day, curate play events in our region, and keep up our online presence through our newsletter, social media, and website. Before becoming the director, I was a member of the Collaborative as a representative of SLB Radio, my previous job in the nonprofit world.
I work alongside the collaborative's steering committee, made up of our three founding entities, Trying Together, Carnegie Museum of Art, and Pittsburgh Parks Conservancy, to ensure we are staying focused on our mission, which is to help people understand why play is a critical element for people of all ages—not just young children; to educate decision-makers on the importance of play; and to model and inspire through playful interaction.
The Collaborative also co-leads the Recess Advocacy Team with Trying Together to advocate for best recess practices in schools.
What interesting work! You mentioned Ultimate Play Day, which sounds very fun. What happens at the event?
Ultimate Play Day is an annual event that we host where we ask all of our partners to come together and host hands-on, playful activities for families and people of all ages. It's a way for them to engage in and understand a bit more about the importance of play.
The event is free, open to the public, and moves to a new location each year. The Collaborative partners with community organizations within the hosting neighborhood to highlight work that they are doing as well. In the past, we've had games like cornhole, hula-hooping, fitness activities, painting activities, water and nature play, and so much more! Last year, Venture Outdoors brought kayaking equipment, and even though we weren't near water, they gave hands-on kayaking demonstrations!
Last year, our wonderful co-hosts at the Whitehall Public Library also helped us coordinate LIVE performances with Bhutanese and Nepali dancers and singers.
With the Ultimate Play Day, our intent has always been to deepen the understanding of play as essential to human development and critical to the physical, intellectual, and social well-being of people of all ages.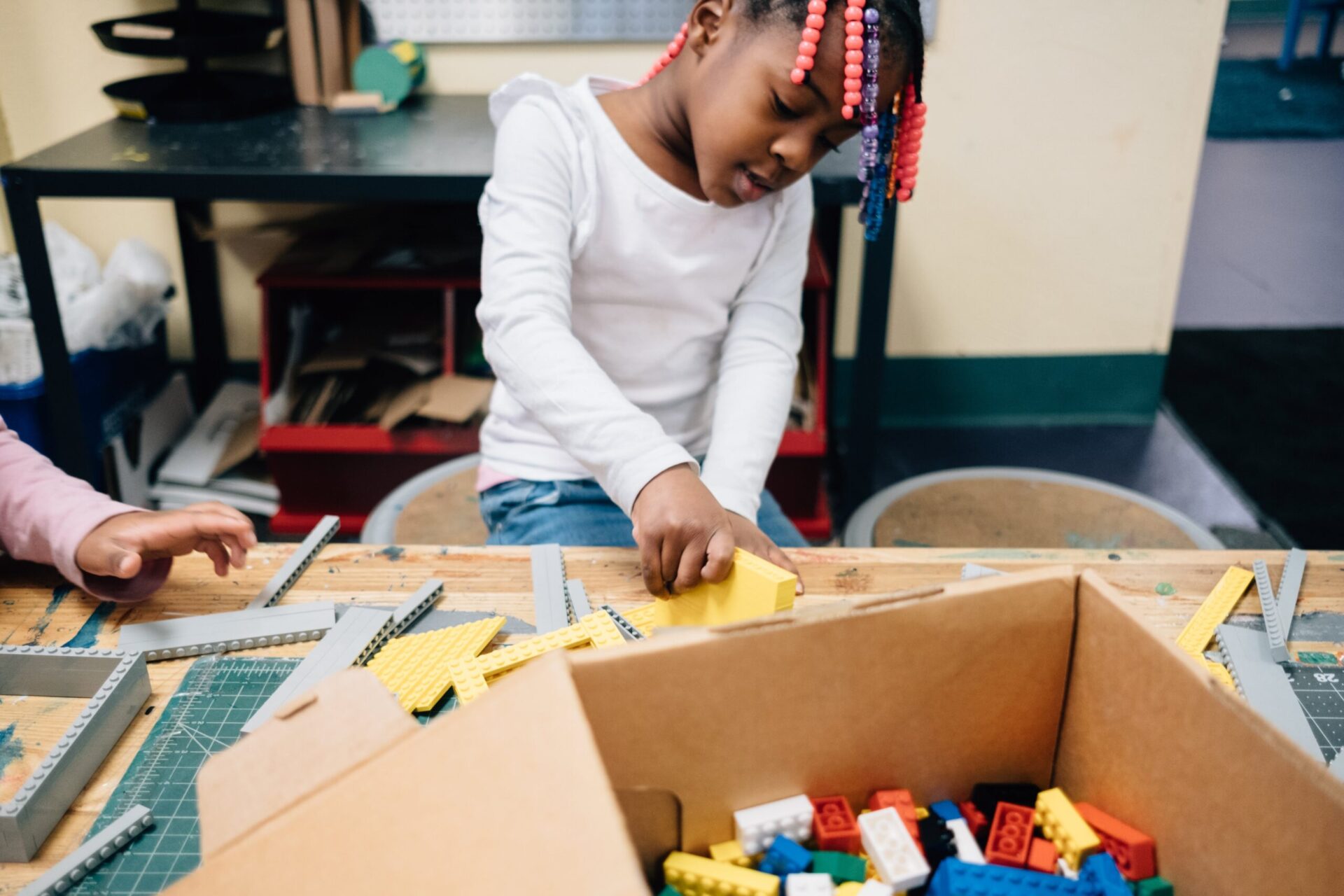 Speaking of the importance of play, where and how do you see play and learning overlap?
Inherently, for young children especially, play is learning. There are all sorts of benefits of play – developing social-emotional skills, physical development, gross motor and fine motor skills, and more.
That's really the idea behind our Hazelwood Play Trail; its core concept is place-based learning. The trail connects learners and residents to their community in a playful way. It provides space and time in existing community places where learning can happen. The hope is that the Trail provides more opportunities for play and encourages playful interactions between caregivers, their children, community members, and neighbors.
The Hazelwood Play Trail was and is very much a neighborhood, community-based project. Through initial community meetings around the concept, community members worked together to identify existing assets through a 'trail' and to add new assets. One community member even said they hoped their community would become known as the neighborhood of play. And it's not necessarily about building spaces, even though that's a lot of what's happened in the past couple years. Another hope is for community members to come together and enjoy each other's company and play, in some cases in spaces that haven't been seen as playful before.
Absolutely! We were introduced to the concept of Playful Learning Landscapes from our work with the Grable Foundation during the planning of our second convening around play—we call them "UnConferences" around here!—in 2018. It was called Play for Change, and the idea was to bring together community members across different sectors. For example, how could we get people on the city side of things, like city planners, city parks, departments of public works, to engage with other community members, educators, or nonprofit organizations, and think about how to incorporate play into communities? To achieve this, we asked our presenters to playfully showcase their work. We also partnered with Philadelphia Playful Learning Landscapes as they were doing similar work like the Ultimate Block Party, Parkopolis, and Urban Thinkscape, which are somewhat similar to our Ultimate Play Day and Hazelwood Play Trail. We were able to host two of their representatives to come and present at Play for Change about their work in Philadelphia.
In 2019, Philadelphia Playful Learning Landscapes continued their work on this idea of activated community play spaces on a wider scale and began looking for partners on a national level. That was when they reached out about joining their board and adding the work in Pittsburgh to their growing list of cities participating in playful learning on a community level. In February of 2020, they hosted an event at Brookings to release their whitepaper. I attended to participate on a panel and lend the perspective of someone on the ground, doing the work here in Pittsburgh and how it connects to what they're doing Philadelphia and other cities.
So how do you see this intersection between play, place, and learning evolving in the future?
The conversation is continuing! We're thinking about what it would mean to bring us all together on an annual basis to talk about the playful learning that's happening in cities around the country and are also focusing on the outcomes of this work. The outcomes of our work here in Hazelwood have really been rooted in community impact, and how it builds a feeling of pride of ownership and pride in the community. As an example, as part of the Play Trail stop at Dylamato's Market, we helped complete a renovation of the store's façade and it's impacted the entire business. This particular play stop is engaging learners and families as they come into the grocery store in a playful way. In Philadelphia, they're partnering with local universities around data-driven research. For instance, measuring the levels of interactions at a location before and after the installation of a play stop.
Also, scalability has continuously been part of the work. While our work with the Play Trail concept has been focused in Hazelwood, we definitely want to see it happen in many other communities. And we're learning from the process along the way. There is no lack of wonderful organizations working on behalf of families in Hazelwood, so we're asking ourselves: How can we connect with these organizations playfully?
Zooming way out: What one big idea do you want educators to know or remember about the power of play?
Adults are the gatekeepers of play for young learners. And for educators specifically, understanding that they are the ones that allow for play to happen. Whether it's through structured or unstructured play activity, they're creating the needed space for play and social and emotional growth through play.
I also think it's important for all people to understand the importance of play as a time for finding joy. When it comes to self-care, especially as an educator or as someone who's working with youth or doing work around play, whatever that may be, it's important to find time to play and find joy for yourself. In school or summer camp, the focus is often on the learning outcomes and enrichment activities happening throughout the day. So it's a nice reminder to ask: How is this playful? Where is the joy happening? If you're not finding joy in the work that you're doing, that's going to affect how you're spreading joy and enabling play for the people that you're working with, whatever age they might be.