Remake Learning recently supported a delegation of rural educators in attending ISTELive23, a remarkable national education technology conference held in Philadelphia, PA this past June.  This year's theme was to "discover what's next in education."
Remake Learning and its delegation supported a Pennsylvania Association for Educational Communications and Technology (PAECT) Playground space on the first full day of the conference that centered around Remake Learning Days and its impact on the learning communities in Pennsylvania, nationally, and internationally.
The Remake Learning Days Playground had a packed schedule full of storytelling sessions, poster tables, and information tables facilitated by Alyssa Moore, IU1 and Remake Learning's Rural Outreach Coordinator, Kelsi Wilcox Boyles, IU6 and Northwestern Pennsylvania Remake Learning Days lead, and teachers Jennifer Toney and Tracy Andrews.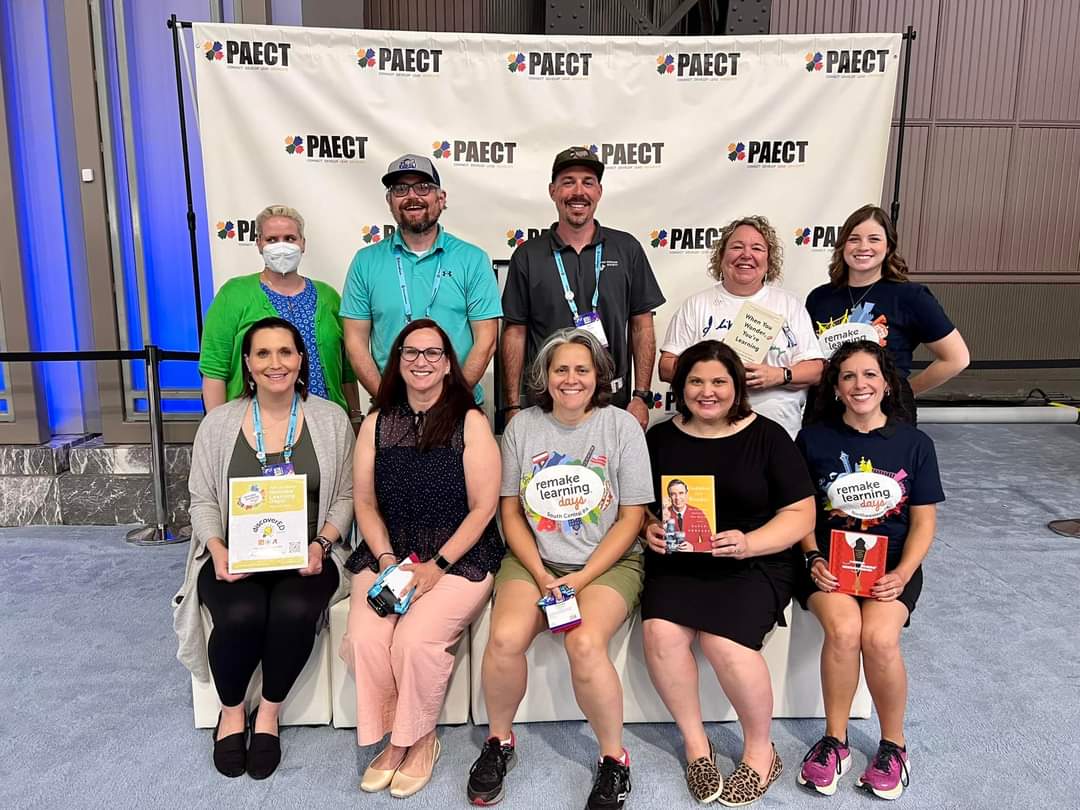 Although our playground space was only 2 hours in length, there was a constant flow of visitors from across the globe who were excited and interested in learning more about RLD and how they can get started in their own communities. Many left inspired and made great connections with new contacts to eagerly support their own pop-up events next year.
In addition to the Remake Learning Days Playground, Remake Learning's delegation, Jennifer Toney, 3rd grade teacher of Sharpsville Area School District, and Tracy Andrews, 1st grade teacher of Wilmington Area School District, led their own sessions and poster presentations championing the importance of Social-Emotional learning, highlighting the Fred Method, and uplifting Remake Learning Days and the impacts of their own events during the learning festival on their communities.
"My favorite session was titled Little Minds, Big Ideas which targeted Pre-K to Second grade," said Tracy Andrews. "I was excited to see how preschool teachers were being taught how to use Bee-Bots and Blue-Bots with their students. They are a great way to introduce young children to the basics of coding and problem-solving."
Overall, ISTELive23 was an enlightening experience. It provided a platform for networking, learning, and discovering innovative approaches to teaching and learning. The event reaffirmed the values of Remake Learning and in the transformative power of technology and its potential to revolutionize education. All of the Remake Learning representatives left the conference feeling energized and armed with a multitude of ideas that they are all eager to implement in future educational endeavors.
"It is difficult to explain everything that I learned while attending ISTELive23–there was just so much!" said Jennifer Toney. "The most impactful sessions were the ones that discussed how educators can incorporate AI into the classroom. On the first day of the conference, I was very intimidated by the thought of inviting AI to become a part of my teaching life. As I attended sessions at different vendor exhibits and throughout the conference center, I learned how I can harness the power of AI for myself and my students. Now, I am excited to continue learning more about how I can guide my students to be responsible and purposeful with AI technologies and share my findings with other educators."
Tracy Andrews agrees: "As I look at AI today, knowing that it could be used in many ways, I can't help but to ask myself 'How can I do with AI what Fred Rogers did with television?'"