Imagine entering the colorful space of a Hindu temple filled with statues of gods and goddess, the sight and smell of incense filling your eyes and nose. Another day you visit a synagogue, then a mosque, a Catholic Church, then a Protestant one. For Samantha Utley, this was all part of a course on world religions that she took as a student at Gateway High School in Monroeville, Pennsylvania, a place that was "very diverse" and reflected a multicultural community. This "be local with a worldview" philosophy influenced Samantha's life as a student and continues to imbue her work as an educator today.
Samantha always knew she wanted to be a teacher. From a young age, the new Equity, Inclusion and Justice Coordinator at Fanny Edel Falk Laboratory School enjoyed working with children, nurturing them, teaching and learning with them. Her experience as a student at Gateway showed her the importance of different views, different voices and perspectives inside the classroom and out. These experiences, ideals and a strong dose of patient grace leads her into her new role, all during a time of movement towards justice.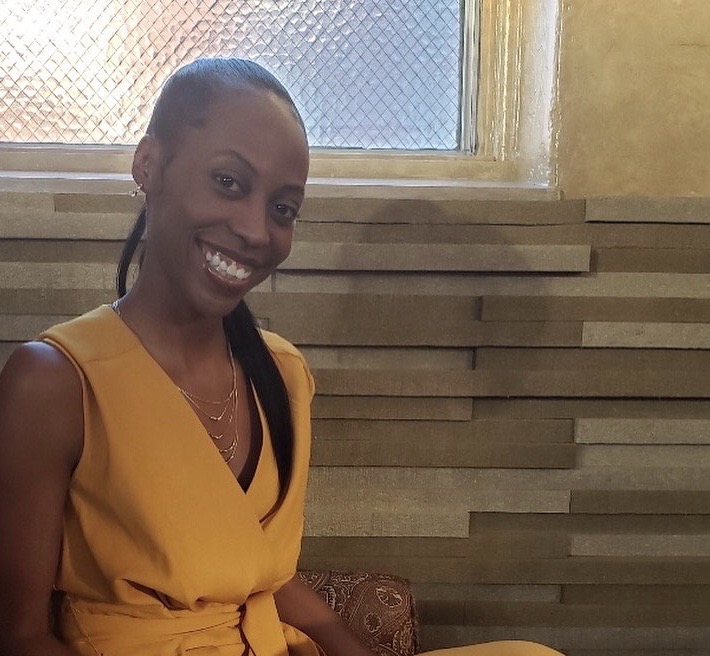 Samantha is a Pittsburgh native who grew up in Monroeville, where she attended both private and public schools and graduated from Gateway. She went on to receive her bachelor's degree in K-6 Education and master's degree in K-12 Administration from Duquesne University, along with a Special Education K-12 certification. Before beginning her current position, her professional experiences included being an elementary school teacher, STEAM instructor and Dean of Students at Duquesne Elementary School of the Duquesne City School District.
"My time spent as an educator in Duquesne positively impacted who I am as an educator and helped shape and define my practice," Samantha says. "While acting as Dean of Students which involved time acting within a disciplinarian role prompted me to reflect and readjust my mindset. How can I address systemic issues within the classroom that are proactive, engaging, and equitable? Lo and behold, this opportunity came…I am excited to do this work in a place like Falk…where I can teach social justice classes with the student perspective in mind."
Samantha sees schools as the perfect focal point for equity, inclusion and justice work. When she speaks of schools, she includes the community, the culture in and around the buildings and campus. She sets goals for her students, but includes objectives for all the constituencies and people touched by the children in her care, and her actions as an educator reflect her desire to engage and activate in ways that reject a one-size-fits-all approach.
The framework for all of this is a sense of grace and understanding that this is difficult but necessary work, that being uncomfortable is part of growth.
In 2019, Samantha was selected to attend a Pittsburgh Penguins hockey game as Teacher of the Month through her work as Duquesne City School District's STEAM instructor. Her work with science, technology, engineering, arts and math was unique because instead of simply duplicating success from another place, she knew that the work had to reflect the surrounding community. Her school's STEAM course included a maker space that would inspire the predominantly Black student body, by "creating a platform to combine STEAM with science and making. [It was] a maker space with innovation that reflected the groups' income, race and gender."
"Institutions, schools, and spaces need to look at their surrounding environment—who is attending, what are their interests —and cultivate relationships on their own," she says. "People would come to Duquesne Maker Space to get ideas and that was great, but their space has to reflect where they are—so the Duquesne space is not going to reflect an Upper St. Clair space or Wilkinsburg space, it is very different and independent. Sometimes we get caught up with wanting to duplicate, emulate a success, but it just has to look different."
Samantha believes the same approach can apply to almost any item or element in learning. Educators should know the foundation for why something is in their classroom or school, and they shouldn't be afraid to investigate and discuss its purpose, to determine how, if or why it fits in the classroom and the greater community.
Take, for example, the motivations behind purchasing a 3-D printer: Is it because of a trend, or is it a real tool for educational growth? Can its use grow with the needs of students? And if not, what is a better investment for the school? Knowing the value of what is brought into a school, Samantha says, is based on knowing and understanding its environment as a place of learning, and the environments that surround it—understanding what cultures and experiences the students, teacher, staff and families bring into the buildings every day.
Not only does this help to determine what mechanics the school needs, it also informs the kind of justice mission to implement, and how.
"It may seem uncomfortable at first, but we are not going to grow if we don't initiate these conversations and recognize the voices that have been muted or dismissed before," she says. "It is heavy work, there are going to be uncomfortable, necessary conversations. We need to progress, otherwise we're not going to move in a productive and proactive direction.'
Ideally, Samantha says, people can start by doing some inner reflecting. Right now, "there is this whole kick on anti-racist education. People are buying the books, going to video conferences…this is great, we should all be anti-racist, but I also think we need to be honest with ourselves about the biases we hold. They have to be acknowledged," she explains. "Then we can ask, 'how and what can I do to address it?'"
And that is when key conversations come into play: "People's toughest conversations, outside of those with themselves, are not with the people in the grocery store or online, but with your families. That is a lot harder to address."
But, she adds, there's also room to give people grace. "It is easy to call out people who say things that seem racist or prejudiced…but we are going to stumble and get it wrong. As long as there are people and spaces and places to give grace and help us address issues in a productive manner, that is all anyone can ask."
Becoming an educator also requires one to stumble and fall. It means making mistakes and learning from them, over and over again. Being uncomfortable is part of the growth process of becoming a successful educator. And although everyone's path is unique, Samantha says there are some common stages. The "thinking" stage, where prospective teachers have a starry eyed "Hollywood" perspective, a "change the world idea." Then there's the "learning" stage, where they are consumed by reading and practicing their craft. And finally, the "doing" stage, where they "get grounded quickly" by putting pedagogy into practice.
And this model is one that can be useful far beyond educator training. The Pittsburgh region as a whole and every school, institution and space could use this model to help create a more just community: Think by identifying the issue; learn and commit to internal and external investigation; and do the uncomfortable yet necessary work towards freedom and justice.