When the maker educator movement began picking up steam (every pun intended), there was a noticeable shift in school culture. The influx of makerspaces in schools facilitated a wave of hands-on learning experiences, tinkering, and collaborative opportunities. Professional development opportunities began popping up for educators, encouraging the implementation of design thinking and lesson planning centering maker principles. We saw the engagement levels of students grow expeditiously.
While these spaces were encouraging diverse perspectives and environments, I noticed an unintended consequence of this movement: the perceived archetype of a makerspace and a maker, what making is, and who making is for.
I can personally recall workshops or events that I attended that were geared towards educators who wanted to bring making into their environments, or further what they already created. These workshops were filled with amazing ideas, award-winning student projects, and teacher-led activities, which others (myself included) would want to replicate in their own spaces.
However, there was always a tugging notion that these opportunities and spaces did not fully represent me and the students I served.
Reinforcing what I experienced, the 2018 Making Culture report found that the traditional "maker identity" is severely lacking in inclusivity. The predominant culture of making remains that of white masculinity, and often reflects related interests. Across the country, makerspace leadership is overwhelmingly white, as well. This can breed makerspaces that are microaggressive and that reinforce unbalanced power dynamics. It also means the most marginalized groups—people of color and non-male gender—are not able to equally participate in or lead making activities.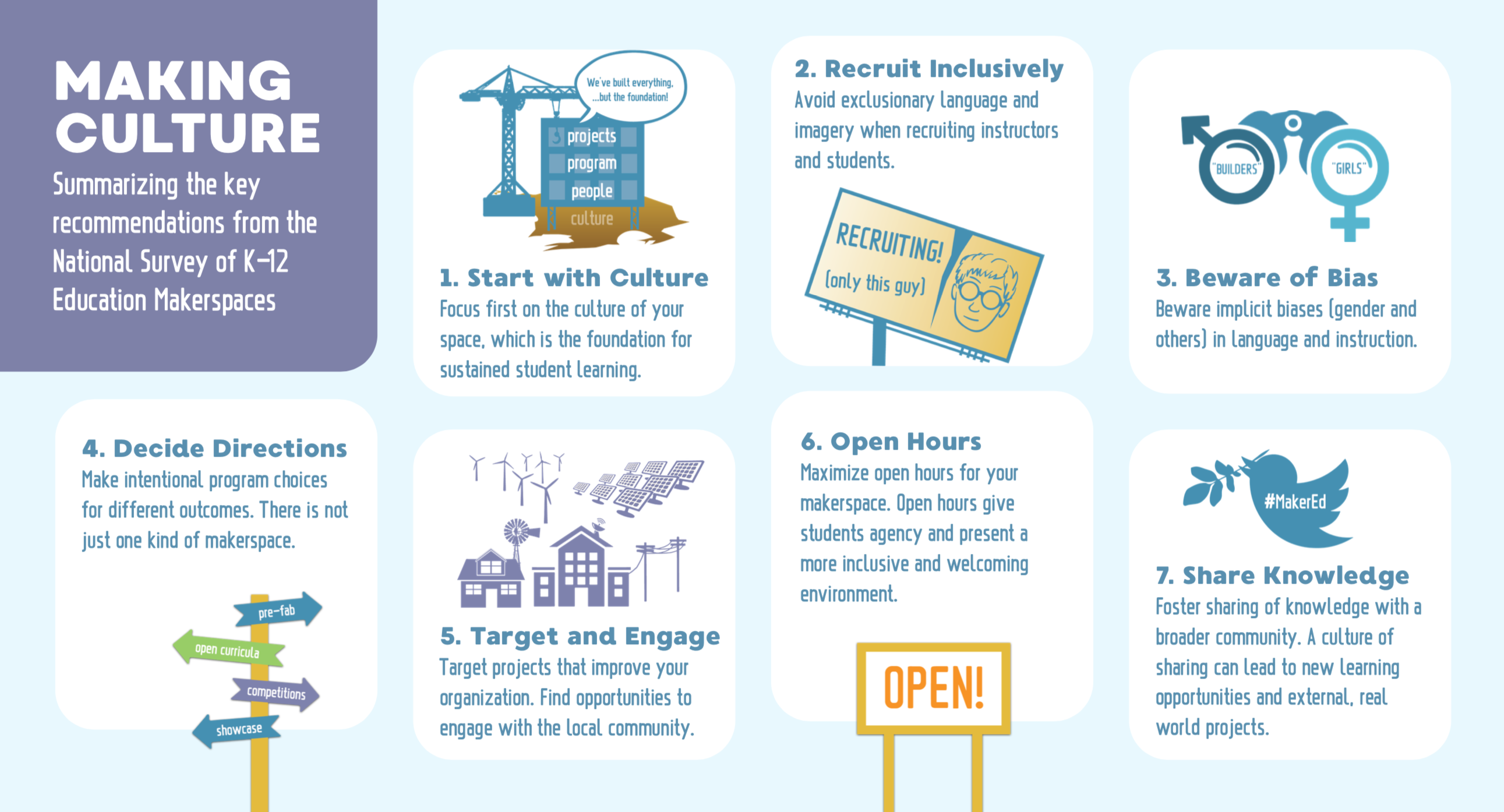 Reflecting on this, I offer three points to remember when creating (or recreating) your makerspace:
1.  Each school has its own unique culture and vibe, which our makerspaces should reflect.
Embrace your place and celebrate your space! Tap into the knowledge base that is your population and co-create spaces with your students that are reflective of their interests, identities, and communities.
2.  There is no one archetype of a maker.
Be sure to recognize makers from diverse perspectives and backgrounds. It is easy to recognize individuals who have similar backgrounds or are easy to access. But we need to expand beyond our bubbles and include narratives and perspectives of makers beyond our norm. Incorporate multicultural information, resources, and materials into your makerspace, and connect making to its historical roots in particular communities or cultures.
3.  There is no one way to be a maker.
Honor who your students are, help cultivate their greatness, and celebrate their accomplishments.
The last year and a half has shown us how important Maker Learning is for all our students. When schools and spaces closed their doors, it didn't stop them from making. Through online meetups and take-home kits, we saw how making helped learners maintain a sense of connection and gave them a social-emotional outlet. We saw how a makerspace can really be any place. The maker mindset can take root anywhere, helping learners to embrace exploration, iteration, collaboration, and a sense of empowerment through their own knowledge.
No matter where we're designing our makerspaces, we should use inclusion and cultural responsiveness as our foundation. Makers gonna make…so let's make in a way that ensures diverse and beautiful opportunities.