Whether you see January as the first month of the new year or the midpoint of the academic calendar, one thing is certain: learning never hibernates. We've gathered together a collection of opportunities happening in January, February, and March.
Something missing from this rundown? Email info@remakelearning.org to let us know!
---
SPECIAL EVENT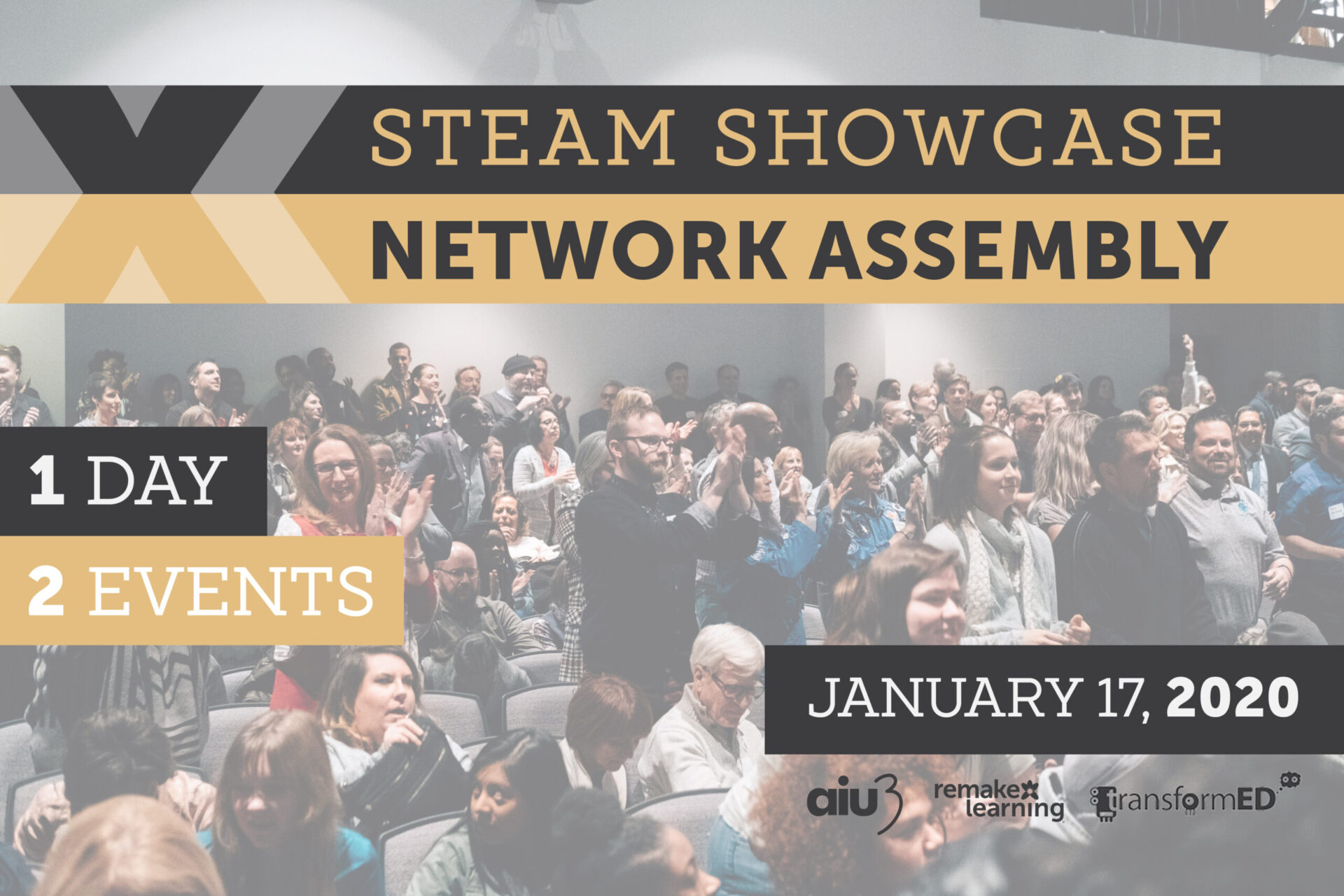 Two fan-favorite education events are combining forces this new year! Join Remake Learning, Allegheny Intermediate Unit 3, and transformED on January 17, 2020 for a day of hands-on STEAM exploration and a celebration of all things innovative learning at Nova Place. Register now.
---
Grants & Awards
$20 million in targeted and advancing grants available to bring high-quality STEM and computer science education to communities. Two competitive grant programs are available to eligible applicants, each with a different audience and purpose. Learn more about applying here.
Apply for up to $250,000 to help young people inspire their peers to use technology in healthy ways and make digital spaces better for everyone. Learn more here.
The Schools of Opportunity Recognition Program recognizes public high schools around the nation that are creating remarkable opportunities to learn for all their students. Nominate a school here.
In 2020, Remake Learning will make catalytic grants of $5,000 to support network members as they imagine something new, build on their strengths, or re-energize their existing learning innovations. Learn more here.
Job & Volunteer Opportunities
Assemble envisions diverse neighborhoods of empowered people who create, connect, learn, and transform together. You can help realize that vision by becoming a teacher at Assemble. See the full job details here.
STEM Coding Lab is looking for an educator who enjoys spending time with children, has knowledge of classroom management and computer science. Get the details here.
The Y Creator Space (YCS) is a STEAM-based maker program that serves youth ages 9-13. Help deliver high quality STEAM and maker-based programming in Homewood and outreach across the Pittsburgh region. Learn more here.
Catalyst will open as a K-1 school in the fall of 2020, and then grow a grade each year to eventually serve kindergarten through 8th grade. Learn more about job opportunities here.
Professional Development for Educators
Radically relevant professional learning experiences for educators in western Pennsylvania. transformED's approach to professional development is learner-centered, inquiry-driven, project-based, hands-on, and collaborative—just like it should be in the classroom. See the transformED calendar here.
Take your STEM skills to the next level with this new series of professional development workshops for PreK-12 educators, administrators, homeschool educators, and more! Get eyes on the whole series here.
A strength-based professional development that will help them identify ways to increase developmental interactions between adults and youth, positively supporting the social and emotional well-being of the youth they serve. Register here.
School Tours
Join administrators and educators from area school districts to experience firsthand regional approaches to teaching and learning that aim to be more relevant, engaging, and responsive to their students.
Conferences & Convenings
Seeking submissions of academic papers and project presentations as well as more innovative session formats that focus on digital technologies for learning, educational and commercial games and other media, innovative tech-infused curricula, and theoretical and/or empirical exploration of digital media and technology for learning. Learn more here.
The National Science Teaching Association (NSTA) is coming to Pittsburgh in October 2020. The conference is currently accepting session proposals. Learn more here.
For the past three years, the educators and system leaders of the Assessment for Learning Project (ALP) have been designing, learning, and innovating together to reimagine what's possible for assessment. Join them in San Diego and become part of the dynamic and growing Assessment for Learning Community. Register here.
The Pennsylvania Educational Technology Expo and Conference (PETE&C) is a statewide event that provides quality programs focused on technology in the educational field. Learn more and register.
The South by Southwest Education Conference & Festival is an annual event that fosters innovation in learning. The four-day event offers compelling sessions, in-depth workshops, engaging learning experiences, mentorship, film screenings, future-focused competitions, an expo, networking opportunities, and so much more. Learn more and register.
DL2020 is the 8th annual gathering of powerful educators focused on creating more equitable outcomes by engaging students in deeper learning. DL2020 encourages and supports these educators to be leaders of change, disruptors of inequity and innovators of pedagogy. Learn more and register.
Programs for Learners
The Maker's Clubhouse is seeking STEAM professionals to participate in a tabling event where students from Homewood can gain exposure to the STEAM fields. Learn more here.
Open to educators, librarians, university students, book club leaders, teaching artists, writers, and all other adult advocates of teen literature. Learn more here.