Kelli Epperson leans in to view what's on the screen of the student's iPad.
"So what's the least common denominator between 5 and 10?" she asks the student, an eighth-grader here at Propel Homestead. "Go through your factors."
After writing out factors common to both numbers, the student hits on a denominator that will work and Epperson steps back. Another "aha moment," another student empowered by the realization of their own potential.
It's an intervention period and the five students sitting here in a multi-purpose room at Propel are working through problems in Mathia, a math education program developed by Carnegie Mellon University. Although they're working independently, Epperson uses her own iPad to view their screens, checking in on their progress. If a student is missing a high number of problems or appears stuck, she can step in to offer help, as she just did.
Epperson is a Math Instructional Specialist, a school employee who works in support of teachers leading instruction by providing students with additional academic and social support. By cultivating trusting and supportive relationships with students, Epperson helps them get and stay engaged with learning.
You can't see it, but Epperson is using a powerful tool to reveal each student's unique brilliance. Propel Schools is one of four school sites participating in a pilot of Personalized Learning Squared (PL²), a project of the LearnLab at Carnegie Mellon University and the Center for Urban Education at the University of Pittsburgh.
PL² uses artificial intelligence to monitor students' work and reports back to instructors like Epperson, showing how many problems a student got right, how long they took on certain types of problems, and how often they used the software's "hint" button to prompt the system into giving them the correct answer.
At Propel, researchers are testing how the app can help support educators like Epperson in building stronger relationships with students and identifying the motivational factors that work for individual students, while also supporting instruction in specific subjects like math.
The idea, says Lindsey Smith, Propel's assistant director of curriculum, is that PL² could provide support to educators in one of two ways: one, by focusing on important academic indicators of success such as progress on learning targets; or two, by supporting the more relational aspects of the work, such as documenting student interests or seeking ideas for building a stronger relationship with a particular student. For an experienced specialist like Epperson, the app offers ways to enhance her teaching by keeping tabs on students who might otherwise slip through the cracks.
Each week, the goal for all students is to complete 90 minutes on Mathia in school along with 30 minutes at home. The lessons are selected to complement what students are doing in their core math classes. PL² helps Epperson notice students who are excelling and who may have fallen behind in progress toward their goals.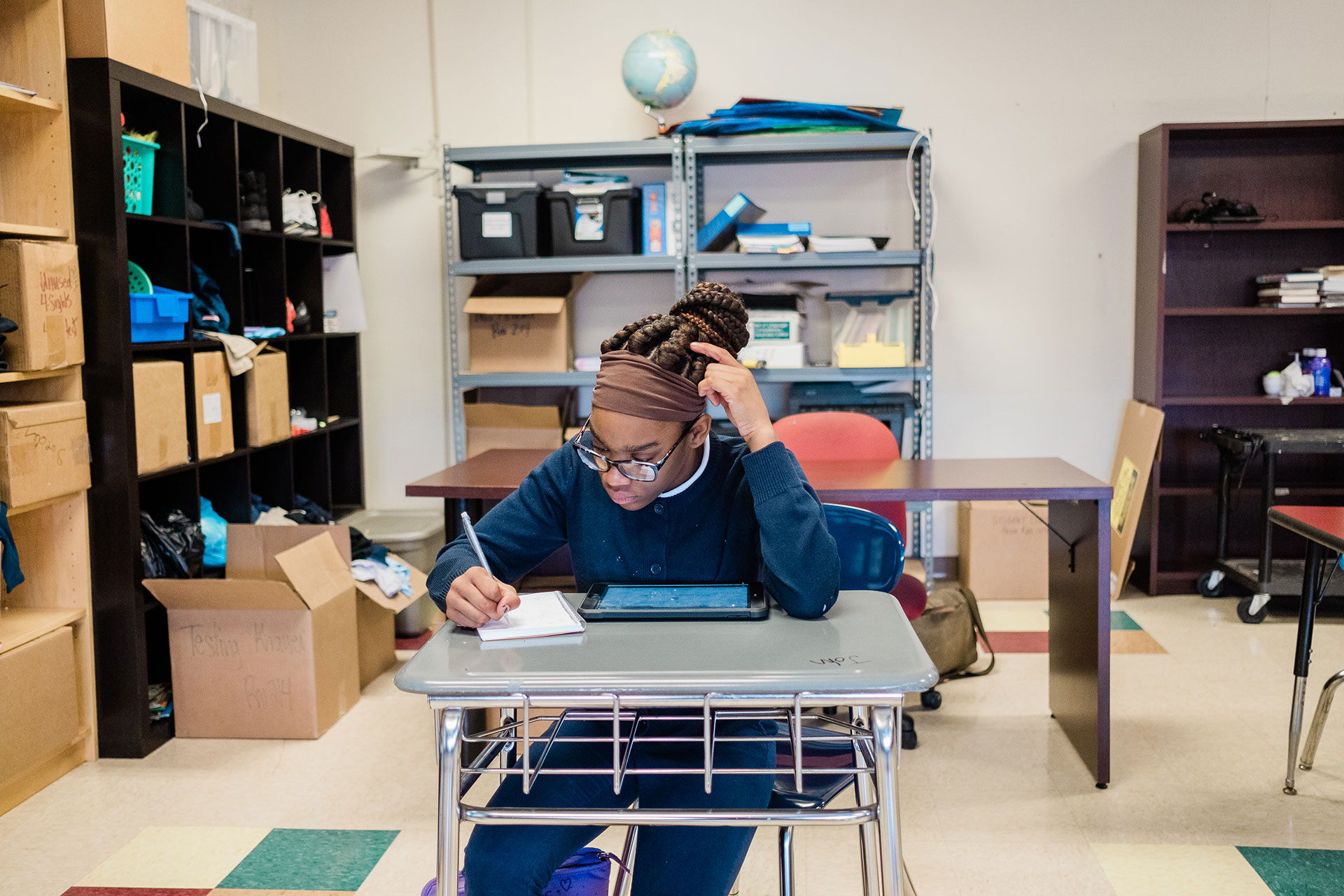 PL² has been a rewarding experience for Propel, Smith says, because the LearnLab team approached the school with the intent of collaborating to design a platform that would be adaptable to student needs.
"The app has been designed together and continues to change and grow and be able to respond to problems of practice," Smith says. "That's unique in a research partnership."
As an example, she cites PL²'s usefulness for instructors working outside of Mathia.
"Some scholars need a more hands-on approach, like using manipulatives, or discussing problems in small groups," Smith says.
It would be great, she suggested to the LearnLab team, if those teachers could use PL² to enter progress-monitoring information, no matter what intervention is being used, the app serves as a kind of clearinghouse to record notes on initial interviews, document students' interests and strengths, track attendance, and do collaborative goal-setting.
"So they just added those features of the app," Smith says.
Even when a student's progress can't be tracked as neatly as the percentage of correct answers on Mathia problems, Smith says, the PL² app has still been immensely beneficial to Propel's instructors.
"We use a variety of assessment data, so it helps to have a space to have a conversation with the scholar around their data, 'Here's where you are now. Where would you like to be three to four months from now? Let's set a goal together,'" Smith says. "This app provides a space to hold that conversation."
---
Learn More about PL²