"Teachers are over-loaded and over-stretched, students are bored and stressed, museums and community institutions are under-leveraged." – The Learning Collaborative, Kansas City
What would it look like if there were no barriers for in-school and out-of-school educators to collaborate and share ideas about how to make learning more relevant, engaging, and equitable? This question has been at the heart of the Remake Learning network since our start in 2007. To put our mission into practice, we implement "the 5 C" network support strategies:
Convene school-based educators and those who work in community organizations such as museums, libraries, and after-school programs and increase cross-sector collaboration
Coordinate and create a shared vision and goals for the network by establishing advisory groups and conduct research to inform action
Catalyze projects through grant funding that supports learners who are underserved due to race, class, gender, ability, and geography
Champion the work of educators through knowledge sharing and professional learning communities
Communicate the stories of network members by documenting successes and collecting evidence of equitable and innovative learning practices
While the first strategy is explicitly about reducing in-school and out-of-school barriers to collaboration, each of our network support strategies helps to increase communication across sectors and coordinate efforts among educators in our region. Building from this recent article about our "5 C" network support strategies, I want to dive a bit deeper into the research behind why we use these strategies and how they can contribute to more equitable learning environments.
Increase cross-sector collaboration
"What would it mean to consider an educational agenda that includes more flexible, informal, diverse, and interest-driven learning environments? Can we do this in a way that elevates all youth rather than serving the privileged minority?" – Ito et al., 2020
A key driver for education networks is connected learning, the idea that a young person can pursue a personal interest or passion with the support of friends and caring adults, and in turn can link this learning and interest to academic achievement, career success or civic engagement (Ito et al., 2020). Education networks expand connected learning opportunities by increasing cross-sector collaboration among all of the people, projects, and organizations that have a stake in learning. When educators become aware of the plethora of in-school and out-of-school programs for learners to develop their interests, cross-sector pathways are established, and learners flourish.
Create a shared vision and goals
One way to create a shared vision is to broaden the experiences and backgrounds of the people who are at the decision-making table and who have a stake in making education more equitable. A 2019 Deloitte report about the Reimagine Learning network notes that although it was difficult for this cross-sector network to initially choose a priority and vision, the collaboration and diversity of voices at the table made the conversations richer and more productive which led to imagining a new future that could shift the current status quo.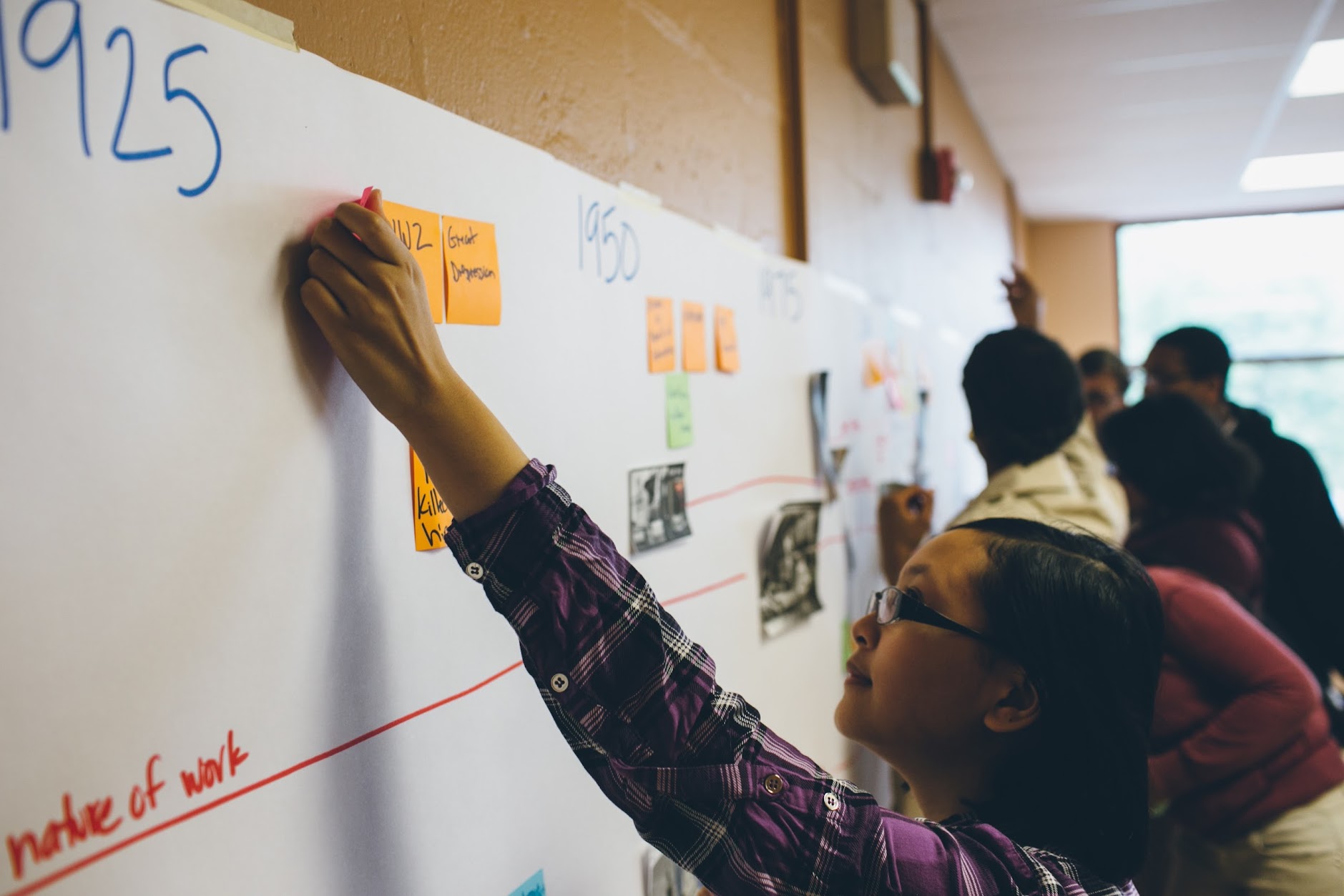 Redistribute resources through grant funding
There is a growing gap between wealthy families and poor families in the United States when it comes to how much money parents spend on extracurricular activities for their children. According to a 2012 study, wealthy families spend 11 times more on extracurricular activities than poor families, and this number has risen drastically since the 1970s (Bennett et al., 2012). But funding is not the only issue that families have when it comes to accessing high quality programming for their children. A 2018 report by the Chicago Learning Exchange identified other equity gaps such as awareness of learning experiences, transportation and access costs, attendance, learning pathways, and opportunity. Education networks have the potential to close these equity gaps by redistributing resources not only through grant funding but also through increasing awareness of opportunities, and creating pathways for learning across sectors.
Cultivate a professional learning community
Cultivating a professional learning community of peers is another way education networks can build equity. In one of the earliest studies on informal networks, researchers found that when trust and friendship extends across organizations, groups raise performance indicators and solve unexpected problems at a faster rate than in groups where there is little inter-organizational trust and friendship (Krackhardt & Stern, 1988). This finding is a key reason why education networks have the potential to create long-lasting and systemic change. When diverse stakeholders are interacting, forming relationships, and building trust, they are more likely to cooperate and solve complex problems.
Tell the stories of network members
Sharing success stories and amplifying the voices of network members is one of the most important parts of education network activities. When thinking about what makes learning successful, we might look to resources such as the longitudinal study of connected learning which captured outcomes like youth interest development, persistence in learning, civic participation, and development of a positive sense of the future. By highlighting stories of educators who are advocating for a broader understanding of learning and development, we can shift the public discourse on what constitutes legitimate learning experiences.
When all 5 of these network support strategies are put into place and sustained over time, we have the power as a region to strengthen cross-sector collaboration and create a more equitable education system. Learn more about these strategies in our Remake Learning Playbook.