Pittsburgh Public Schools agrees to use a Student Bill of Rights created by local teens to revise its Student Code of Conduct. A group of Pittsburgh high school students decide how to spend a portion of the city's capital budget. A class of first-graders launched a kindness campaign that's caused a culture shift in the community.
These and other stories show what's possible when youth voice becomes youth power.
Youth voice, intentional efforts to invite, support, and amplify the perspectives of young people, has long been a focus of many Remake Learning network members.
Youth power, the ability for young people to direct influence and authority over their lives and circumstances, is a natural evolution of youth voice.
Both ideas fit within the broader continuum of youth engagement.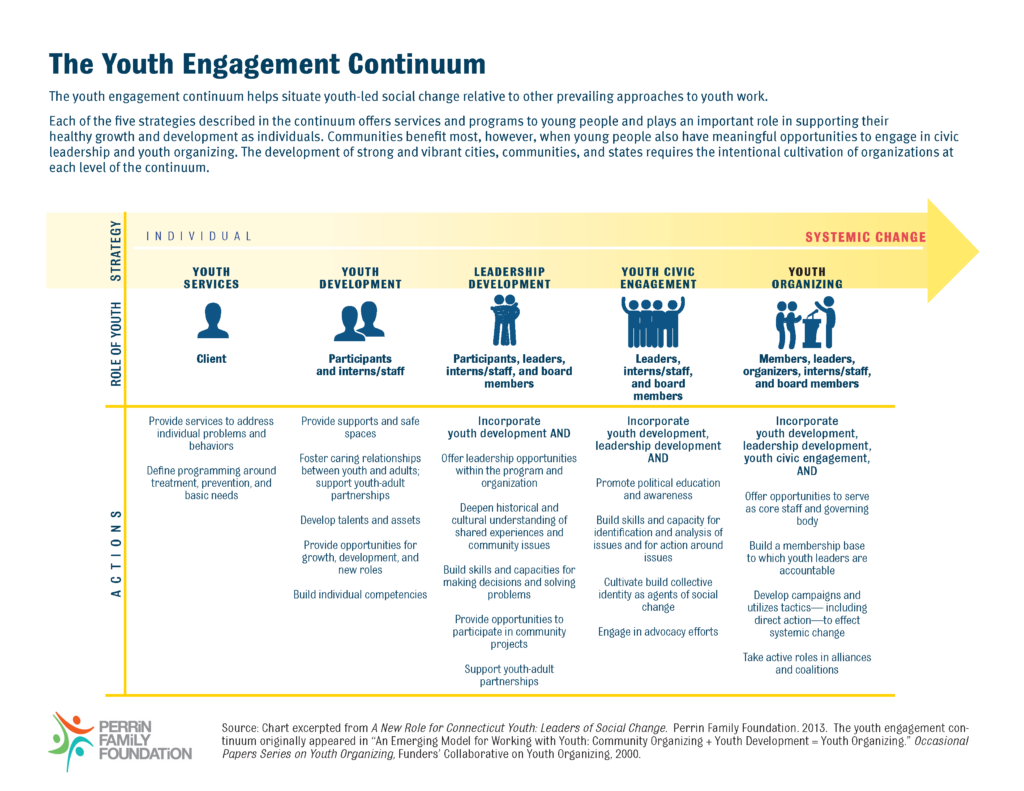 Greater degrees of youth engagement, the kind of deep and authentic engagement that young people experience when they are empowered, has been linked to a host of positive outcomes for academic achievement and social-emotional learning. Alumni of youth power programs report being more motivated to graduate high school and are are more likely to attend college, belong to a civic organization, and volunteer in their community.
But getting from youth voice to youth power isn't automatic. It takes intention, commitment, and a willingness of adults to cede power in the first place.
Remake Learning's vision embraces opportunities for learners "to question, examine, and dissect social systems . . . to construct a more just and equitable world." And considering the kinds of immersive and experiential hands-on learning-by-doing that has been embraced in other areas of learning, it follows that youth empowerment programs ought to create authentic opportunities for youth to exercise power— sometimes in the very origination and formation of those programs themselves.
In 2017, Remake Learning organized a Youth Voice Working Group to convene the critical mass of people, programs, and organizations working on youth voice efforts and identify opportunities for coordinated action.
Among the many youth voice efforts active in the network and elsewhere, one or both of the following practices are usually present:
Teaching young people about the ways media shapes perceptions of themselves and the world around them, and equipping them with the tools to tell their own stories.
Prioritizing young people's perspectives in decisions that affect their learning and lives, often putting them in positions of genuine leadership and authority.
These dual aspects of youth voice, and the complex interplay between them, mean that youth empowerment can look radically different in different contexts. But both definitions are built on a foundation of respecting young people's perspectives and empowering them to express themselves. By taking students seriously, and giving them the tools and resources they need to meaningfully act, we challenge them to change the dominant narrative and lead in their learning and their lives.
Still, what makes those moments when youth voice tips over into youth power possible? We'll be exploring this and other questions over the next few weeks.
How can young people use media and technology to raise their voice and advocate for change?
Sometimes adults can help by yielding the means of mass communication to young people, as is the case with PublicSource's Teen Voices series and SLB Radio's Youth Express.
When youth voices combine to speak as one, they become advocacy and organizing efforts like TeenBloc. We'll explore the path from amplifying voices to advocating for change by reporting on the latest round of social change campaigns created by teens in the Youth Media and Advocacy Project.
How do efforts to raise youth voices lead to meaningful empowerment?
Organizations are adopting a variety of models to incorporate young people into their governance structures. APOST and Community Forge have built-in youth councils for more inclusive decision-making. 1hood Media includes youth on its board of directors. Pittsburgh Public Schools, in partnership with the City of Pittsburgh, has taken youth leadership a step further by instituting the Youth Participatory Budget Council. We'll learn more about the district's efforts to weave student voice throughout its operations in a guest post from Asia Mason, the district's Student Voice project manager.
How can adults be responsible and respectful facilitators of youth voice and power?
We'll gather a roundup of opportunities, resources, and tools to help raise youth voice and empower youth action.
Stay tuned for more on youth voice and power from Remake Learning.