On May 5th, educators, designers, and architects gathered for the Flex Space Summit hosted by the Allegheny Intermediate Unit. The event focused on the different ways in which we can reimagine learning spaces in order to benefit our students and teachers.
The event kicked off with three keynote speakers. The speakers included Noelle Conover, founder of Matt's Maker Space, Nina Marie Barbuto, founder of Assemble, and Bill Strickland, founder of Manchester Craftsmen's Guild. All three speakers addressed the importance of the spaces in which we learn, and how those impact every aspect of education.
Strickland captured this by explaining how the space in which we learn sets the foundation for education. By giving kids the proper space to learn, they will act accordingly and be more engaged.
The Flex Space summit included 6 breakout sessions in which participants could choose from 6 different presentations to listen to.
These presentations were wide-ranging and covered many different topics that were all centered around how we think about the spaces in which we learn and educate.
Shannon Crooker, the Pennsylvania Director of Generation 180, gave a presentation advocating for solar panels in schools. Demand for solar has grown 75% in PA alone in the last 5 years, making now a perfect opportunity to invest. She explained how solar energy is more cost effective while also enhancing STEM education.
In order to generate excitement for solar energy, Generation 180 visits schools to help involve children. Sometimes, this includes having teachers handout solar kits to teach kids about solar energy and its benefits by doing fun activities, such as roasting marshmallows. Oftentimes, Generation 180's talks teach students leadership in order to advocate for solar themselves.
In another presentation, the senior director and curator of education at Fallingwater, Ashley Andrykovitch, spoke about how the structure of Fallingwater can create an abundance of learning opportunities. Andrykovitch explained how the design of Fallingwater, which was created as an open space with multi-uses and works with the nature around it, challenges us to think about what classrooms have to look like.
Fallingwater looks unlike any house that most students have ever seen, leading them to ask thoughtful questions while pointing out similarities and differences to their own lives.
In a different presentation, Riverview School District's 7th-12th grade Life Skills' teacher, Michael MacConnell discussed opportunities for his students using hydroponics. MacConnell explained how the container garden outside his classroom not only allowed his students to learn more about hydroponics, but also gave them the opportunity to start a small business and learn the process of what goes into that.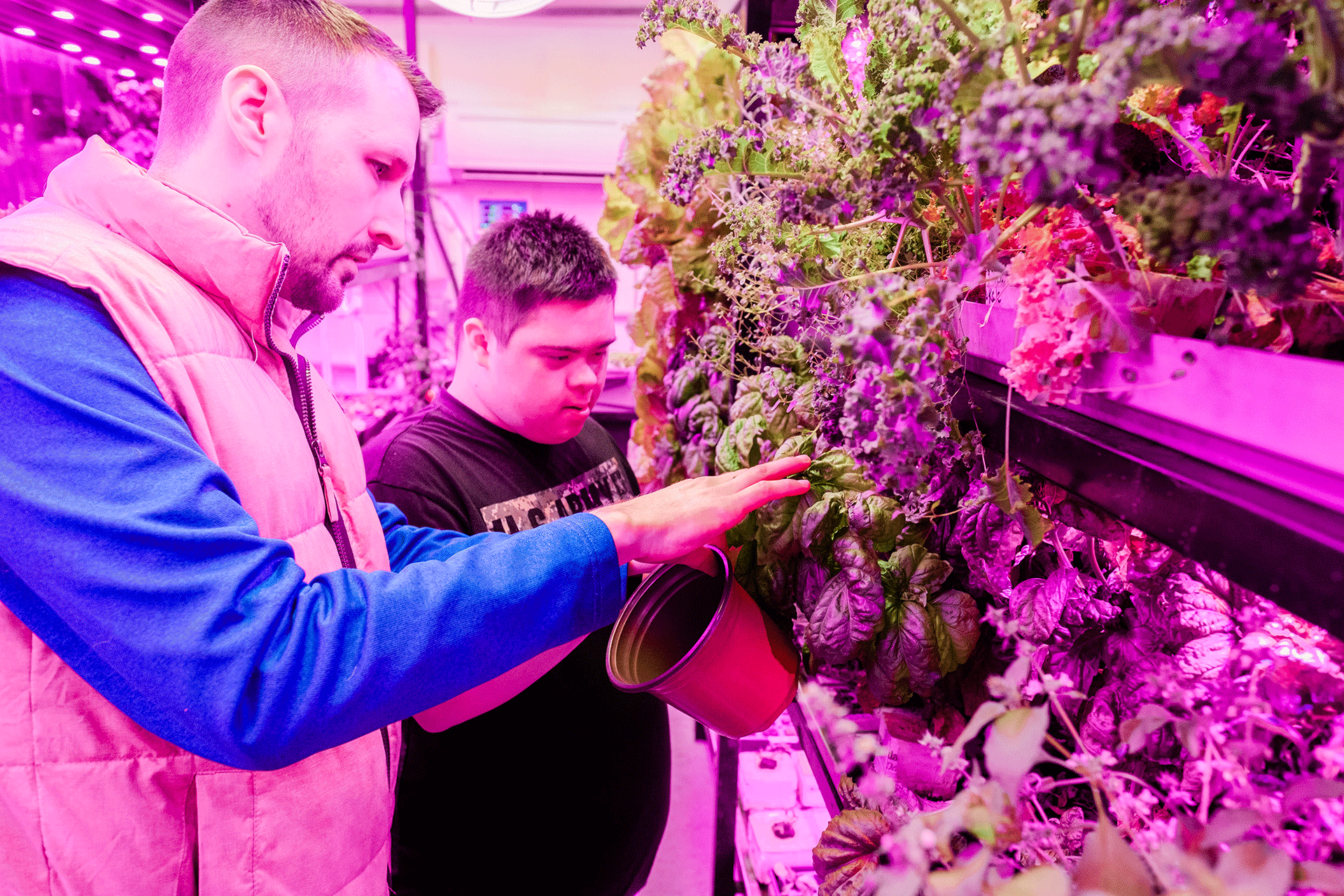 The produce that the students were able to cultivate was able to be used in the school cafeteria in the form of side salads that were offered bi-weekly, herbs used in cooking, and a main salad entree. Students also worked together to give back to the community by selling their products at farmers markets, making succulents and pots for the holiday season, and creating cleaning products with herbs. The space of a hydroponics garden allowed for students to branch out of the normal, everyday classroom and learn valuable skills.
In a separate presentation, Franklin Integrated Interiors and Steelcase Learning teamed up to present about the importance of design and how it can improve wellbeing in learning spaces. They spoke about the six pillars of design, which were meaning, belonging, authenticity, mindfulness, optimism, and vitality. All of these principles went into their designs, which center around being spaces that focus on health, happiness, and prosperity.
Another presentation by Suzi Bloom, the Director of Education, and Chris McGinnis, the director of Rivers of Steel Arts spoke about the Carrie Blast Furnaces and utilizing the historical landmark as a unique classroom space for all.
They discussed how they invited artists to work within their space using multiple different mediums, eventually offering classes in their three main focuses of metal art, graffiti art, and heritage arts. They also offer classes for kinds, including blacksmithing, welding, and foundry skills.
One of the last breakouts sessions of the day included Marisa Esposto, Training and Consulting Coordinator at the AIU, who spoke about creating sensory spaces in classrooms.
Sensory spaces help relationships between teachers and students, as well as help students to become aware of their emotions and how to better regulate them. They offer a separate space in the classroom for students to go to explore what they need when they need to calm themselves. Esposto discussed the different types of sensory categories and how they can be included in a sensory space.
Overall, with an abundance of breakout sessions to choose from and a wide variety of perspectives and methods, the Flex Space Summit was a resounding success.
Many different conversations sparked interest and created questions that we should ask ourselves about what really goes into the spaces in which we teach, and this is only the beginning.