The best moments of social-emotional learning at Intermediate Unit 1's campus schools often begin with a casual question. As a student in the school's Fab Lab maker space creates a new project on a 3D printer or sketches a design by hand, a social worker might pass by and ask how things are going.
While hands are busy, minds tend to open up. While discussing how their latest project is unfolding, a student may share a few words about how they're feeling. And if they see another student grappling with a creative project, they may practice their fledgling social-emotional skills by offering encouragement or helping out.
One-on-one therapy sessions are important, and these students get direct mental health support in meetings with counselors every day. But often it's the brief, informal interactions–casual chats during class, or five quiet minutes of mindful breathing led by a teacher as a class begins–that help most, says Joseph Mahoney, IU1's director of behavioral and mental health and social work services.
"It's engaging and hands-on in sort of a non-threatening environment," he says. "They're out walking around. The social workers make it seem like we're just having conversations. We're not sitting and processing our feelings. We're just talking."
Day after day, as students use their creativity to make things in the school's Fab Lab, they open up to their counselors while learning to stick with projects–a skill that can make or break their years ahead.
IU1, like many organizations serving students who need emotional support, has put time and effort into crafting this range of approaches to mental health. They've consciously grounded the work in hands-on, face-to-face interaction.
Like all of us, of course, they couldn't have seen the pandemic coming.
---
THE CHALLENGE
When schooling abruptly became remote last spring, mental health support was more needed than ever. IU1's in-school therapy appointments were immediately shifted to a telehealth model. But what about all that informal, social-emotional learning and mental health encouragement that had been happening in the Fab Lab?
"It was very challenging at first to figure out," Mahoney says. "How do we still provide the services that we know these kids need–and probably, truthfully, need even more now than ever?"
IU1 already had a cyber-school curriculum called Fusion, available to nearby public school districts in Fayette, Green and Washington counties. It was designed to be used asynchronously in weekly chunks by students who were fully online prior to the pandemic.
When the pandemic began, it was quickly revamped into Fusion Flex–a daily curriculum that could be adapted for synchronous use. With that in place, the key was finding ways to keep social-emotional learning and hands-on skill development going even though the Fab Lab was closed.
WHAT THEY DID
The IU1 focused on offering a mix of mental health support, career training and something as close to the Fab Lab's project-based learning experience. One tool they used: Move This World, a social-emotional learning curriculum made up of videos, movement lessons and opportunities for creative expression.
IU1 also encouraged teachers to make time for mindfulness. Although students were quarantined in their homes, they could share a few moments of deep breathing or deep listening before beginning a lesson.
They also made communication a priority, Mahoney says, "through Zoom, through Skype, through FaceTime, through old fashioned phone calls–anything to still provide that level of support and oversight."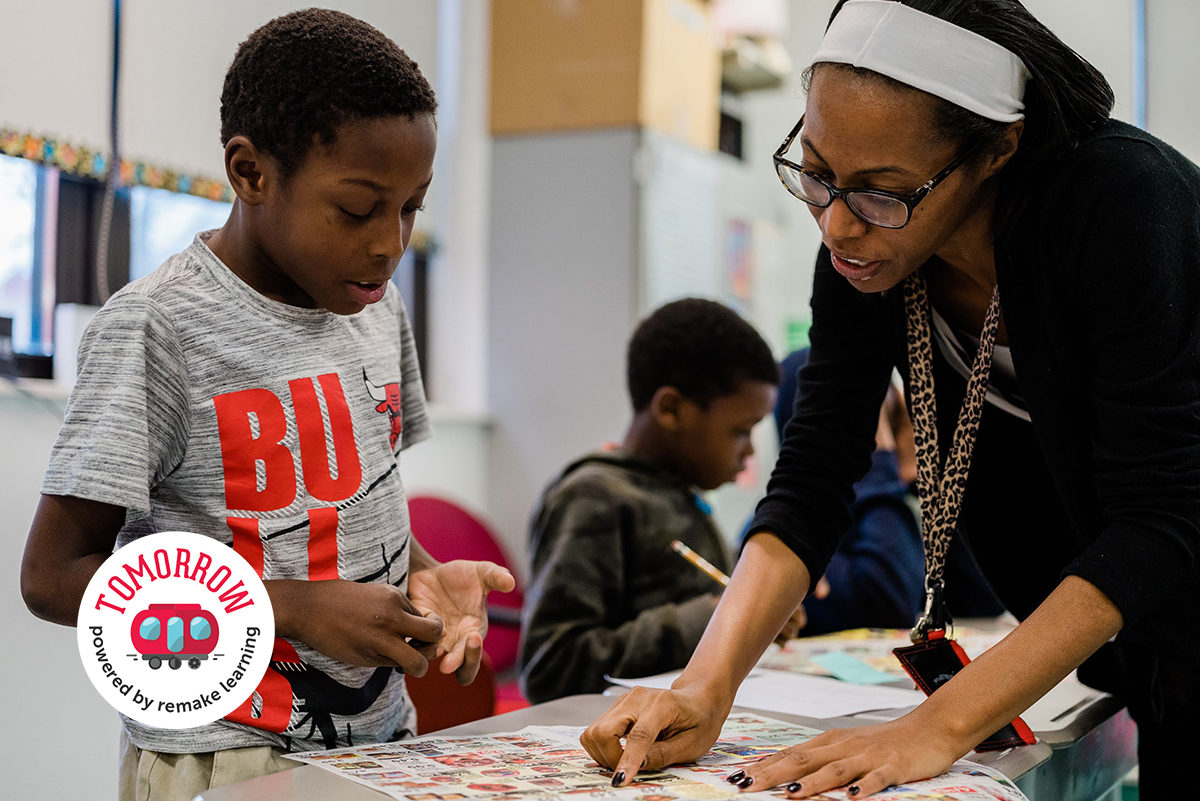 WHY THIS WORKED
Mindfulness, of course, doesn't replace therapy. But having teachers incorporate mindfulness can help reduce students' stress as communities grapple with the shortage of trained mental health professionals who treat children.
IU1 embraced the fact that teachers don't need a mental health background to teach mindfulness. Mindfulness and movement exercises don't require any special or costly materials, and the time commitment is small: Kids can get grounded during a five-minute deep listening exercise by simply focusing on the sound of something in their home, like a humming air conditioner or heater.
These exercises–and the practice of talking in class about how much we all need stress-reducing techniques–help normalize and destigmatize the anxiety so many students feel.
The best part? For some students, these approaches work even better remotely because they have more space to move or may focus more easily at home.
WHAT OTHER COMMUNITIES CAN TAKE FROM THIS
Recent research paints a worrisome picture of the anxiety levels among students in America. So incorporating mental health support into at-home or in-school learning can be valuable in any district.
But schools that don't specifically serve students with developmental or emotional challenges may have been so busy shifting academic work online last year that they didn't seed social-emotional support into their first iteration of online or hybrid learning.
Fortunately, this focus on mental health is easily adaptable anywhere. It can be cost-free to work moments of mindfulness and movement into any class with students of any age.
Adding breathing, listening or movement exercises to a class period may seem unfamiliar at first. But it soon becomes normal practice. As that happens, districts are likely to find that this normalizes the need all students have to practice coping with stress. It also can help open up conversations about stress or anxiety between individual students and their teachers or parents.
The pandemic is showing all of us "how important social-emotional learning and mental health supports are–not only to those students who may have a diagnosed condition, but to those other students that don't have a diagnosis," Mahoney says.
We all have times when we're anxious or overwhelmed or deeply sad, he says. But schools can teach even young children the skills to cope with those feelings and can normalize the process of asking for help. In turn, that gives kids the confidence to reach out when they need help.
Mental health support will continue at IU1–and hopefully in many communities–long after the pandemic ends. Mindfulness, movement and hands-on learning have become central to their approach, whether students are learning in person or remotely.
Designing what that curriculum looks like is an ongoing process, Mahoney says, but the big takeaway is clear: You can thread moments of social-emotional learning throughout the entire school day by empowering all teachers, counselors and paraprofessionals to participate. When they do, everyone benefits.