Though usually bustling with students, The Shop, a newly created space at Carlynton Junior-Senior High School aimed at developing tomorrow's entrepreneurs and problem solvers, was relatively quiet. Usually students can be found creating music in the recording studio, or altering garments at the fashion design center, or brainstorming ideas in the design room, or practicing for a competition in robotics lab, or creating work with the vinyl cutter or circuit maker, or printing images or t-shirts with the silk-screen printing press area or embroidery machine. Today, however, The Shop was reserved for a team of students who were engaged in human centered design as they worked to improve recycling.
Each student has volunteered to participate in Student Powered Solutions (SPS), a program of the Consortium for Public Education (CPE).
"Student Powered Solutions evolved as a program to help better-prepare students for life after high school," said Aaron Altemus, co-director of the program at the Consortium for Public Education. "Regional reports like Inflection Point, as well as national studies indicate that high school students often lack the soft skills development sought by employers. Plus, many students miss out on chances to experience and learn about a variety of industries and careers before settling on a post-secondary pathway."
Student Powered Solutions seeks to rectify both issues by matching teams of middle and high school students with local businesses and nonprofits. The students act as consultants and are tasked with designing and implementing a solution to a problem the business or nonprofit is facing.
"The Student Powered Solutions model provides students with an opportunity to apply traditional content to real-world challenges, while building the collaboration, communication, and problem-solving skills that are in such high-demand," said Sarah Brooks, who co-directs the program for CPE. "In working with a business partner, students meet with professionals, tour facilities, and learn about the many different careers and pathways within a particular industry, all the while working to solve a problem posed by the business."
Over the past two-and-a-half years, CPE has partnered with Covestro, a global manufacturer with headquarters in Pittsburgh, as one of the "clients" for Student Powered Solutions, challenging students to solve problems relating to the future of driverless vehicles and marketing innovation.
"As a leading innovator and manufacturer in the chemical industry, Covestro is committed to building a strong and diverse STEM talent pipeline for the future workforce. Employees volunteer their time to connect with students K-12 through learning opportunities such as hands-on science activities or sharing career experience through job shadowing and round table discussions," said Covestro STEM Coordinator Ben Renwick. "More recently, Covestro has partnered with numerous school districts through programs such as Educator in the Workforce, driven by the Consortium for Public Education. Teachers and administrators learn first-hand about the job opportunities within the industry and the skills necessary for their students to be successful."
In the fall of 2019, CPE and Covestro co-hosted an event dubbed Youthquake 2030, inviting students and educators from twelve schools throughout the region to design projects that will address issues of sustainability in their communities. Using the United Nations' Sustainable Development Goals (SDGs) as a set of guiding principles, Covestro and CPE have helped students get their projects off the ground by providing funding, professional feedback, and opportunities to learn about how the SDGs can be applied locally.
"YouthQuake is part of Covestro's THINC30 series, pioneered by Head of Sustainability and Corporate Social Responsibility, Rebecca Lucore," said Renwick. "With 13 school districts taking part in the event, each school committed to working on a sustainability project which will be presented to Covestro this spring. The global commitment by Covestro to positively impact the SDGs helps drive innovation to make the world a brighter place."
The students from Carlynton are one of those 12 teams tackling a global issue in a very local way at their school.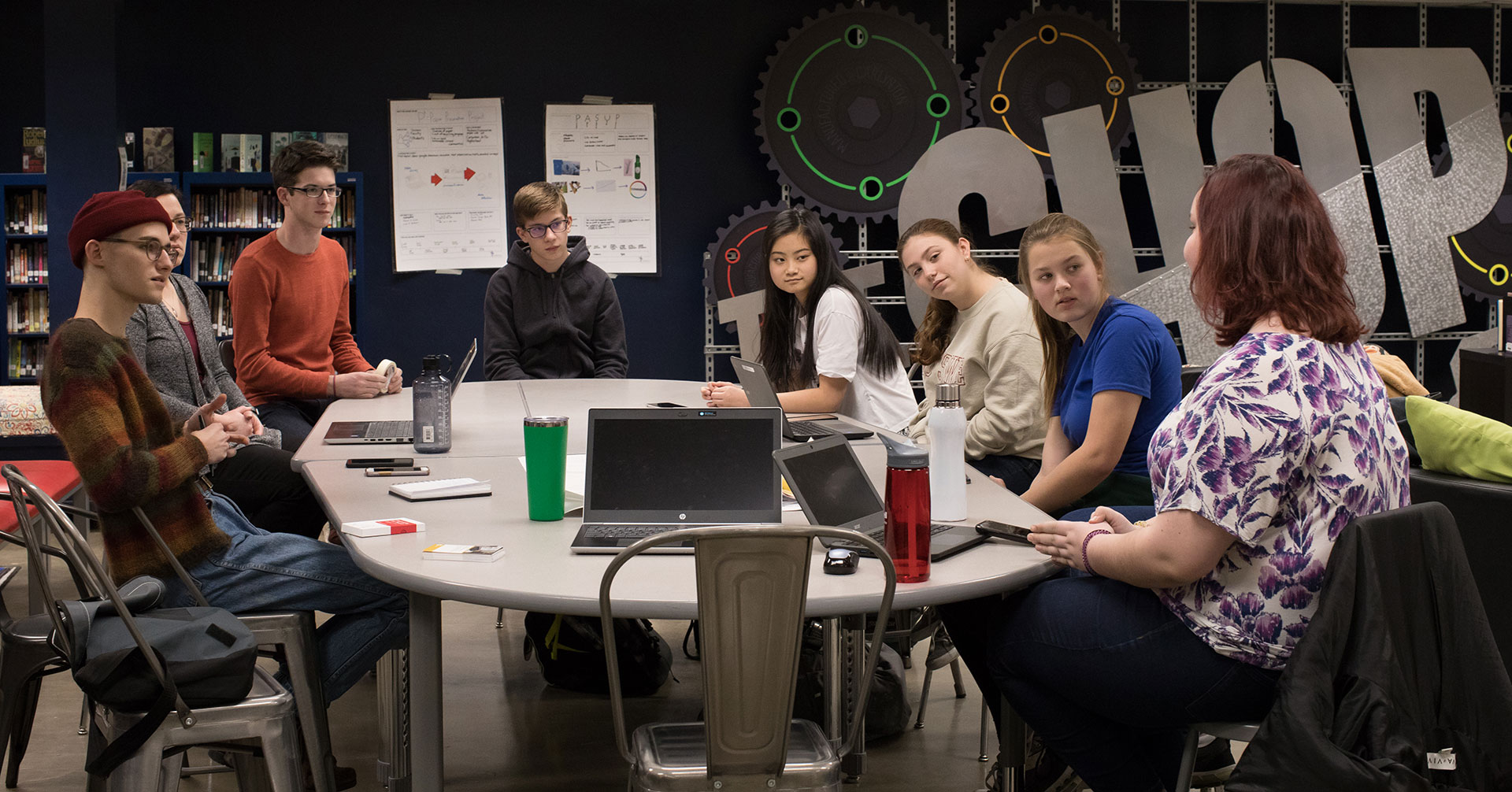 Back at Carlynton, the students chose to focus on three SDGs in particular: Life on Land, Life Below Water, and Sustainable Cities and Communities. A common theme linking all three, they decided, is poor waste management—specifically, a lack of strong recycling initiatives. The students have split up into two groups: P3 (the Paper Preservation Project) and PASUP (Pledge Away Single Use Plastics). By dividing their energy and resources, the students tackle two major recycling initiatives while cooperating to reach a common goal.
The students are supervised by Chris Colonna and Rachel Foltz, two Carlynton faculty members recently trained by the Consortium in Project-Based Learning (PBL) strategies. According to PBLWorks (Formerly the Buck Institute for Education), PBL is "a teaching method in which students learn by actively engaging in real-world and personally meaningful projects…over an extended period of time." It's a student-centered approach, providing learners an opportunity to integrate what they learn in the classroom with their own sense of community, identity, and responsibility as global citizens.
Chris and Rachel act as facilitators, using their knowledge of PBL as well as the LUMA method of innovation to help students overcome any roadblocks they might encounter. They also provide strong moral support by encouraging the group to think big, then help them concretize their ideas into actionable steps. At one point during the session Chris reassures everyone that "there's no rubric here: if you can think it, we can work to make it happen."
So far this semester, the Carlynton cohort have accomplished an impressive number of tasks: generating ideas for their projects, mapping out weekly timelines, creating original media to present and distribute, ordering materials, managing a budget, and much more. Just two weeks prior to this session, they presented their concept maps (designed using a LUMA template) to a panel of employees at Covestro.
One student, Elaine, admitted that, although it was a bit nerve-wracking, the unbiased feedback they got helped strengthen their ideas and empower them to see the projects through. Working with Covestro has also helped them develop professional skills like data collection, accuracy in measuring success, public speaking, and (above all) the power of collaboration. "Everyone has really contributed a lot," Elaine continued, "and helped make this bigger than I think any of us really expected it to be."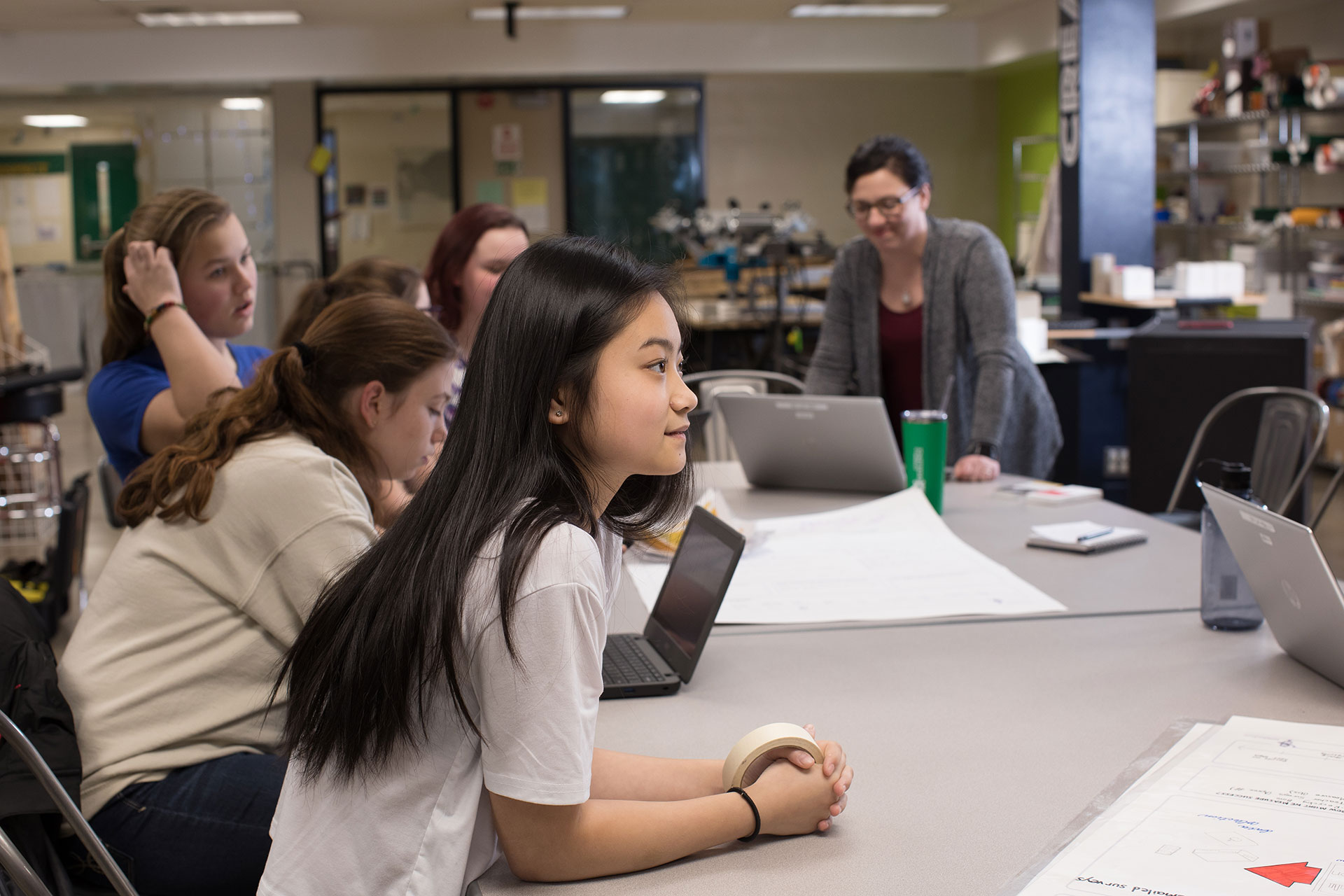 When asked how working on these projects has helped prepare them for their future outside of school, another student, Simon, answered that it's been a fun challenge "to have to come up with our own original ideas…we all had to really put in a lot of time and effort, and help keep each other on task." When Simon couldn't make it to the Covestro presentations, his fellow group members were able to handle his responsibilities with ease, a testament to their collaborative strength.
Another student, Mary, commented that the whole process has helped expand her sense of personal ability and potential. "Working with people and actually seeing the results of our hard work and interacting with everyone at Covestro…made me realize I can do whatever I want, and I know I'm capable of doing what I want."
Not only is PBL an enriching experience for students—engaging them by helping them make a tangible difference, and recognize their potential to make positive change—it's also fruitful for the "real-world" stakeholders they collaborate with. As the Consortium articulates, participating companies "get the fresh perspectives students can bring as well as a chance to help develop the region's workforce of tomorrow."