The barriers to education and success that can thwart millions of students of color come in many forms. Some are clearly documented, like the inequity built into SAT testing. Others–like the lack of educators of color available to serve as role models or the pervasive message to many BIPOC students that they don't belong in the world of higher education–have an impact that is harder to quantify but no less destructive.
Here's the good news: In the Pittsburgh region, new and ongoing programs are building pathways that lift students beyond these barriers. Below, we explore four initiatives that are changing students' lives this summer and beyond.
Fostering Future Educators of Color
A new program at the University of Pittsburgh, working in collaboration with the Pittsburgh Promise Advancing Educators of Color scholarship program, aims to inspire a cohort of Black high school seniors to pursue careers as teachers.
The name of this program–Genius, Joy and Love–captures its spirit.
As the high schoolers collaborate with current undergraduate and graduate student mentors during four weeks on the Pitt campus, they will be welcomed as individuals into the Pitt community. Beyond the hands-on experience they'll receive this summer, the focus will be on building authentic relationships and celebrating these students' own brilliance.
"Being in relation with other people doesn't just mean sitting next to people in a classroom," says Dr. Valerie Kinloch, Renée and Richard Goldman Endowed Dean of Pitt's School of Education. "Do we know who people are? Do we know their names? Do we know anything about their identities? … Do we receive them as full human beings capable of thinking and making decisions?"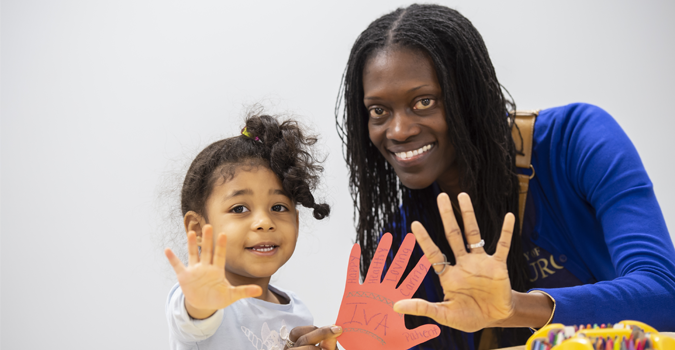 Sessions will explore college readiness and the college application process, and will reinforce the students' sense that there is a meaningful and joyful place for them on college campuses and in the field of education.
"We need to encourage them to see themselves as college students. That requires us to ensure that they have access to university campuses, and that they have access to professors and students and the resources and extracurricular and academic experiences that are on college campuses," Kinloch says. "Then, they are motivated. They're inspired. And then they begin to see themselves as college-going students even before they finish high school."
The hope is that this program will help in adding at least 35 more Black educators to the Pittsburgh Public Schools system in the coming years. Some students may choose to work toward their teacher certification at Pitt's new undergraduate teacher education program, which will begin in fall 2023.
"We have to do something differently to recruit more Black educators, but also other educators of color into the teaching profession," Kinloch says. "We have models for what we could be doing. We just have to do them. We have to do the work."
Diversifying Design & Architecture
At the same time that the Genius, Joy and Love team is doing that work on the Pitt campus, Pitt's Architectural Studies Program will be hosting their summer studio for high schoolers. It's a program called Experiencing Architecture.
Sara Pettit, director of this four-week program, says architecture was "originally an apprentice system." The idea of learning directly from working architects remains today, and it's vital that students of color be given access to it.
This summer program, now in its second year, pairs high school students with Pitt educators and working architects, so they can discover what it's like to create their own designs and have them critiqued the way they might in the professional world.
It's a great example of leveraging Pittsburgh's learning ecosystem by connecting high schools, universities and architecture firms in the region with a focus on equity.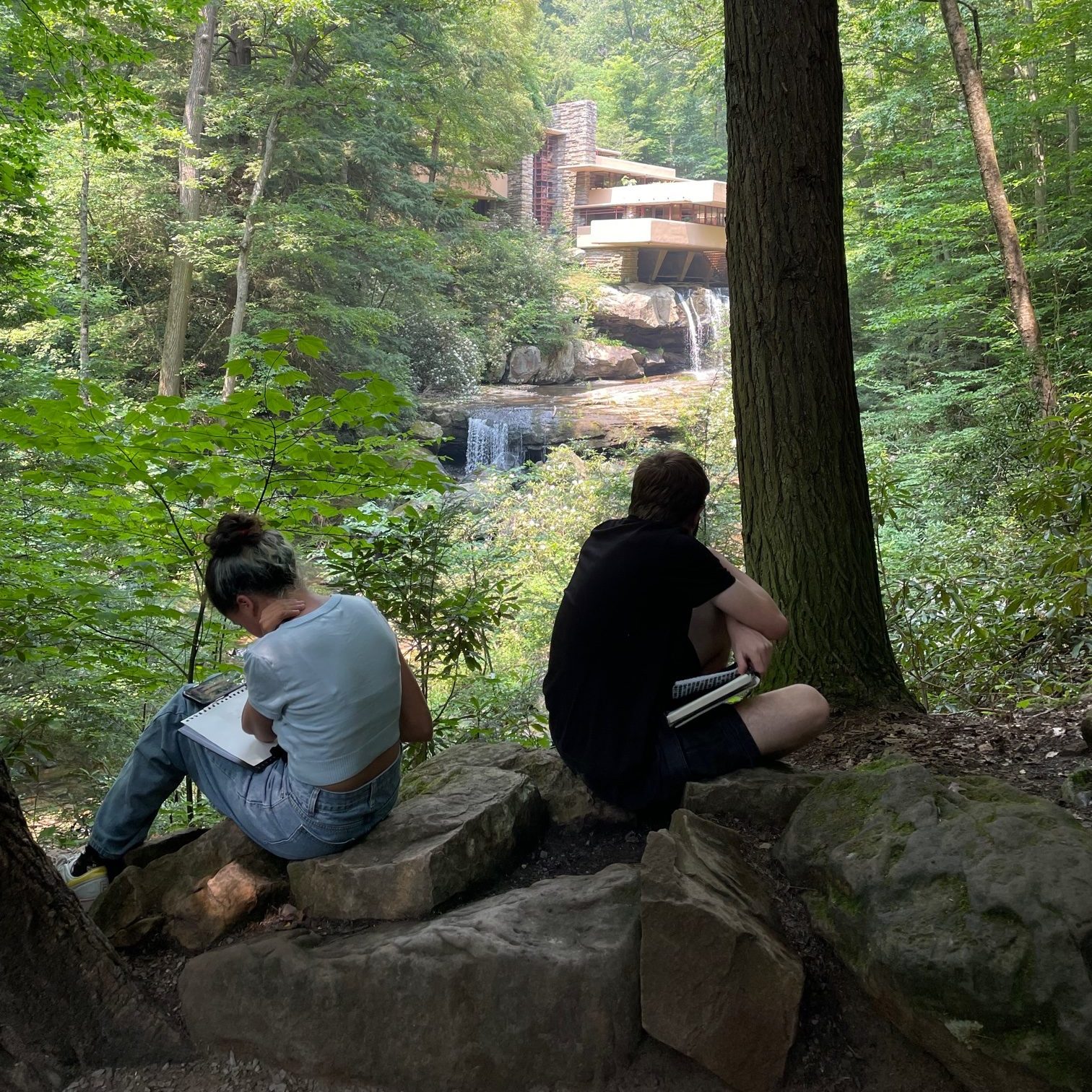 "It's really all just about making those connections, making students aware of the resources in their own backyard," Pettit says. "Bringing that diverse pipeline of students up from high school, even sometimes middle school, into study and into the profession is really critical because we do have–in architecture in general, but also in western Pennsylvania–a diversity problem in the architecture profession.
Pettit's team partners with the local chapter of the National Organization of Minority Architects, and they've seen enthusiastic participation from local architecture and construction firms. Last year, the summer program's student body was made up of 50% underrepresented students, including students of Black, Latinx, and Asian descent.
The hope is to continue increasing the representation of Black and brown students as the program grows.
"We are tapping into our own networks that do show that diversity exists," Pettit says. "There are models for these students in the community."
Students Speak
Makenzie Sing, who participated in the program last summer, says the immersive experience was incredibly valuable.
"I not only learned about architecture, as if I was going to school, but I was meeting professionals, meeting firms and seeing what it would be like working a normal day at the job," Sing says. "What type of people I'd be meeting and speaking to, and the activities that would go on day to day."
Experiencing that first-hand helps her look ahead to college and beyond with confidence, she says.
Lara Johnson, another student had a similar experience. As a high school senior this year, she has been approaching her college search with more confidence after participating in Pitt's architecture program last summer.
College visits have still been "a bit intimidating, but not nearly as much as they would have if I wasn't in that program," she says. And working directly with professional architects had a powerful impact on her sense of what her future might look like.
"They would come in and give us pointers on what we were making and then we'd tell them about our ideas," Johnson says.
Among her favorite experiences: Visiting buildings with architects to discuss design and engineering–and making a real connection with these professionals in the process.
Navigating Higher Ed & Health Careers
Relationships are also a central part of High School 2 Health Careers, a program run by the Neighborhood Learning Alliance that is changing the lives of first-generation college students.
"A lot of the reasons why students don't see themselves as comfortable in spaces like going to college or taking college credit classes is just because it's unknown territory," says Martha Nkangabwa of the Neighborhood Learning Alliance, director of the program.
"Everybody fears the unknown," she says. So along with getting high schoolers started with precollege STEM classes and enrolling them in CCAC courses during high school, High School 2 Health Careers focuses on "debunking the idea that they won't be able to excel while on campus."
This program begins with a summer session. But it goes way beyond that initial phase to support students throughout high school and college, all the way through their post-college job search. In the process, this program gives some of the same advantages that have traditionally been available mainly to students whose parents attended college.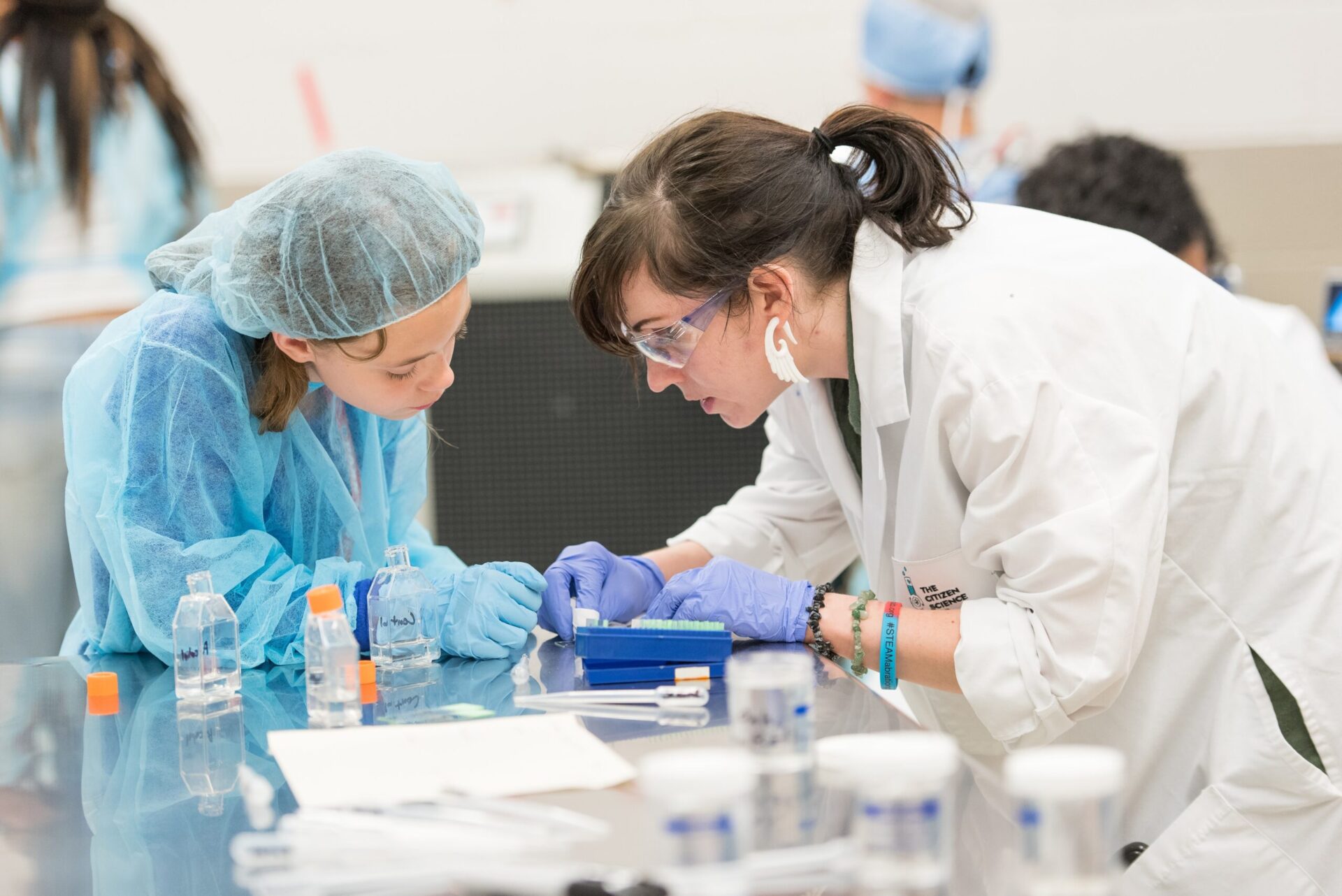 Students begin taking science and other prerequisite courses at CCAC as early as 10th grade. Throughout the school year and summers, they continue with these courses while learning the ins and outs of college life–how to get a college ID, for example, and how to visit a professor during office hours with questions.
They also receive SAT prep courses, removing some of the stress from the college application process. And the program covers all college tuition, without students needing to tap into their Pittsburgh Promise funds.
By the time they graduate high school, these students have college prerequisites out of the way and dive directly into nursing classes.
It's about "being able to excel while in high school and then being on the campus, building those relationships, knowing how to navigate the campus environment, knowing how to communicate with professors and seeking proactive help–all of those skills," Nkangabwa says. "It's important not just to see yourself on a college campus, but to see yourself being successful there as well."
Throughout high school and college, these students also work various hospital departments through job shadowing and internships. They discover the aspects of healthcare that interest them most, while building relationships with working nurses.
Nkangabwa is currently on her own path to medical school. She says some high schoolers in the program have already worked more clinical hours than she has.
High School 2 Health Careers involves a lot of hard work and discipline. But for motivated students, it can be a life-changing experience.
"We really try to get to know the students and families to make sure we're giving them the right opportunities," Nkangabwa says, "depending on where they currently are academically, emotionally and socially."
Systems Change to Support Work in STEM
Programs like Genius, Joy and Love, Experiencing Architecture and High School 2 Health Careers change the lives and futures of the students of color who participate. But what about the thousands of other students in our region who run up against barriers every day?
The STEM PUSH (Pathways for Underrepresented Students to Higher Ed) Network is addressing this issue on a systemic level.
Among the shifts they're seeking: College STEM programs have traditionally rejected applicants who haven't scored highly enough on the SAT and other standardized tests. Very often, these are Black and brown students.
In turn, this contributes to the current disparity between white and non-white professionals working in STEM and STEAM jobs.
Pre-college STEM programs at high schools in our region "prepare students with the skills, abilities, habits of mind that we know allow them to be successful in undergraduate STEM programs," explains Dr. Alison Slinskey Legg, director of the BE STEM Center and a principal investigator in the STEM PUSH research.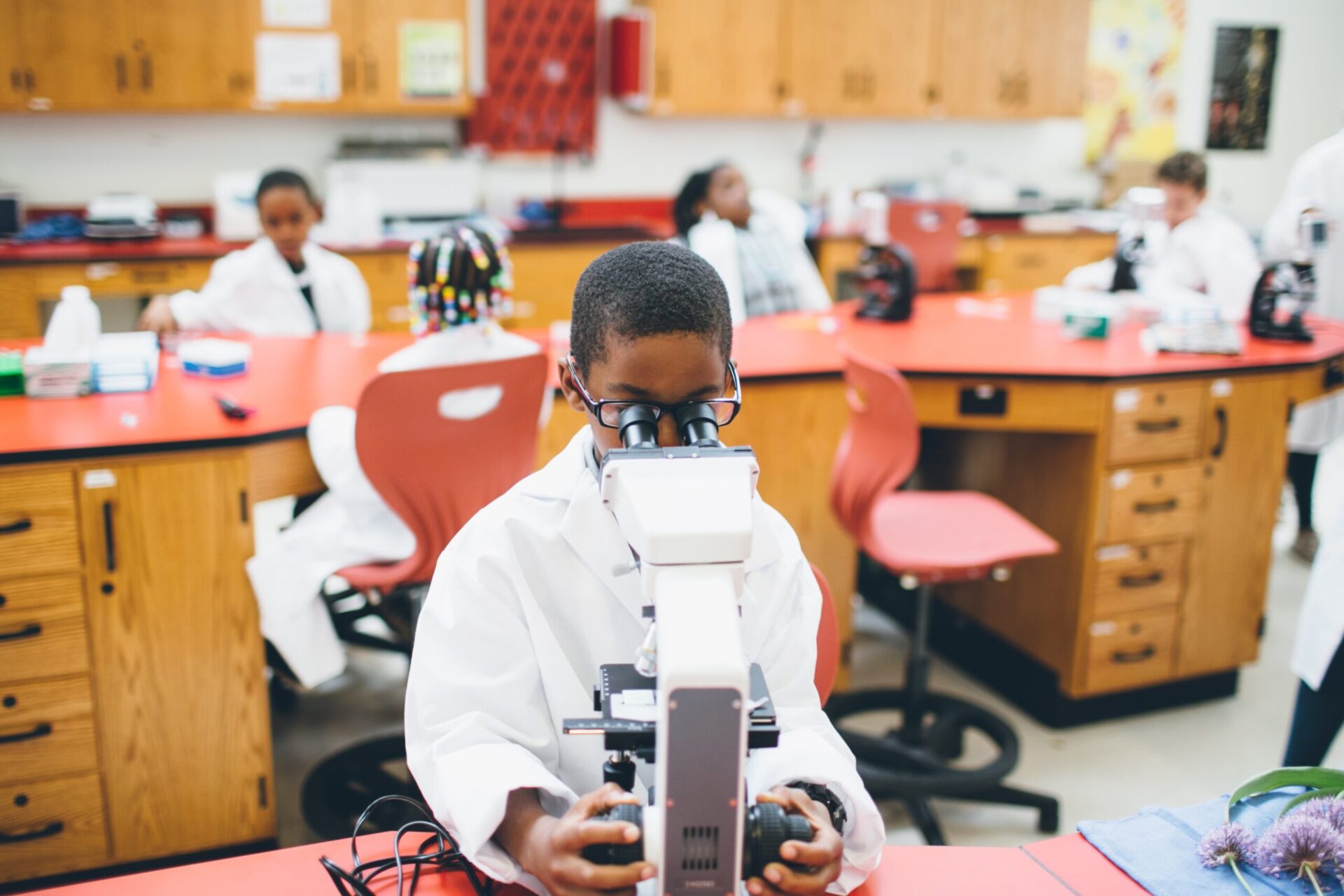 But there is currently no way for high schoolers to show their success in these programs to college admissions officers, beyond their grades in these classes. So less qualified students whose parents may have paid for SAT prep courses often get admitted to a college STEM program, while qualified students of color who didn't excel on the SATs are rejected.
"They're doing the work as high school students," Legg says. "But in terms of an access barrier … there's no way yet for those accomplishments to be factored in on a large scale in a meaningful way in admissions decisions."
Legg and many educators who run pre-college STEM learning programs "were frustrated by this very phenomenon," she says. So the STEM PUSH Network is doing research and partnering with a wide range of stakeholders to upend this discriminatory system.
"Trying to figure out how to broaden equity in STEM is of utmost importance for us as a nation," says Dr. Jennifer Iriti, a principal investigator who helps run the STEM PUSH Network. "We're trying to change the system, increase system capacity and change structures of the system to be equitable for the Black and brown students."
These educators know: Today's pipelines and pathways build tomorrow's jobs, industries, and world. It's vital to continue exploring the visible and invisible barriers that have hindered learning and career opportunities for generations of Black and brown students, and create programs that make change possible.