Middle-schoolers collaborating with university grad students on high-tech projects. Talented local artists ready with lesson plans to step into an elementary classroom when needed. High-schoolers apprenticing with local businesses and earning school credit along the way. When you see these things, you might assume you're encountering a unique learning community.
In some ways, you'd be right. During the 15 years that the Remake Learning network has been growing in the Pittsburgh region, powerful collaborations and innovative methods of learning have taken root in ways that are changing the lives of a generation of kids. Even their parents' lives are being elevated, as districts break new ground in pursuing true engagement between families and schools.
The opportunities and possibilities that have helped Pittsburgh's "learning ecosystem" grow, and the kinds of local wisdom that get lifted up in the process, exist in every community.
With the detailed roadmap officially unveiled this week by Remake Learning, community leaders everywhere have a powerful new resource to do just that.
The Pittsburgh Principles offer an approachable and highly visual guide to the core mindsets and design elements that have made the region's learning ecosystem a global leader in education innovation. Rather than offering specific instructions, this booklet describes what's possible and encourages communities to apply these principles in whatever ways serve them best.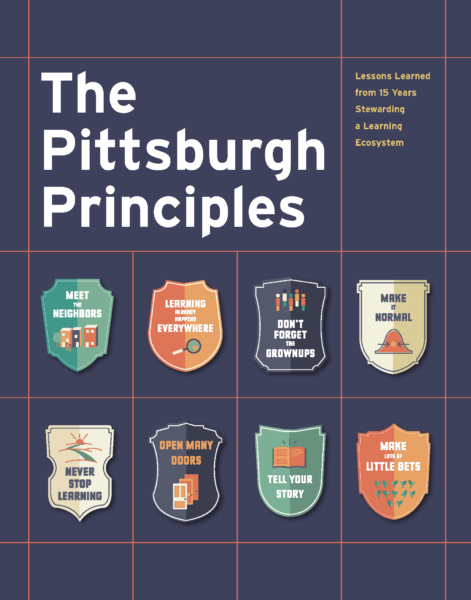 Among the eight principles explored in the publication:
Meet the neighbors
Learning ecosystems are all about cultivating relationships. A local small business owner can't begin mentoring student entrepreneurs without a relationship with a local school. Schools can't partner closely with after-school programs without a foundation of real trust.
For community leaders to create the conditions for those relationships to begin, it doesn't require any funding; it simply needs a mindset that prioritizes connection and communication.
Remake Learning's earliest incarnation grew out of gatherings where local educators, community leaders and folks from child-serving organizations met face to face over pancakes and coffee – not with a specific goal in mind, but to get to know each other and consider possibilities together. During the 15 years that the network has grown, this focus on forging cross-disciplinary relationships has gotten people out of silos and helped them find common ground.
That focus continues to bear fruit: Northgate School District in suburban Pittsburgh is building out a hub for community partnerships in a former hospital building that's centrally located. Kids can walk to afterschool and summer programs offered by local nonprofits like STEM Coding Lab and local universities, including Carnegie Mellon's Arts Greenhouse. Those programs get space to operate and eager students. And all of this is cost-neutral for the school district.
On the horizon: certification programs for high schoolers, creating a pipeline for workforce development in a community that has traditionally struggled with poverty.
Learning already happens everywhere
In every community, people pass on knowledge every day. The key is to find and recognize that learning, and develop ways to validate and accredit it.
The Remake Learning Days festival, launched in Pittsburgh in 2016 and now hosted annually in regions around the U.S., has helped thousands of families find resources and learning opportunities in their communities. But the thinking behind the festival has also helped educators and community members notice and amplify learning that was already happening.
Just one example: In Prestonburg, Kentucky, the owner of a small sewing shop agreed to host a sewing class during the region's inaugural Remake Learning Days event in 2019. Only a handful of kids were brought by parents or grandparents for that free, one-day class. But over the course of a few hours on a Saturday morning, the children heard stories about the cultural tradition of quilting in Appalachia and saw how both math and art skills are central to sewing. By day's end, families told the store owner they would pay to have their kids attend future classes. Within months, the business owner had an additional stream of income and students had a new place for learning and intergenerational connection.
Recognizing this kind of learning can be a powerful driver of equity. Lifting up the wisdom and talents of those who have historically been excluded or underserved acknowledges and validates the ways communities care for their young people.
Make lots of little bets
People around the globe, from world leaders to parents, agree that our education systems need some serious renovations. Just last month, educators from around the planet traveled to the Transforming Education Summit to grapple with what the United Nations called "a global crisis in education – one of equity and inclusion, quality and relevance."
It's easy to assume that a problem this enormous can only be solved by enormous ideas. But rather than attempting to find and build the next big thing, Remake Learning network members have had great success making small bets – lots and lots of micro-investments of time and resources that together lead to powerful change.
One driver of this in the Pittsburgh region: the Ignite Grants program, which offered catalytic funding to programs that look ahead toward what 21st-century learning could be. This work can also be seen spreading throughout Remake Learning Days regions across the United States, including 16 projects highlighted in the Learning Forerunners Across America report released by HundrED.
Open many doors
Learning ecosystems gain their strength from the multiplicity of people, ideas and resources that flow through them. There are many paths to learning, and effectively stewarding an ecosystem means building as many on-ramps as possible to get people using these paths.
Agreeing that everyone is welcome is a great beginning. But the vital next step is actively inviting them in the door. In the Pittsburgh region, that has meant putting a conscious focus on learners beyond the city's urban core. Remake Learning developed a rural outreach approach and employs a full-time coordinator to focus on connecting with educators in these communities. Partnering with Intermediate Units that are already trusted venues in the region's rural communities has been especially critical to this process.
Again, it's about relationships. People collaborate with people they know, and that can be the start of small projects that offer big returns.
For the Pittsburgh region's rural families, this has led to targeted, impactful learning – like STEM programming that incorporates agricultural studies alongside robotics and computer science. Another priority for Remake Learning's rural outreach team: Creatively tackling the digital divide in rural communities as well as urban ones.
Elements of an effective learning ecosystem exist in every community. The Pittsburgh Principles can serve as a valuable addition to the toolbox of any community seeking to activate and build on what they already possess. In the meantime, Pittsburgh's own educators and community leaders will continue developing this flexible, adaptable framework and sharing ideas with partners and communities around the world.
The work of educating today's children for 21st-century jobs that have yet to be imagined is an ongoing process, one that will continuously be reshaped and refined. But with solid ideas and ways of thinking built from years of ambitious trial-and-error, and a commitment to helping all children reach their full potential, remarkable things are already being accomplished.
Author: Melissa Rayworth, Journalist