After nearly two decades working in education, Chris Celmer took over as acting superintendent of Harrisburg School District at the start of 2020 fully aware of one particularly frustrating fact: "In education," he says, "change moves very, very slowly."
So it was jarring and exhausting—and yes, oddly energizing—when the total disruption of traditional schooling wrought by the pandemic made dramatic change the only option.
The sudden shift to remote learning was "sort of like building the bridge while you're walking on it," remembers Susan Banks, Acting Deputy Secretary and State Librarian for the Pennsylvania Department of Education.
Regulations still mattered, but the stifling systems that had long hampered progress were temporarily set aside. The long-frozen gears of change began to turn out of sheer necessity.
"It was really about 'What's best for my kids? How can we reach our kids? How can we support our kids? How do we close the technology gap,'" Celmer remembers. "And then 'How do we support them socially and emotionally during this difficult time?'"
Fourteen months later, the powerful consensus among educators, parents, and students is that the progress made during the pandemic to make learning more student-centered and equitable cannot be lost.
With that goal in mind, Celmer, Banks, and more than a hundred other Pennsylvania education stakeholders met during virtual meetings this spring as members of the Remaking Tomorrow Panel on Innovative Teaching and Learning.
The goal of this cross-disciplinary group is to inspire stakeholders across Pennsylvania to shape a future of learning that is just, equitable, and learner-centered—with the momentum sparked by the pandemic serving as rocket fuel. Their work builds on the findings in the Remaking Tomorrow report, published last summer by the temporary Commission on the Future of Learning.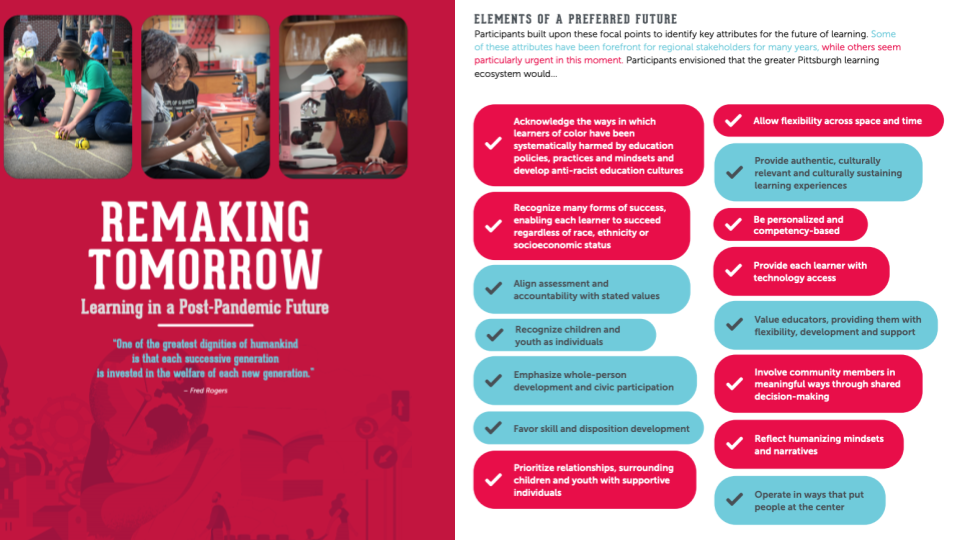 James P. Harris, superintendent at Woodland Hills School District, found that meeting over Zoom actually helped the Panel members connect in an even more personal way than they might have if all 120 participants had met in a huge meeting room.
Celmer agrees: "I felt like everyone was genuine," he says, "and everyone's guard was down. It was, 'Let's talk about what's best for students going forward.'"
Harris was also impressed that the group didn't waste time on purely theoretical discussions. During two hour-long brainstorming sessions in late May and early April, the participants developed dozens of immediate and longer-term recommendations, now summarized in the newly published report Remaking Tomorrow: What Comes Next?.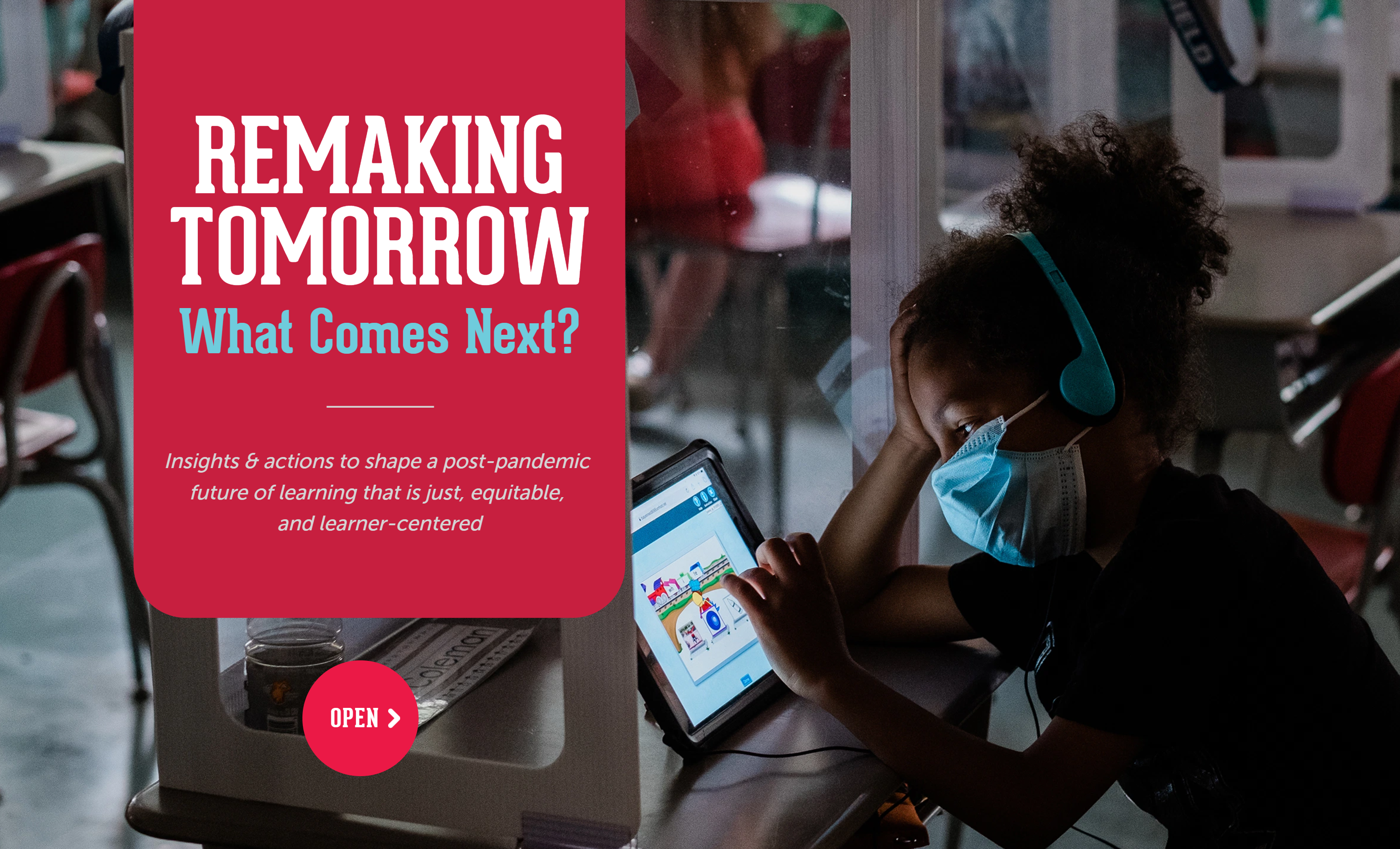 Working in small groups, they came up with ideas that echoed many of the same sentiments:
How can we dissolve the artificial borders that currently keep school districts siloed away from one another, the technology group asked. The same thought surfaced in the partnerships group: How can we create policy that attracts school districts to collaborate?
That collaboration between districts and with the wider community is a priority for Banks. She sees a range of ways that K-12 schools can benefit from the learner-centered approaches that libraries and other out-of-school-time providers have pursued for decades. "That's what everybody now really craves," she says, "that ability to follow your nose and do what interests you."
Many of the ideas that surfaced during the sessions specifically addressed the issue of justice, including new approaches to teacher training: What if we created policy so that all pre-service educators got experience with anti-racist curriculum? What if they all had meaningful opportunities to work with ethnically and racially diverse students, statewide?
Mental health also came up repeatedly in different contexts. Among the most powerful voices speaking up for mental health support and social-emotional learning was Samihah Saleem, a student who just completed 8th grade in South Fayette.
"We should develop a good work/life or school/life balance, because we need that throughout our entire life," Samihah says. "It's imperative that we learn how to balance, and that we show kids how to balance the two."
Although she sees that teachers are aiming to help students learn, she says, often the focus just seems to be on plowing through material before the bell rings.
"They don't ever take into account that we're there seven hours each day for five days a week, and we're trying to learn, and on top of that we have homework, as well," she says. "And that's a large portion of our life. And the fact that we don't get to take a break from all that work… it's just unhealthy for us."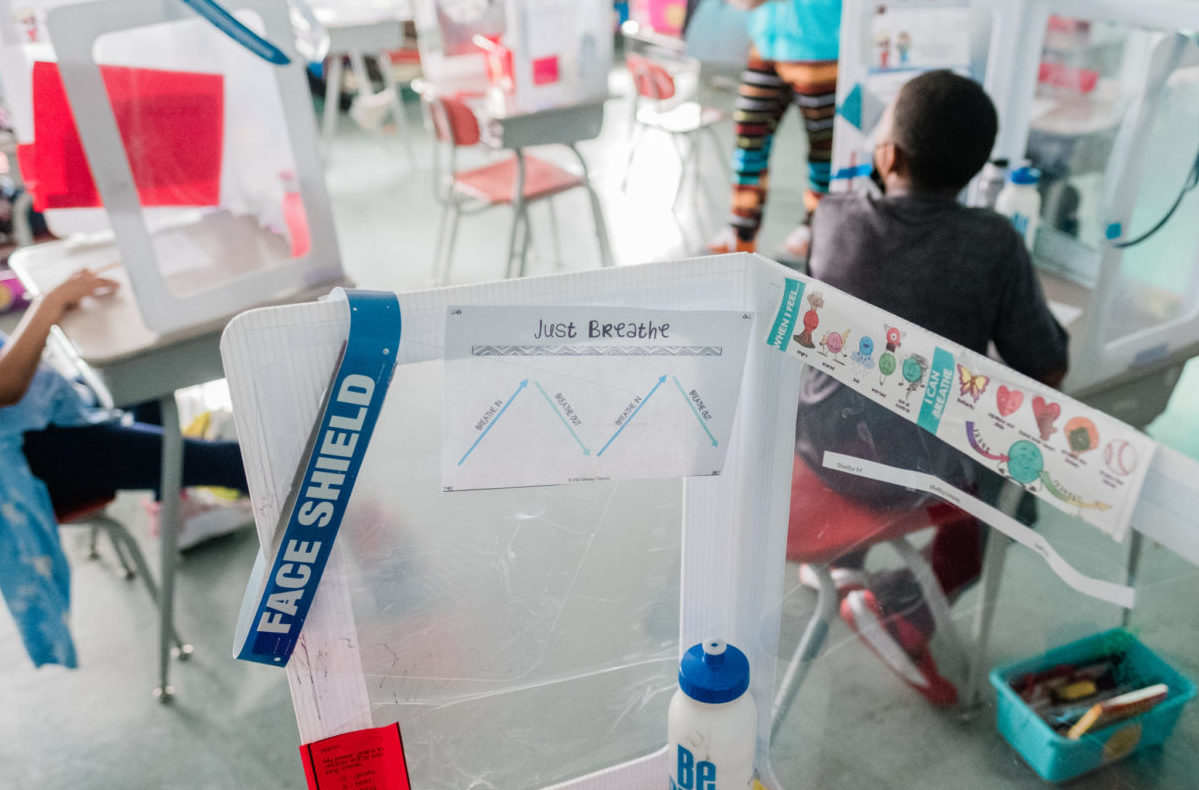 Those words of wisdom were heeded by the adults on the panel. Along with Samihah, five additional students were invited to participate in the Panel's discussions. Their voices–and their pleas for justice and support with social-emotional learning and health–were prioritized.
Wrapping up the May 3 session, Dr. Valerie Kinloch, dean of the University of Pittsburgh's School of Education, offered these words: "We have to think about teachers as leaders. We have to think about policymakers as leaders. But fundamentally, we have to also understand our students as leaders.
Find all of the panel's recommendations, along with related case studies, quick wins, and supporting data, in the newly published report Remaking Tomorrow: What Comes Next?.