If you're wondering what's planned for this year's Remake Learning Days festival in southwestern Pennsylvania, a unique team of young reporters is eager to tell you: Meet the 2022 Remake Learning Days (RLD) Youth Ambassadors.
Sixteen high school students from around the Pittsburgh region have joined this year's RLD Youth Ambassadors program. In the coming weeks, the RLD Youth Ambassadors will be posting videos, audio recordings and blog entries about the Remake Learning Days events they're most excited about.
These posts will make it easier for families in the region to find the perfect events to attend. But the program, underwritten by a grant from American Eagle, does much more than just help spread the word about the hundreds of hands-on learning events scheduled for May 12-23 in southwestern Pennsylvania and West Virginia.
By producing their own content to share their personal perspectives, these students will be putting some of the festival's most important goals into practice:
Youth Voice
Along with the arts, maker learning, outdoor learning, science and technology, youth voice has been a central theme of Remake Learning Days Across America since the festival launched back in 2016.
This year, local events in the Pittsburgh area include an interactive songwriting workshop with singer-songwriter-producer INEZ at the Homewood-Brushton YMCA. This free, in-person event is designed to help teen and young adult singers, poets and rappers develop their approach to songwriting to better connect with listeners and audiences.
Just like that event, the Youth Ambassadors program is "all about authentic voice," says Larry Berger, executive director of SLB Radio and an organizer of RLD's Youth Ambassadors program.
When the Ambassadors gathered for a kickoff event on March 22 at SLB Radio's newly renovated studios inside the Children's Museum, Berger explained that while they will be given plenty of guidance and encouragement, the goal is for them to honestly express themselves and their opinions.
"We've tried to give enough constraints to help you get started and help you know how to finish, which are usually the hardest parts," Berger told the Ambassadors. "But just enough constraints in which you can be creative."
Hands-On Learning
The students will be using their own smartphones along with equipment available at SLB Radio to record video and audio. At the kickoff event, they were also given reporters' notebooks – small, rectangular spiral notebooks perfect for taking down quotes and ideas – to use as they attend events.
Gateway High School junior Riley Kirk says she's excited to build new skills, including video production. "I've never done anything with videos before. It's mostly been writing," Kirk says. "So this is definitely outside of my comfort zone. It's a new challenge."
Sienna Stern, a freshman at Oakland Catholic, feels the same way: "I hope to step out of my comfort zone in my writing," she says, "and have a good experience."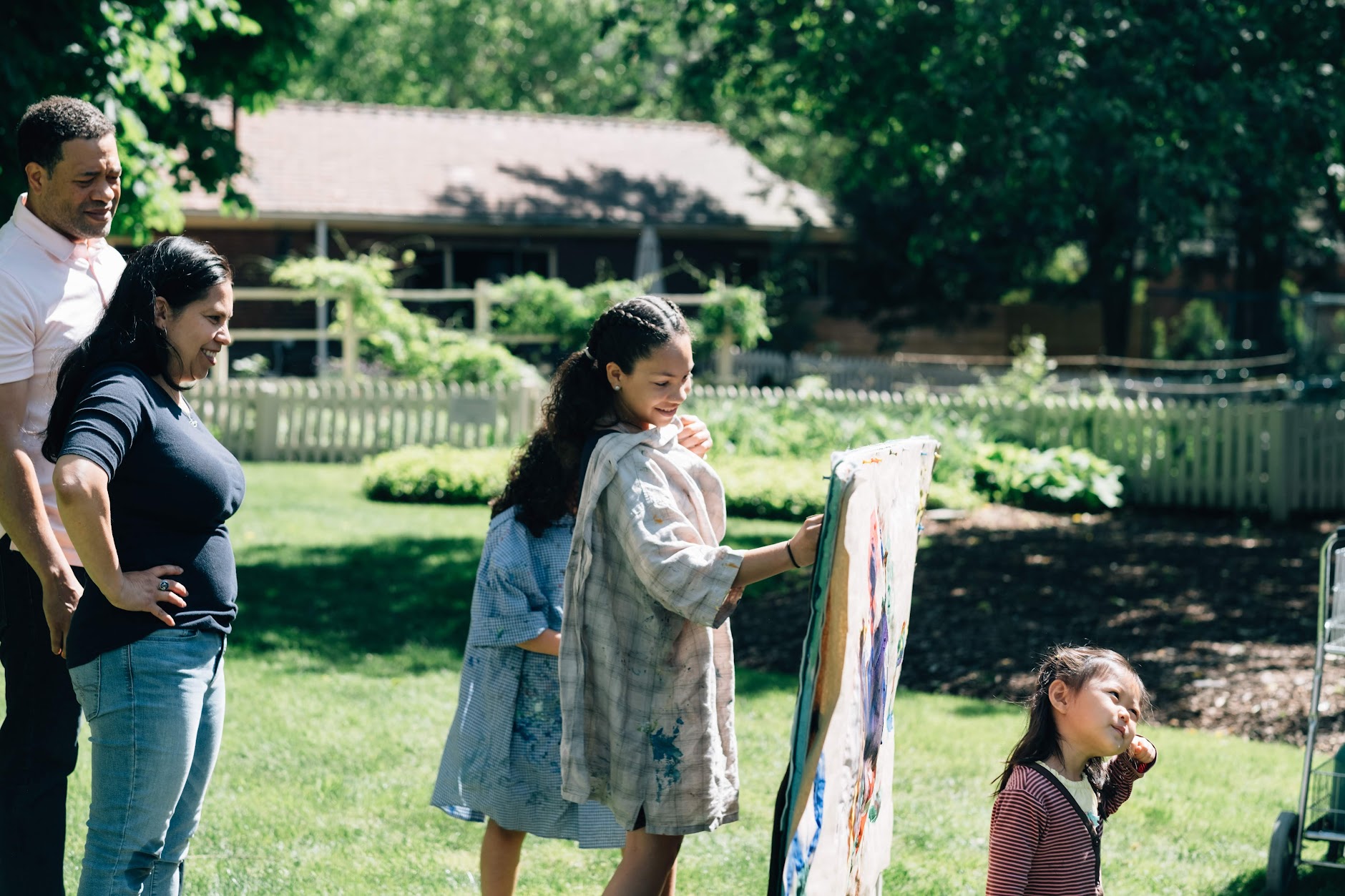 Learning Beyond School Walls
Several of this year's Ambassadors say they're especially excited to attend in-person learning events as participants and as reporters. It's a way of extending their learning out into the community.
Michael Matthews, a junior at Franklin Regional High School, says he's looking forward to attending music-related events, and learning more about arts activities happening around Pittsburgh.
Bethel Park High School freshman Lakshmi Andraca plans to explore a wide range of events: "I think I'm just going to try to get to a mix of a bunch of things," she says. "Maybe art, maybe outdoors."
Becoming Career Ready
Some of this year's Ambassadors, like Fox Chapel Area High School senior Lance Wilhelm, already have plans to pursue a journalism career. Wilhelm has been working on broadcasting projects at SLB Radio throughout high school, and he'll begin studying journalism at Northwestern University this fall.
The experience working on Ambassador reports can help to prepare him for college and beyond.
Morgan McCray, a senior at Oakland Catholic High School, is also a veteran SLB Radio team member. "I enjoy working with the different programs that SLB offers because it allows me to meet new students," she says, "but also allows me to get out of my comfort zone and really work on a lot of different interesting projects and go to events, and have a good time broadcasting."
She's looking toward a career related to government and politics, so the chance to report on community events and discover local learning resources is valuable for her, as well.
For the entire group, though, another benefit is connecting. When they gathered for the program's kickoff event, several students said they were glad to be meeting face-to-face and building friendships outside their own schools.
At the kickoff, they also had a chance to talk with the Remake Learning Days team, and be reminded just how many adults are rooting for them as they take steps toward their futures.
"One of our goals is to ignite a conversation about the future of learning. What's innovative? What is meaningful to you? What does it mean to be career-ready?," Remake Learning Days co-producer Yu-Ling Cheng told the students. "You guys – you're the reason why education is happening, and you know what you need. And so that's why we created the Youth Ambassador Program: to elevate your voices."