Remake Learning hosts free, open gatherings designed to forge and develop relationships between the educators, innovators, and change agents that make up the Remake Learning Network. Our meetups provide an opportunity for small groups of educators and innovators to connect in unique learning environments across the region.
In April, network members will have the opportunity to take a glassblowing class at the Pittsburgh Glass Center. This hands-on class will introduce you to the art of glassblowing, a captivating and intricate process that has been around for centuries.
Kate Duncan is the Outreach and Accessibility Coordinator for the Pittsburgh Glass Center. We caught up with Kate to learn more about the Pittsburgh Glass Center and what it means to make learning resources more accessible.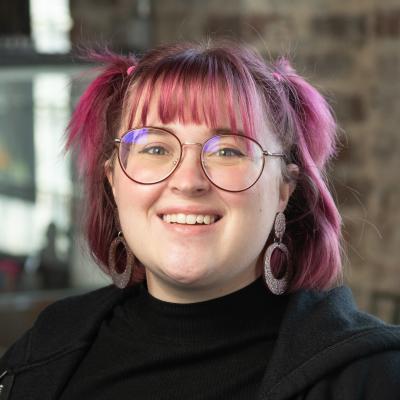 Tell us about yourself. Who are you? How have you engaged with remake learning?
KD: My name is Kate Duncan, and I am the Outreach and Accessibility Coordinator here at the Pittsburgh Glass Center. The Pittsburgh Glass Center is a public, open-access glass art studio that works to create a space where both novices and professionals can come to learn about glass art and create it themselves.
We have partnered with Remake learning for several years, and this year, on top of our Remake Learning Day on May 5th, we'll be hosting Remake Learning Members for a Mixer and Activity here at PGC on April 19th.
Tell us about your organization. What is it all about? What does it do?
KD: The Pittsburgh Glass Center is a non-profit, public access education center that focuses on supporting glass artists and introducing glass art to a wider audience of artists, students and visitors. Our goal has always been to make the glass art community more diverse, vibrant and accessible.
Share something with the network. What do you want network members to know about you and your org?
KD: PGC is open-access, so we encourage everyone to come down, take a self-guided tour, peek into the studios, and visit our galley for free. There's always something to see and it's really a wonderful way to learn about glass art. We are also a part of Penn Avenue's Unblurred First Fridays, and each first Friday of the month we stay open late, and provide free glass blowing demonstrations for folks who just want to come down and see what glass is all about.
Share your perspective. What are the most important opportunities and challenges for learning in the greater Pittsburgh region?
KD: I believe there are a lot of barriers to accessing arts education in the region. Whether it's time, money or location, it's very hard for a lot of folks to obtain or even to know what's out there. So many people are just trying to survive, and accessing education just can't be one of their main goals. I think meeting folks where they are, and bringing the education and learning to them, in ways that work for them, in their local neighborhoods, is how we really can start to bridge the gap in learning.
Share your vision. What's your vision for the future of learning in the greater Pittsburgh region?
KD: I think more community-based learning is what is really going to shift the landscape as we continue to come out of the COVID-19 pandemic. Providing more free programming, more localized programming, and programming that was designed for specific audiences is what is really going to bring equity to the learning in Pittsburgh. There is a difference in saying that all programming is accessible, and this programming was specifically created with you in mind, and it works within your lifestyle, and that is what I really believe will begin to make learning more accessible across the board.
Anything else you would like to add?
KD: We are really excited to see the members here on the 19th, and anyone who isn't able to make it on the 19th, is welcome to stop by any day of the week and say hi!