Past Event or Opportunity
This opportunity has concluded. This page's content may be out-of-date.
Read the follow-up for this Lunch & Learn on Medium.
Please join the CREATE Lab, Western PA Writing Project, Center for Urban Ed at Pitt, and Remake Learning in hosting an evening with Maisha Moses of the Young People's Project on Jan 17, 2018.
Learn about The Young People's Project, it's background including The Algebra Project, and the Flagway™ Games as an example of a bottom up organizing approach to math literacy.The YPP and the Algebra Project create a cultural context in which mathematics emerges naturally from students' experience by creating mathematically rich games and experiences.
About the Young People's Project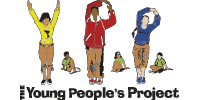 Founded in 1996, by a group that included eight 8th grade students from Brinkley Middle School in Jackson, Mississippi, it is the goal of The Young People's Project to train, employ, and support 1,000 high school students to become Math Literacy Workers (MLWs) over the next 10 years. Great MLWs begin their journey by teaching math to elementary students in their neighborhoods and eventually become engaged citizens prepared to make a difference in their own lives, in the lives of others in their communities, and ultimately in this country.
Event Details
This event targets informal and out-of-school time educators and teaching artists interested in rethinking mathematics education, mentorship, and the role of social justice in schools. Please contact the organizers for information for in-school educators and administrators.
Lunch will be provided. Please contact Ani Martinez, Remake Learning Community Manager, with any accessibility or dietary requests. ani (at) remakelearning (dot) org.
More details will be sent via email closer to the event date.
The Remake Learning Network promotes the productive exchange of ideas and resources and welcomes the opportunity to share our knowledge and expertise. We are accepting of one another, as well as encouraging, welcoming, and inspiring!